On September 24, 2016, my sons and I set foot into the small, unassuming town of Linden, Tennessee. In doing so, we magically stepped back a period of seventy-two years. We had entered into the year 1944. During our time-travel voyage, the boys and I experienced a taste of life as it was in both Europe and on the homefront during that momentous period of history.  There were war bonds to buy. Food was rationed at the markets. Air raid sirens cracked the morning calm and the threat of an enemy attack was at the forefront of everybody's mind. We were suddenly caught up in the largest event ever recorded by history – we had entered into a world at war.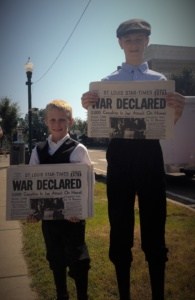 Newsboys take to the streets heralding the story of impeding doom.
What had started in a Linden resident's home to honor local veterans, Remembering WWII has now blossomed into an award winning national event that draws in thousands from across our nation. The motto of this fascinating event is to remember your past and honor your heroes. Its founder, Anthony Courter, stated the following:
We began Remembering WWII, not to glorify war or advocate a return to "the good old days", but to cast a vision of the future by helping our generation understand the lessons of the past.
Remembering WWII is a festival like no other I've ever experienced. It was nostalgic, patriotic, and unapologetically American. Remembering WWII was as educational as it was entertaining. The atmosphere was somber at times, while cheerful at others. If there was one thing about this festival I believe everybody would agree on, it's that Remembering WWII was a whole lot of star-spangled fun! There were realistic battle reenactments on the streets and propeller warplanes zooming overhead.  There was great music as big bands played on stage and a talented sister-trio belted out the hits of WWII. There was food, vendors, and fireworks. There were even vintage military vehicle rides for the kids.
Video courtesy of rememberingwwii.com
The thing about this festival that had the most  profound impact on me was the one thing that is soon to be no more. Some of the last remaining heroes of WWII attended this event. They are what's left of America's "greatest generation" and it is them I am obliged to honor and cherish. I shook the hand of Clinton Riddle and Don Jakeway of the 82nd Airborne Division. These two paratroopers landed in Normandy and fought their way through the horrors of war in a D-Day invasion.  My two sons listened in as Jerry Neal spoke of dropping bombs over an occupied France only to barely survive a crash landing in the English Channel. I heard the courageous tales of many of these men and I remembered. I remembered my own departed grandfather who humbly served our country as a Higgins boat sailor in the raging waters of the Pacific. I thought of my other grandfather, a marine who carried his saxophone onto Japanese occupied islands. My grandfathers' days are no more; but in a way, their spirits still live on in these survivors. Their memory immortalized by this event in Linden, Tennessee.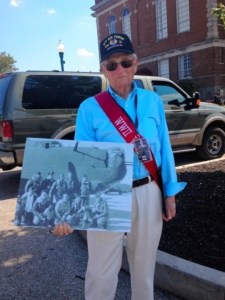 Jerry Neal of the 490th Bomb Group, 849th Squadron, 8th Air Force poses with a picture of his brave crew.
Mr. Neal is a veteran of Operation Overlord (D-Day).  Upon returning from the skies over Normandy, he and his crew ran out of fuel and crash landed in the English Channel.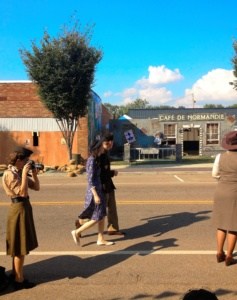 Romance was alive on the streets, even in the midst of war.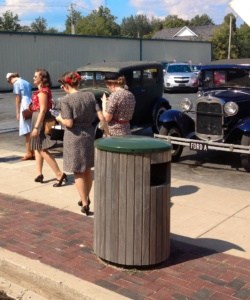 Don't they look dandy! Those victory curls are all the rage!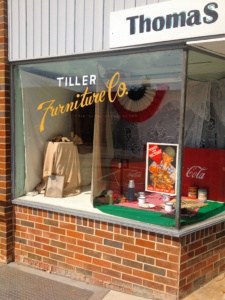 Window dressing in the shops of Linden, Tennessee.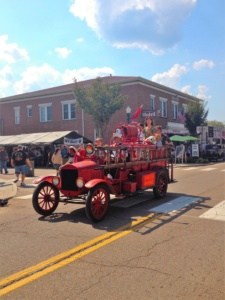 Every parade needs a fire truck!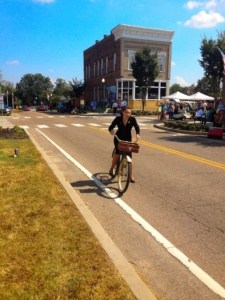 What better way to seize the day than by bicycle.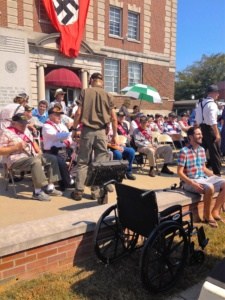 WW2 veterans seated under the flag of an occupied courthouse.
There's no fear in these boys' hearts! These heroes of heroes have seen firsthand how this one plays out!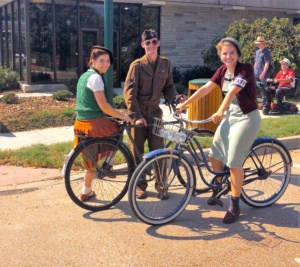 Morale is high on the streets of Linden, Tennessee.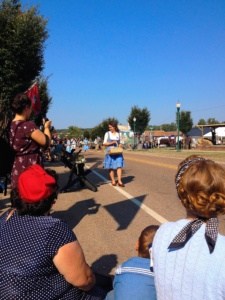 Smalltown, America has always enjoyed a good parade.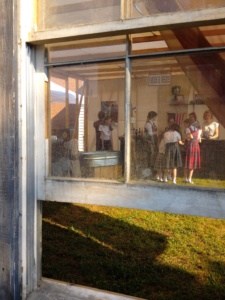 Hot food and refreshing colas served in the Cafe' de Normandie.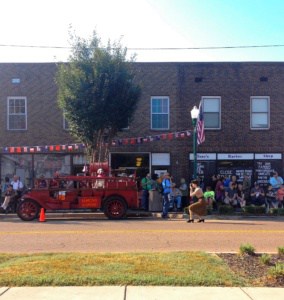 A member of the Women's Army Corps takes to the streets with her camera.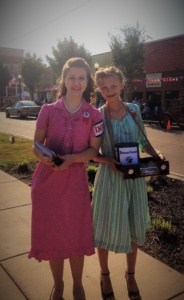 Don't these volunteers look pretty aiding in the war effort!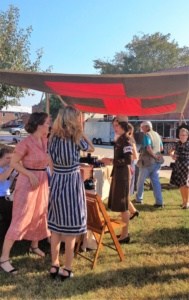 Gathering under shade inside the HQ tent of the American Red Cross.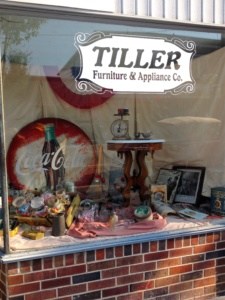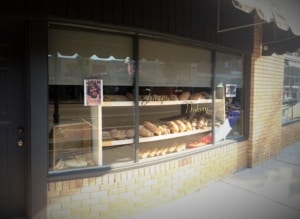 Shelves of delicious French bread entice soldiers and civilians to enter this bakery's doors.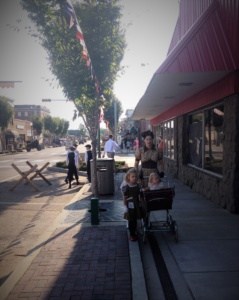 A mother and her babes makes a day of it on these friendly streets.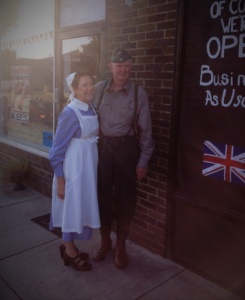 Two Bavarian sweethearts!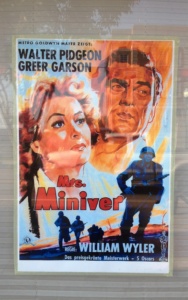 Come see this new motion picture, "Mrs. Miniver".
This award winning movie of 1942 is a romantic war drama. It tells the story of an unassuming woman caught up in a war that rages across Europe.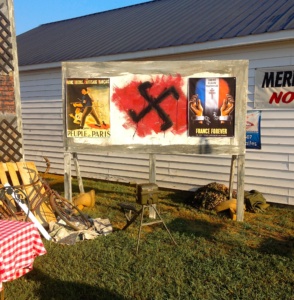 Signs of the Nazi occupation are plastered throughout the town.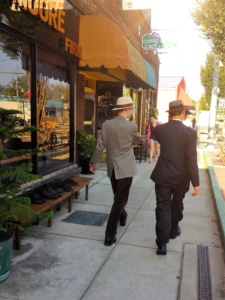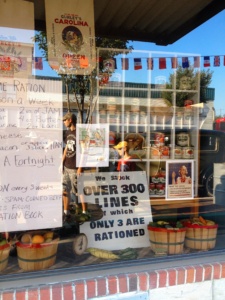 Noah and Jonah reflected in the glass as they stroll past this rationed food market.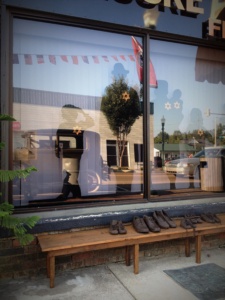 …Lest we forget.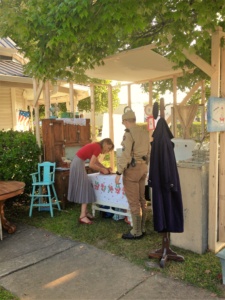 This American woman brings her kitchen out into her own front yard.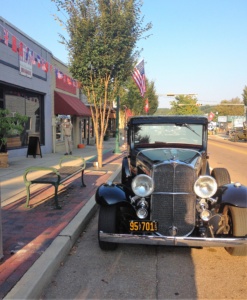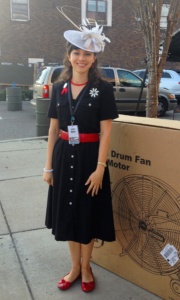 Isn't she a class act!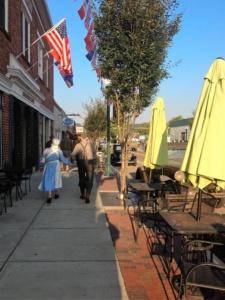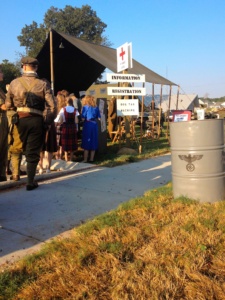 Registration tent for volunteers and reenactors.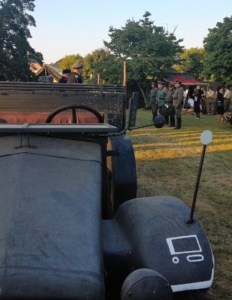 Paratroopers (Fallschirmjager)  of the 3rd Division, 5th Regiment forming up for battle.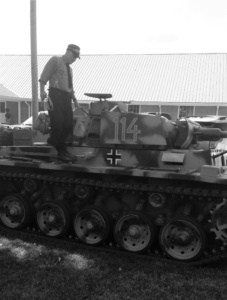 A German tanker carefully inspects his Panzer.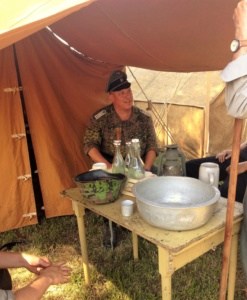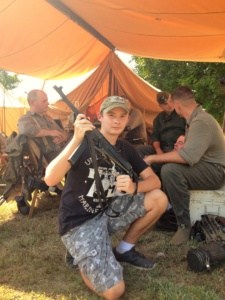 Noah's way too excited to put his grip on this authentic MP40.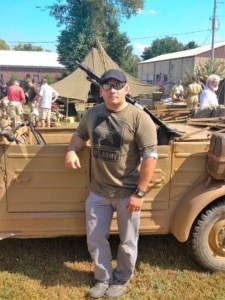 Big John leans against a heavily armed vehicle.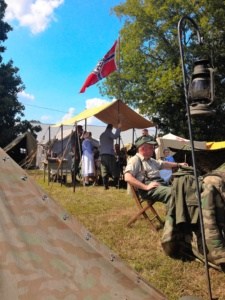 Life inside the German encampment.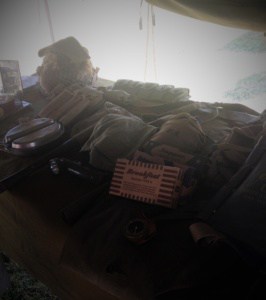 Gear and rations for the American G.I.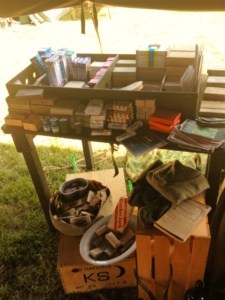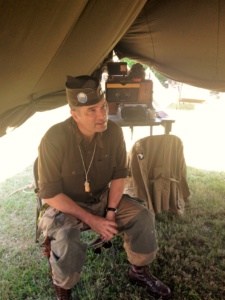 An American paratrooper resting his knees.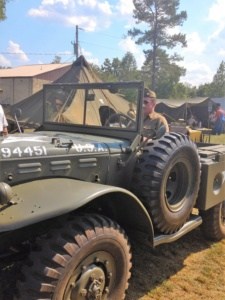 The American Jeep was the warhorse that carried the fight to the enemy.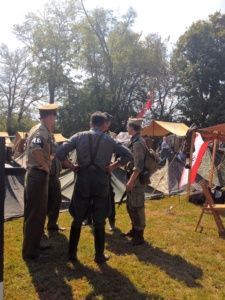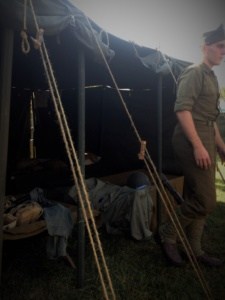 Rise and shine, soldier boy! There's a war to fight!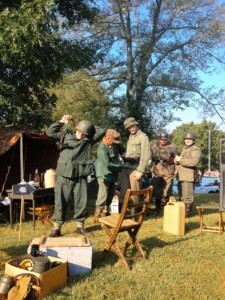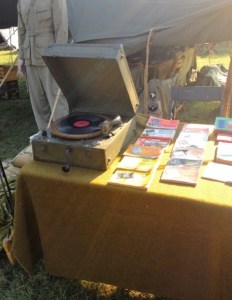 Morale, welfare, and recreation inside the camp.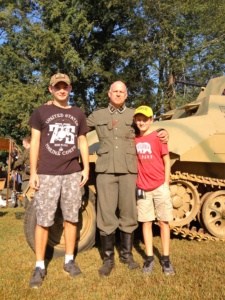 My boys posing with the enemy.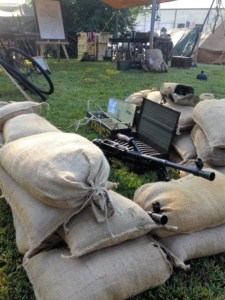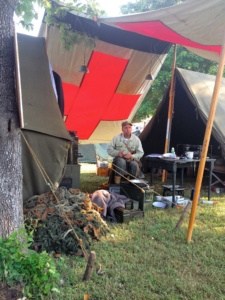 A solitary troop loads ammo into magazines.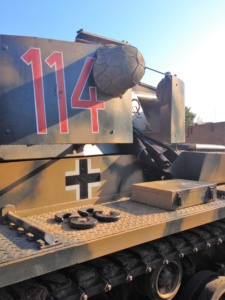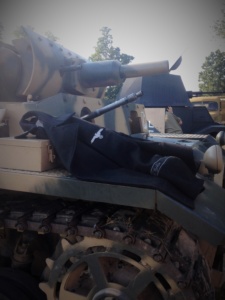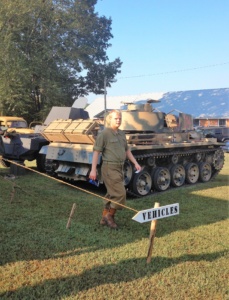 Let's get these tanks rolling!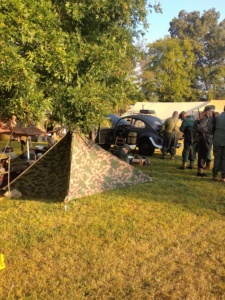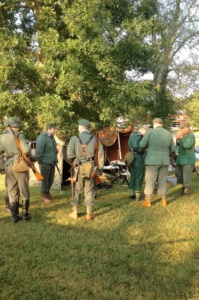 Some of these German boys look pretty well fed!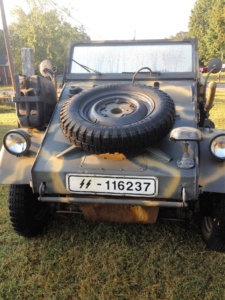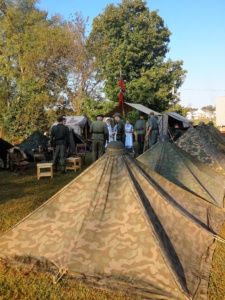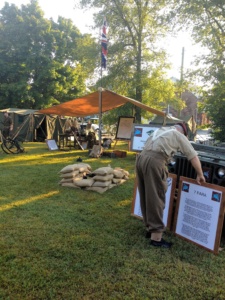 The Brits setting up camp.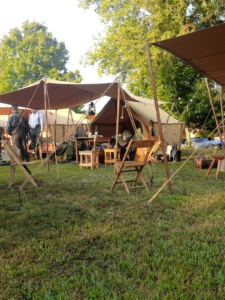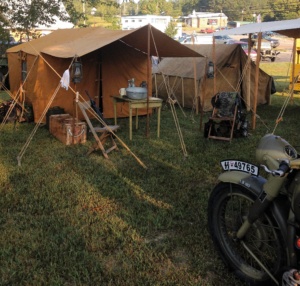 Army life seems almost identical for both allies and axis.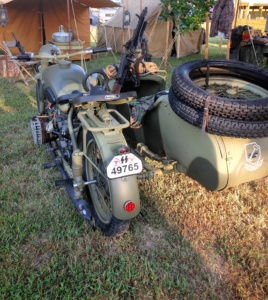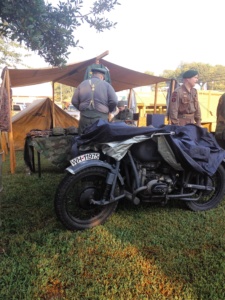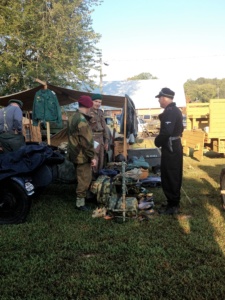 Fraternizing behind enemy lines.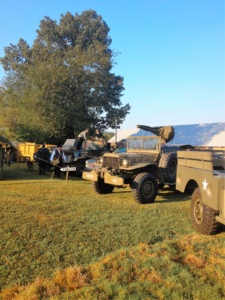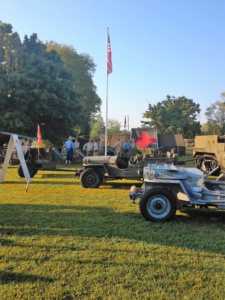 People around here will always stand for Old Glory!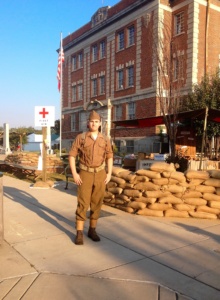 A proud American standing tall!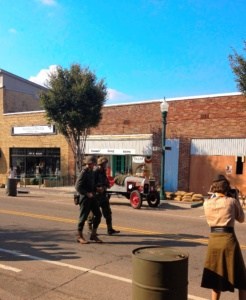 More of remembering WWII in Linden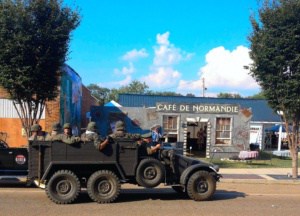 German troops storming into Normandy.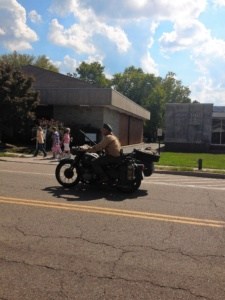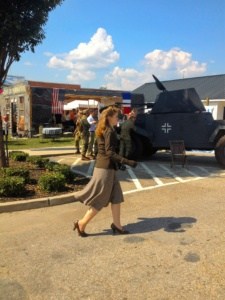 A fiery scene envelops before us.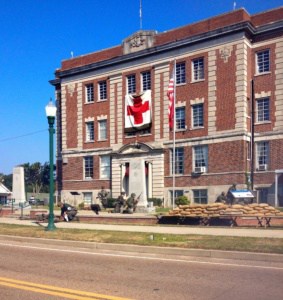 Beat back those Krauts!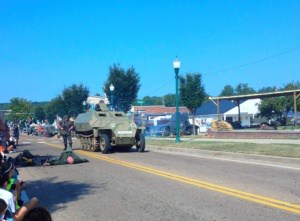 Bodies of the dead litter the streets.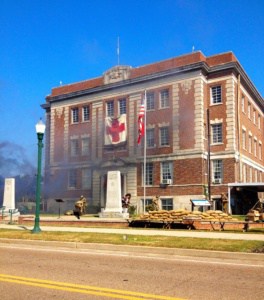 The courthouse becomes enveloped in dark smoke.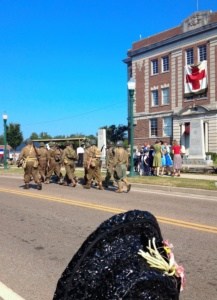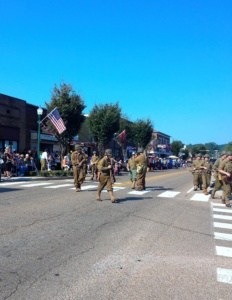 Here comes our boys!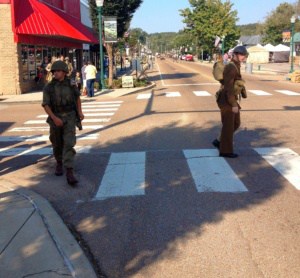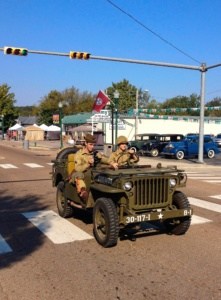 Our liberators carried by Jeep.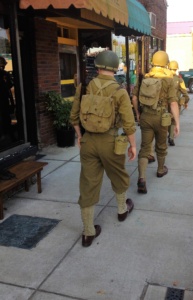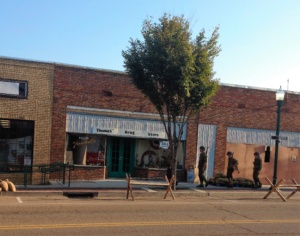 Keep your head down! Keep calm and carry on!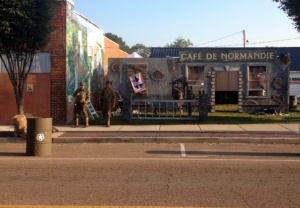 Was I really in France or was I still in Tennessee? I don't know, but things sure did get hairy when those Germans came storming into town. Their tanks and machine guns were something fierce and at one point I thought we were all goners for sure! Thank God for our American and British fighting men, and let's not forget the French resistance fighters too. We gave those Krauts hell, and in the end we routed them from our friendly little town.
All that fighting makes a guy hungry. What's this about an evening dinner and a USO styled show?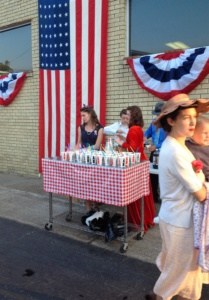 Help sink boats, buy Victory Floats!
Before loading up and heading back home, the boys and I attended the outdoor dinner and a portion of the USO-style music show. Of course, the food and entertainment was phenomenal. It tasted like victory… and who amongst us can resist the creamy sweetness of a victory float?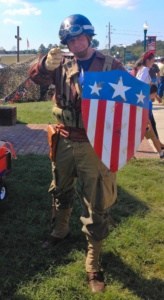 Captain America needs you!
In closing I would like to thank the entire community of Linden , Tennessee. I would like to thank them, not just for the adventure of it all, but for the important life lessons this event taught my own two kids. In remembering the courage and sacrifice of those that went before us, we might strive to better appreciate the freedoms so many of us in this country take for granted. To sum up the true spirit of Remembering WWII, it is this: We, as Americans, should be careful not to forget those lessons from history; to forget is to chance repeating the mistakes of the past.
Happy travels,
Big John
---

Posted in Historical Journeys and tagged linden, reenactment, Tennessee, WW2 by Big John with

comments disabled

.