Rebecca and I just returned from Charleston, SC this weekend and boy did we have a great time! It was a bit rainy Saturday night but the weather didn't stop us from doing a little exploring in the historical downtown district. After finally seeking out a free parking space near the College of Charleston we settled on King Street for some window shopping and a bite to eat.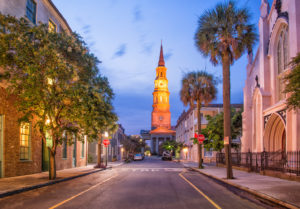 A street view of Charleston at night.
If there is one thing everyone can agree on about Charleston, it's that the city has a lot of great places to eat!  As we discovered Saturday night, Taziki's Mediterranean Café is one of those great places. Although Taziki's is technically a chain restaurant, and it's certainly not the traditional fare that Charleston is well known for, the place has some really great food and friendly staff.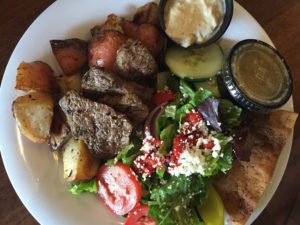 Grilled beef tenderloin at Taziki's in Charleston.
I ordered the grilled beef tenderloin and it was to die for! The meat was about as juicy and succulent as any I've ever tasted! It came chargrilled and seasoned to absolute perfection. The entrée came accompanied with pita bread and a beautiful, tasty Greek salad.  For those of you that like a good craft beer, you can't go wrong with their drink section on the menu either. To top things off, this quant little cafeteria offered very reasonable prices; the average entrée price being less than $10.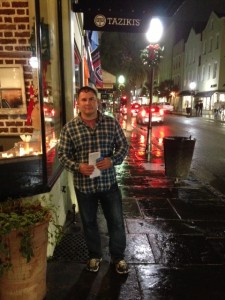 Big John in Charleston, SC
By the way, I'm that dorky looking (but extremely cool) guy you see posted above. Geez, I've really packed on a few pounds. My cheeks look like I'm stowing away acorns for a long, drawn out winter. Maybe I should stick to eating just salads for awhile!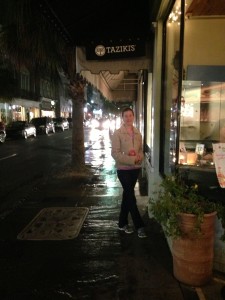 Miss Rebecca outside of Taziki's in Charleston.
The fetching Miss Rebecca is also pictured above. She's my baby doll but she didn't want a close-up due to her being unusually camera shy. Maybe she's just embarassed to be seen with the short, chubby guy. Honestly though, I think she likes me. She let me hold her hand while walking down King Street. After taking her to dinner, I may even get to first base!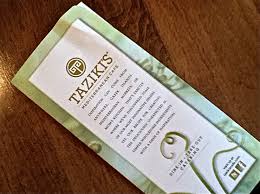 Taziki's Mediterranean Cafe in Charleston.
Well, thank you for reading my post and and I hope you visit my site again real soon. Please post a comment and share some of you own travel related stories with me. Feel free to explore other areas of my blog and send some love on social media.
Happy travels,
Big John
---