The Wichita Mountains Wildlife Refuge is a must-see point of interest; should anybody ever find themselves treading aimlessly through the prairie grasses of Southwest Oklahoma. Measuring over 59,000 acres, this wildlife facility is home to the plains bison, Texas longhorns, Rocky Mountain elk, and considerable other large mammals. Aside from the beautifully rugged terrain, visitors to the area might also delight in 806 diverse plant species, 240 types of bird, 36 species of fish, and 64 reptilian and amphibious creatures. With my baby doll by my side, I set out on Memorial Day weekend. My mission was to divide and conquer this marvel of the American Great Plains. Come along as we explore the Holy City and Oklahoma's Wichita Mountains.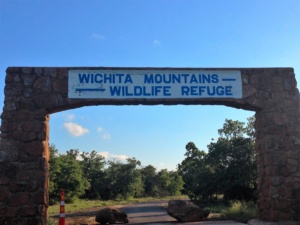 Entrance into one of the many trails winding through the Wichita Mountains.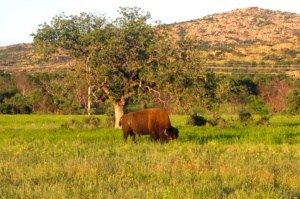 An American bison grazes on the prairie grass landscape that blankets much of the park.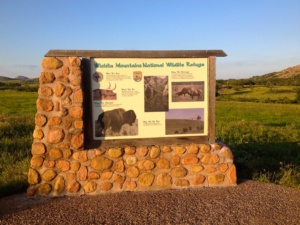 Signs like these inform visitors of the numerous types of flora and fauna found in the refuge.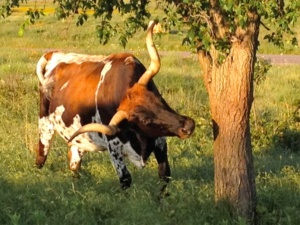 All this Texas Longhorn needs is a good tree to scratch between those ears!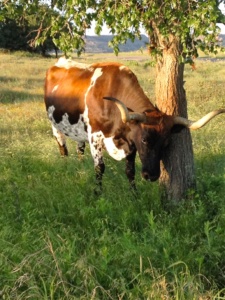 Ahh! It appears he found one.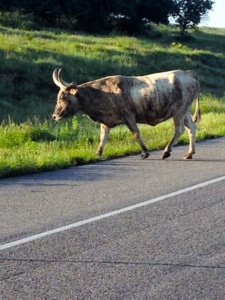 Hey, don't mind me! This is your road. I'm just a minor inconvenience.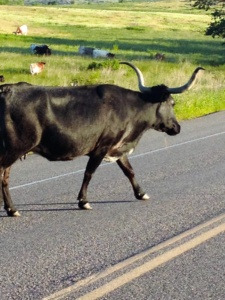 Didn't your mother ever teach you not to play in the street?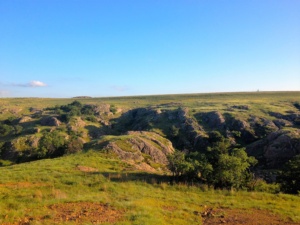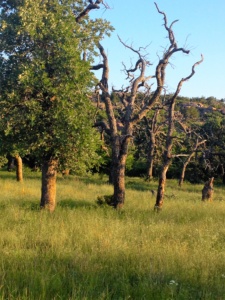 The branches of these gnarled trees, stretched out against the mountainous backdrop, were nothing short of beautiful.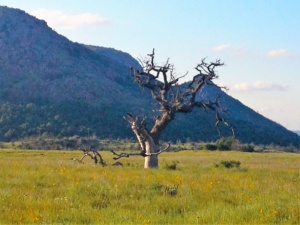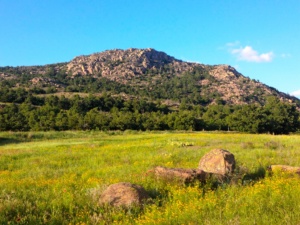 Beautiful yellow prairie flowers as far as the eye could see.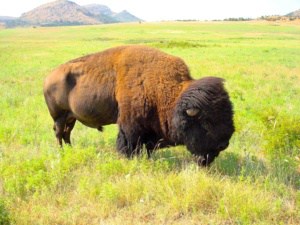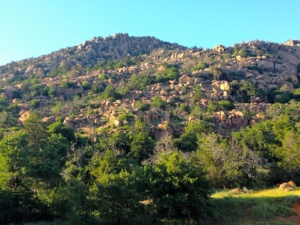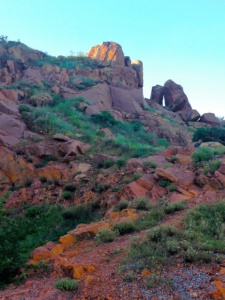 Almost felt like I should've been on horseback trying to traverse this terrain.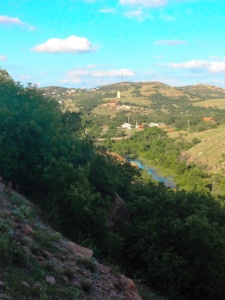 A quaint Oklahoma town nestled in the valley below.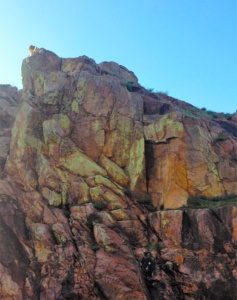 These colorful slabs of granite give off the impression of a wild and tameless land.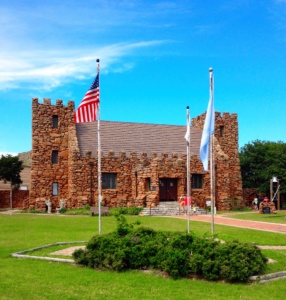 Outside the entrance to the Holy City of the Wichita Mountains.
Throughout history, the Wichita Mountains have inspired people in multiple ways. In 1926, Austrian-born Reverend Mark Anthony Wallock was so taken aback by this rugged terrain that he turned 66 acres of it into a biblical reproduction of Israel. Atop this holy outcropping of rock, Reverend Wallock began the nation's largest passion play ever, entitled "The Prince of Peace". The play quickly rose to such a national acclaim that in 1939, 225,000 people filled Audience Hill for an Easter sunrise performance.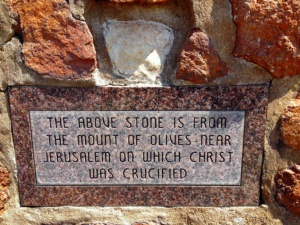 A single stone taken from the Mount of Olives is set into the base of this statue. This eleven foot marble statue depicts Jesus Christ standing over the site with outstretched arms.
As Rebecca and I exited our vehicle, we caught glimpse of these two wanderlust souls pulling up into the parking lot. They had started their little journey all the way back from the Land Down Under.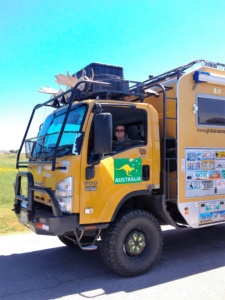 Good onya' Mates! Your super-Aussie recreational vehicle, the Global Roamer 2, was easily the envy of the park!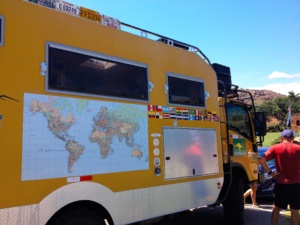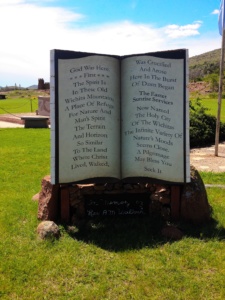 A fitting monument to a man who dedicated his entire life to Christ.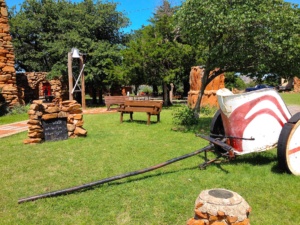 Never imagined I'd find a rusty chariot in the Okie hills.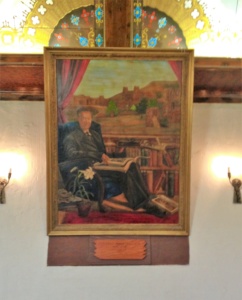 A portrait of the good reverend himself greets visitors as they enter the Holy City chapel.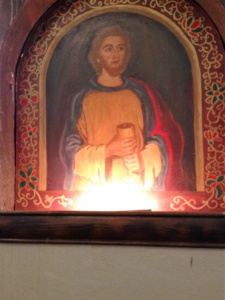 One of Christ's apostles, I presume.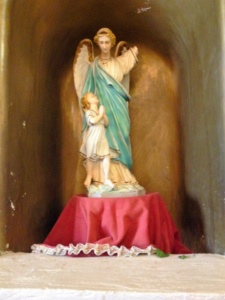 We all need guardian angels to watch over our lives.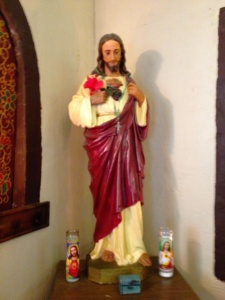 Here is a much smaller depiction of our lord and savior, compared to the eleven foot Jesus standing watch just outside.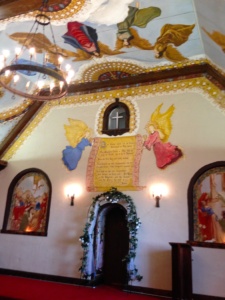 The chapel at Holy City was built to resemble America's oldest church, Christ Church in Alexandria, Virginia, where President George Washington was said to have worshiped.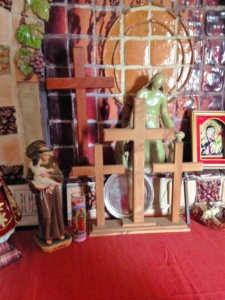 A solemn space to pray and reflect.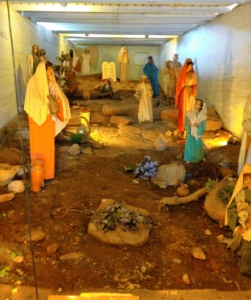 Wax figures depicting a scene of immortality and resurrection.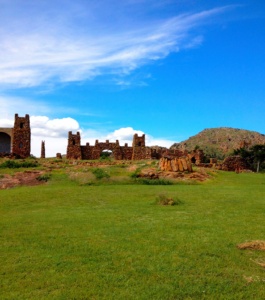 Confronting the stone gateway to Jerusalem.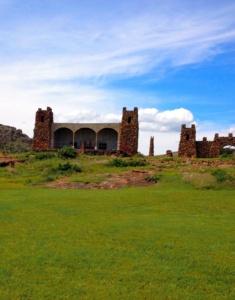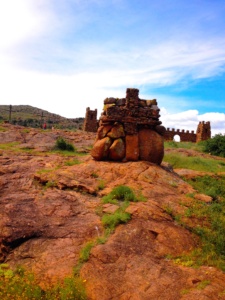 Psalm 78:35 – And they remembered that God was their rock, And the Most High God their Redeemer.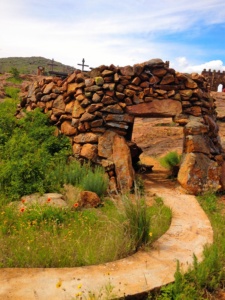 On the path to Calvary's Mount.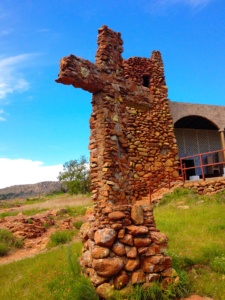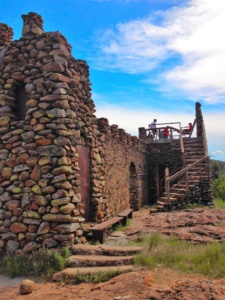 All along the watchtower, princes kept the view, while all the women came and went, barefoot servants too…. -Hendrix.

Rebecca just loved these pretty cactus flowers.

Rebecca strikes a pose on top of Wallock's Calvary Mount.

The historic town of Medicine Park, Oklahoma's first resort community.

After departing from the Holy City, Rebecca and I made our way to the nearby resort town of Medicine Park. This popular resort area sprang up in 1908 as a means for Oklahoma residents to escape the brutal dust-filled days of summer.

Comanche, Kiowa and Apache once occupied these grounds, believing that the Medicine Park Lake provided life and healing powers.

I believe this postage stamp mural captures the essence of this little town.

A fisherman dances his fly across the water's face.

Somebody is feasting on rainbow trout tonight!

The Bath Lake is situated at the center of town.

"Gone Fishin" seems to be the buzzword around these parts!

Don't let this old sign fool you! The Old Plantation Restaurant in Medicine Park is a premier dining establishment.

Much like every other building and dwelling in Medicine Park, this restaurants exterior is comprised almost entirely of cobblestone.

The walls of this eatery have stood since the founding of Medicine Park. Boy, would they have stories could these walls talk!

For a big, juicy steak and salad, I will attest that there's no place finer in all of Oklahoma!

She may be small, but this downtown has a character all of her own!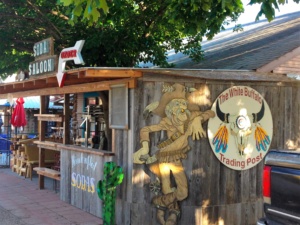 The annual Red Dirt Ball in Medicine Park brought out some of the best musicians around to showcase red dirt music at its finest.

There's no better a time to visit Medicine Park than on Memorial Day weekend. Rebecca and I had a blast while listening to great music, drinking cold beer, and sampling all the food and fun!

The Wild West Soda coach was one of many vendors who made their way to Medicine Park's annual Memorial Day festivity.

I couldn't help but snap more than a few pictures of this sweet operation!

The adorable couple running this Old West-themed beverage counter served up hand-crafted sodas with a smile.

Ah, to live out retirement traveling across our wonderful land. To see the all of America's grandeur while never going thirsty. These two really got it made!

Hello sexy! Do you come here often?

Careful! Please don't prick your pretty little finger!

I'm just going to sit her with her and finish this beer.

If there is one thing I hope to accomplish here is to get you motivated to find an adventure of your own. It's a big world out there and there's plenty to see and do just around every corner. As you can see, Oklahoma is a lot more than just dustbowls and prairie biscuits. God bless America!

Happy travels,

Big John

---

Posted in Adventurous Places, Historical Journeys, North America and tagged holy city, oklahoma, wichita mountains by Big John with 2 comments.