I am the undisputed King of Bruges but I used to be a run-of-the-mill, regular Joe just like the rest of you. I did all my extensive shopping at Walmart; got my six-dollar haircuts at Super Clips; and spent my annual vacations at the Shady Palms Motel, conveniently located only a breezy twenty-minute walk from the beach. I've never owned multiple properties (or any property not on cinder-blocks for that matter); I've never mingled with celebrities; and I've certainly never claimed to come from any line of royalty. I was an ordinary Andy, trying to do my best just to survive that daily grind. This would have been the sad and mundane story of my life, had not a simple DNA testing kit changed everything.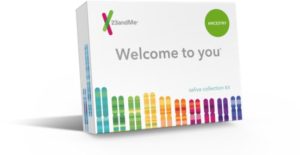 The kit that changed everything.
When my wife told me she picked up something intimate and personal for my 45th birthday, I was thinking Victoria's Secret for sure. Every woman knows that there's no greater gift than to dazzle her man in something made of satin and lace. Well, apparently in my wife's inner-circle, she was never privy to such valuable information. In my wife's inner circle, the very best birthday gifts are those that you never knew you wanted. So, you can only imagine my feigned excitement and very real surprise when I unwrapped a DNA testing kit called 23andMe. Honestly though, it was a thoughtful and unique gift. Had I known that I would soon be filling a large vial with spit, I just would've eaten less chocolate and Doritos prior to opening it.
After mailing off the completed kit, It only took about 3 short weeks before the results were back in. By that time, I had totally forgotten I had sent the thing away. I had even stopped asking my wife why it was we never really celebrated my birthday. Frankly, my wife was a bit more eager to see the report than I was. Those sort of things are expected though when you're constantly asking yourself the question, "Who the heck did I marry… and why?" Anyways, nothing could have prepared us for what my lab results would reveal (posted below).
       Ancestry Composition:
       European – 99.3%/ Other – 0.7% 
British & Irish – 47.5%
Eastern European – 10.0%
French & German – 7.7%
Scandinavian – 2.7%
Iberian – 1.8%
Broadly Northwestern European – 25.7%
Broadly Southern European – 0.3%

Broadly European – 3.9%

King of Bruges, Belgium – 0.7%
It wasn't the discovery of my Anglo-Saxon roots that sent a shockwave down my spine. Anybody that has ever seen me on a dance floor would've contested to my heritage. It was the last line of my report; that last line that told me I had always been destined for greatness; that last line that informed me I was so much better than all of you commoners who aren't 0.7% royalty. Within a week of receiving my DNA report, I had sold off my prized purple Dodge Neon and vacated the Exquisite Estates trailer park forever. With two economy-class tickets, my queen and I were off… off on a one-way mission to fulfill my destiny, take my seat as the rightful Lord of Flanders, and proclaim myself "King of all Bruges".
[evp_embed_video url="https://bigjohnsadventuresintravel.com/wp-content/uploads/2018/10/Bruges-movie-1.mov"]
A short video clip in the center of Bruges, Belgium.
Bruges, Belgium, a UNESCO world heritage site, is the capital city of the province of West Flanders. Due to its numerous canals, Bruges is often referred to as the Venice of the North. During the Golden Age (12th to 15th century), Bruges was considered one of the most important commercial cities in all of Europe. Foreigners, most notably Portuguese tradesmen, would regularly travel to Bruges to barter their peppers and other exotic spices.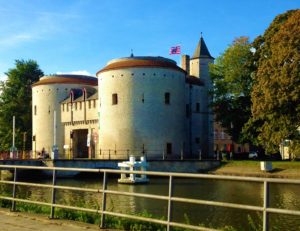 The Kruispoort Gate is one of four remaining gates leading into the famous walled city of Bruges.
The Kruispoort Gate was the first structure I encountered upon my arrival in Bruges. Built in 1400 AD, the Kruispoort Gate was said to have been used by the Holy Roman Emperor Charles V, Napoleon, and the entire German army back in World War II. Considering it was the closest thing I had ever seen to a real-life castle, I decided then and there I would claim it as my regal abode. My only real concern was whether or not it had WIFI.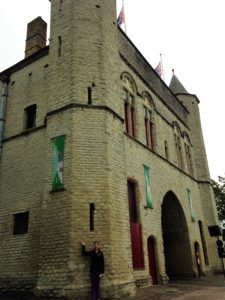 Rebecca stands ready to measure the drapes at the Kruispoort Gate.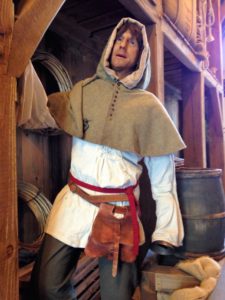 Bastiaan the Bell-ringer greets the next king of Bruges.
As luck would have it, Bastiaan the Bell-ringer was the first person I encountered when arriving at the gate. Judging by his traditional garb, I immediately recognized him to be a prestigious representative of the city. When presented  with the undisputable evidence of my 23andMe report, Bastiaan wasted no time rendering a curtsy and asking how he might be of service. I instructed Bastiaan to prepare the Kruispoort to serve as my future castle-home. I then ordered him to assign me some temporary lodging until my dwelling was made suitable for its royal inhabitants.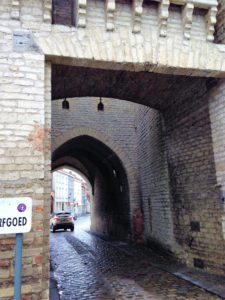 Bastiaan informed me that he would require a hundred or so Euros to purchase the renovation supplies needed to restore my castle up to city-code. After paying the guy his money, I was advised to report to Hotel Duke's Palace and tell them, "Bastiaan the Bell-ringer sent me". Before leaving, Bastiaan ensured me that my castle would be ready in only a couple of days. He told me that he would toll the bells of the belfry seven times when he was ready for my return. Even though it wasn't even lunchtime yet, and Bastiaan appeared drunker than Cooter Brown, I had no reason to believe he wouldn't deliver on his promise.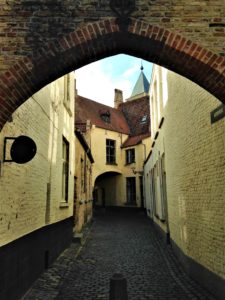 Cobblestone streets leading into the center of Historic Bruges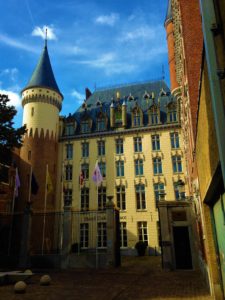 The Hotel Duke's Palace is the former residence of Burgundian aristocrats and features 110 luxurious rooms.
The Hotel Duke's palace was even more exquisite than what Bastiaan had described. Unfortunately, the proprietors were unacquainted with my bell-ringing friend and they were equally unimpressed with my royal bloodline. Oh, the insolence of some people! To think, he had the nerve to ask me to pay money like I'm some sort of common guest. I see now it won't be easy restoring the rule of law around these parts. I was going to have to rule with an iron fist.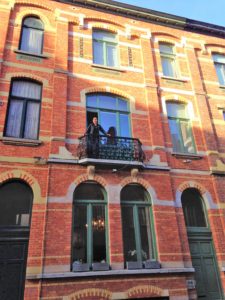 Rebecca stands on the balcony of our room at the beautiful  B&B in Bruges.
After receiving such a cold reception at the Hotel Duke's palace, I was prepared to return to my castle and give Bastiaan a piece of my mind. Rebecca advised against it and informed me that she had already gone with her "plan B". Apparently she had hatched this alternate plan prior to our arrival into town. As I soon discovered, we already had beautiful accommodations awaiting us at the B&B in Bruges.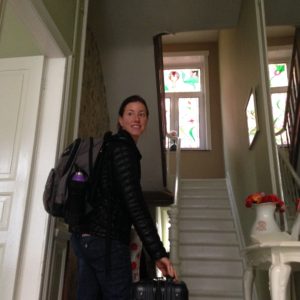 The B&B in Bruges offered us a wonderful stay and the owner treated us like proper royalty. Situated close to the historical city center, the house was in close walking distance to all of that Bruges had to offer. My favorite thing about being a guest there had to be the breakfast served each morning. The owner served both hot and cold breakfast items. He was more than accomodating and went out of his way to fix any type of eggs that one might request. His Belgium-styled omelette comes highly recommended!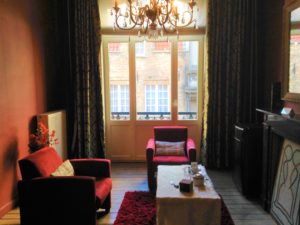 Our private suite came with a sitting room, bedroom, private bathroom, and a balcony that overlooked the medieval streets.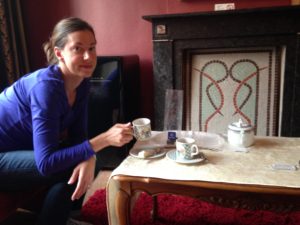 It's tea-time for Rebecca!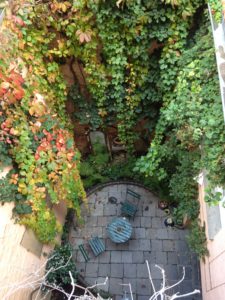 Looking down into the courtyard from our suite.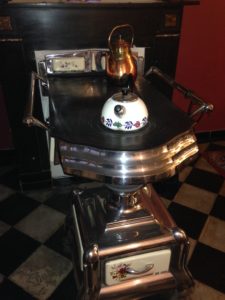 This old stove was the charming centerpiece in the basement kitchen of B&B Bruges.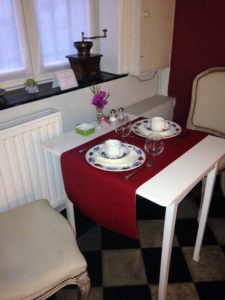 A table set for royalty.
A delicious breakfast is prepared daily at B&B in Bruges.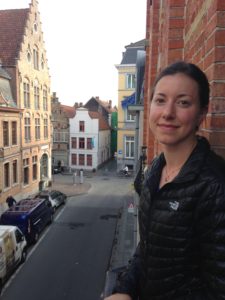 Rebecca looks out over Bruges from the vantage point of her balcony.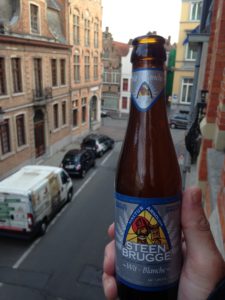 As the official king of Bruges, I only drink official Bruges Beer!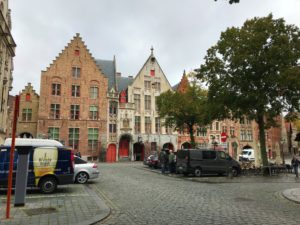 If you have a taste for Belgium beers, the city has three active breweries.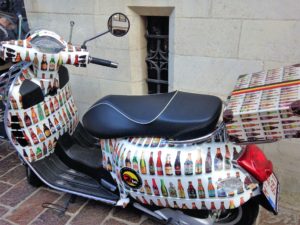 I imagine the owner of this moped probably stays pretty thirsty!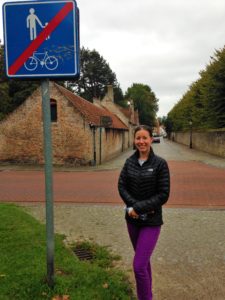 There she is, the queen of Bruges!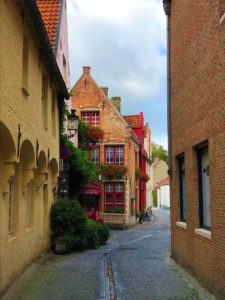 The De Vlaamsche Pot, pictured in the background serves traditional Flemish cuisine to include pancakes and waffles.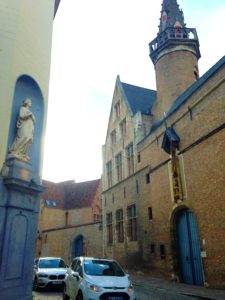 While walking around the streets of Bruges for the first time, I pretty much stayed incognito. I didn't want all of the cheering crowds and excessive bowing that might interfere with me getting a good feel for the place. There would be plenty of time later for people to shower me with praises and swear their eternal allegiance to me. In the meantime, I assumed the role of a lowly American tourist; and with iPhone in hand, I went about snapping photos of everything!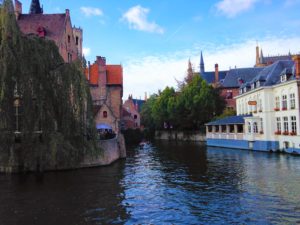 Because of its numerous canals, Bruges has been deemed the Venice of the North.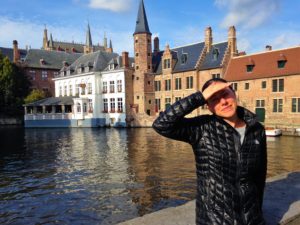 Her future is so bright, she should really start wearing shades!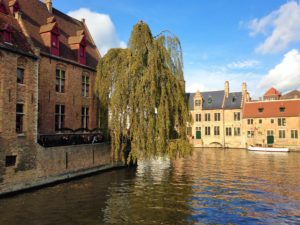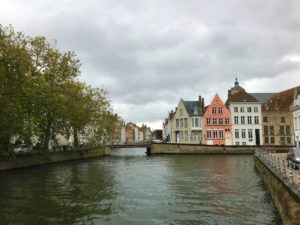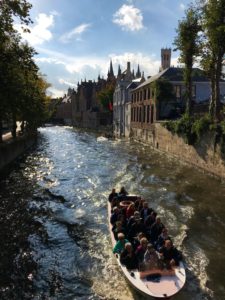 Boatloads of villagers arrive at the city square to pay homage to their new king!
As it turned out, the boat went motoring right on past me. Apparently they were just on one of the many canal tours offered daily in Bruges. It appeared that Bastiaan the Bell-ringer hadn't yet gotten around to informing city officials of my fresh arrival.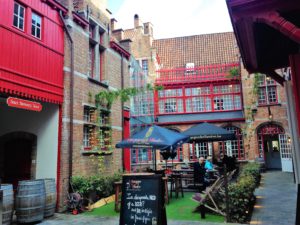 The Bourgogne des Flandres brews a delicious red-brown Flemish beer and offers regular tasting tours. 
During the 15th century, beer was one of Bruges' chief exports. At that time, the fortified city had over 50 breweries in operation. Bruges produces a blonde Belgium beer so delicious that even American brewing companies often try to replicate it. Blue Moon and Shocktop are just two American versions of their highly-regarded product. As my first official duty as King of Bruges, I decided to inspect the local breweries and make sure their beers were still up to specification. This work would require due diligence and a lot of sampling, but a king's work is never done.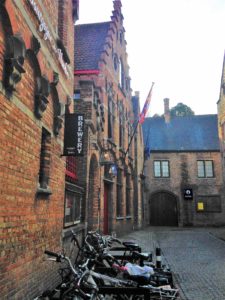 Bicycles and Breweries in Bruges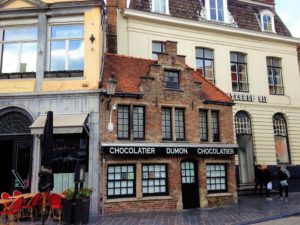 The Chocolatier Dumon offers artisan chocolates in the heart of medieval Bruges.
Chocolate production in Belgium dates as far back as the 17th century, To this day, Belgian chocolate makes up a major part of the country's industry and is widely associated with Belgium's culture and identity.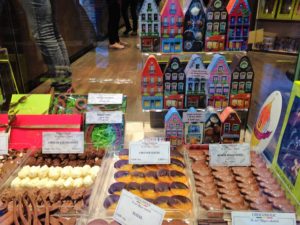 Window-shopping is always fun while out on a romantic stroll in this picturesque city.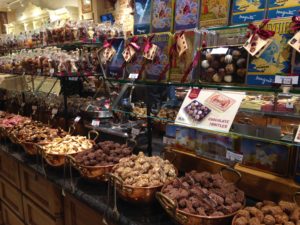 Truffles galore!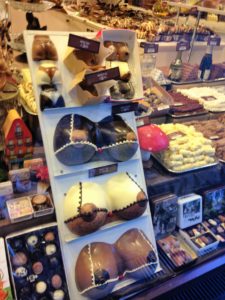 They take the term sinful chocolate to an entirely different level!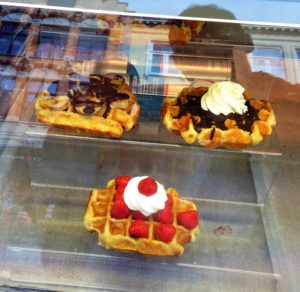 Belgium waffles were originaly called Brussels waffles. The name was eventually changed because many Americans didn't identify Brussels as being Belgium's capital city.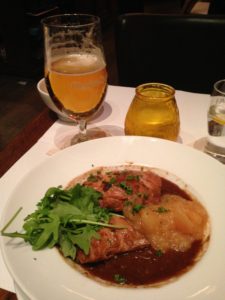 A plate of rabbit or Flemish stew is the typical fare in Bruges.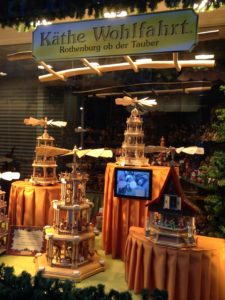 Käthe Wohlfahrt is a well-known German company that sells traditional Bavarian Christmas decorations. The window display reminded me of my mother's Christmas displays when I was a child.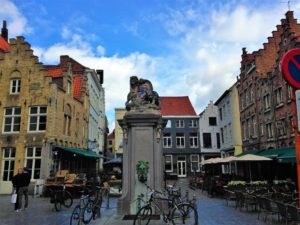 A pair of lions guard the city's coat of arms atop this decorative fountain.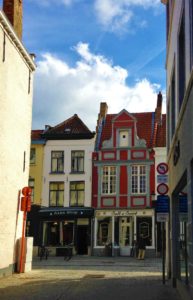 Bruges offers many well-traveled paths offering unique shopping experiences.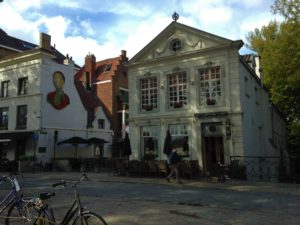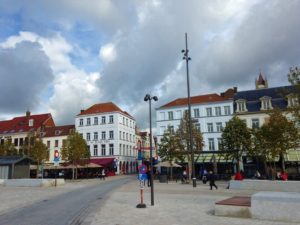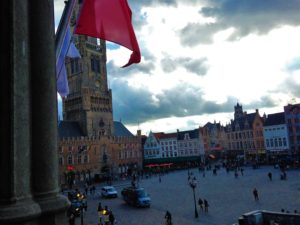 The Belfry of Bruges is the town's most recognizable feature. During the Middle Ages, this 83-meter-high tower served as the town's treasury and contained all of its coffers.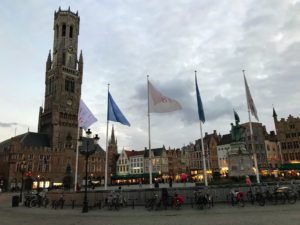 Visitors are challenged to climb all 366 steps of the belfry for a spectactular view of the fairytale city below.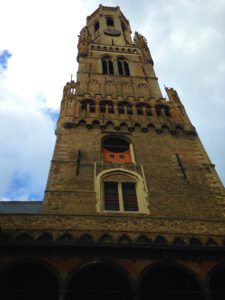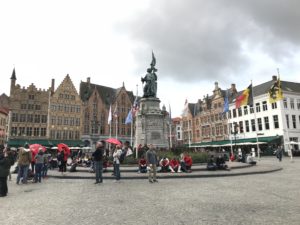 Big John poses in front of the statue of Jan Breydel and Pieter de Coninck on the Grote Markt.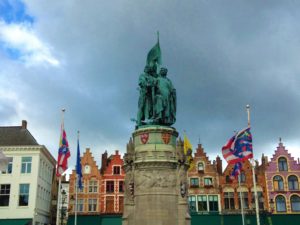 In 1309, Jan Breydel and Pieter de Coninck became the heroes of Bruges after leading a bloody uprising against occupying French forces.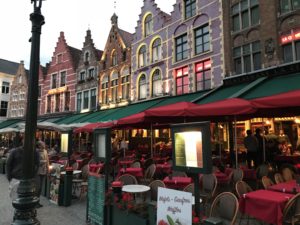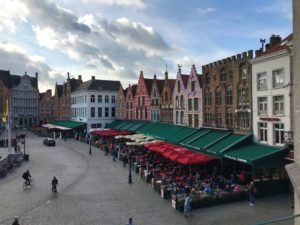 Bruges' market square features numerous open-air dining opportunities.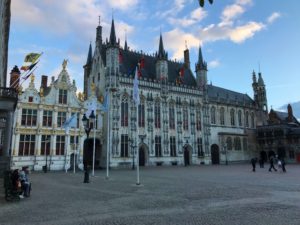 The Town Hall in Castle Square, Bruges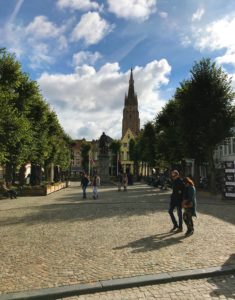 After spending two glorious days touring the city of Bruges, I started to become a bit apprehensive. Whatever became of Bastiaan the Bell-ringer. Why had he not yet signaled me from the belfry, informing me that my castle was move-in ready? At this point, perhaps a bit of investigating was in order.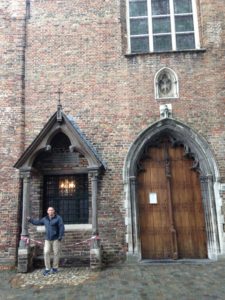 The King of Bruges stands for a photo in front of one of Bruges' numerous churches.
On our way back to the Kruispoort Gate, we continued to explore all of Bruges beautiful Gothic structures and medieval atttractions.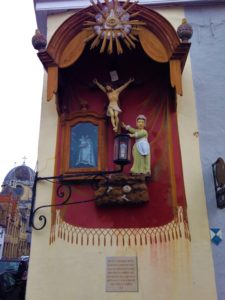 A scene of Jesus' crucifixion adorns this exterior city wall.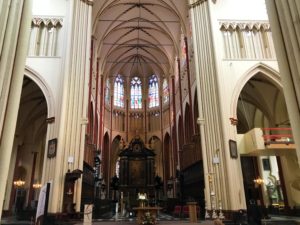 Throughout the centuries, houses of worship remained a constant and abundant source of spiritual enlightenment for the citizens of Bruges. The city has no shortage of churches, monasteries, abbeys, cathedrals and chapels.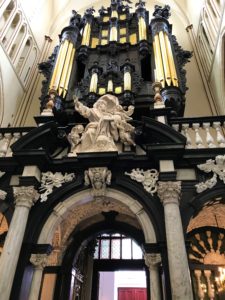 A sculpture of "God the Father" inside St. Salvator's Cathedral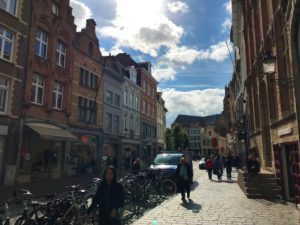 The sight of McDonald's hamburgers made me feel not so far from home.
I wonder if Ray Kroc ever envisioned his burgers would become internationally known?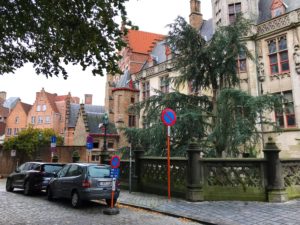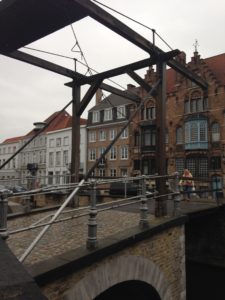 A pedestrian crosses the canal on a traditional stone bridge.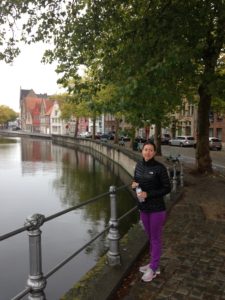 Rebecca could care less about who was king of the castle; she was enjoying herself just exploring all of the wonderful sights!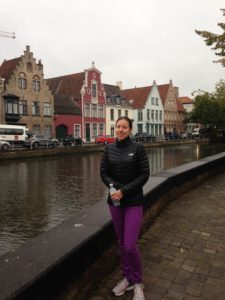 Rows of colorful brick houses line the canals.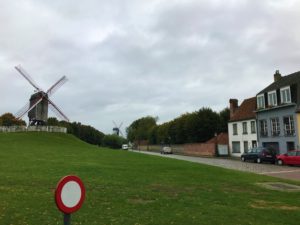 Visitors to Bruges can take a short walk along the ramparts to see all of Bruges' beautiful windmills. 
During our search for the elusive bell-ringer, Rebecca and I happened upon a line of charming windmills once used to grind corn and other grains.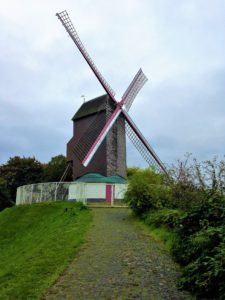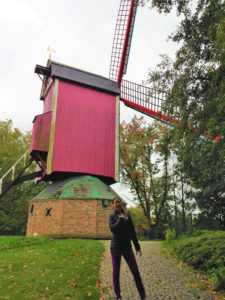 Rebecca explores the site of the Sint-Janshuismill.
Built in 1770, the Sint-Janshuismill is the oldest windmill in Bruges and the only one standing at its original site. This mill is also the only one with a museum inside open to the public.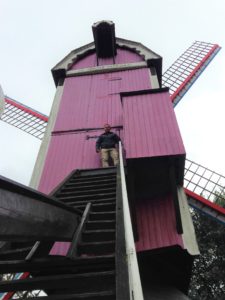 Rebecca teased me that the wooden steps leading up to the windmill almost shattered under my weight. I might need to lay off the beer for awhile!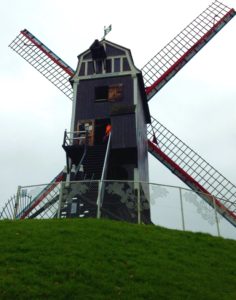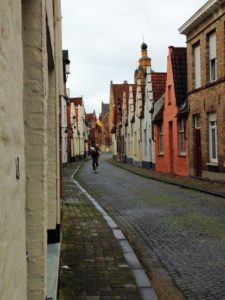 With minimal automobile traffic, the medieval city of Bruges is best explored on bicycle or by foot.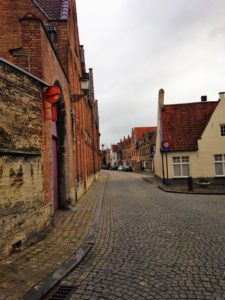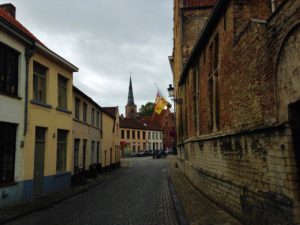 Much of these houses have stood here for hundreds of years.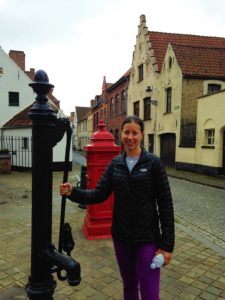 There's nothing Rebecca enjoys more than drinking tap water from a medieval city well! She has an iron stomach.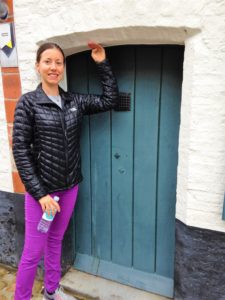 Rebecca was illustrating how people in medieval times were once no taller than me.
She then went on to say that my 23andMe report was wrong. I did not belong in Belgium at all. I belonged in New Zealand with the Bagginses and the rest of the Hobbits  (She always has a way of saying just the right things to make me feel good.)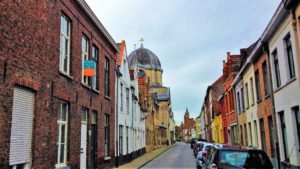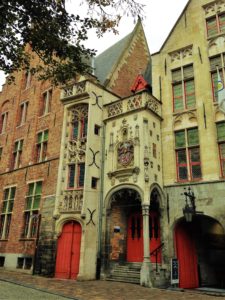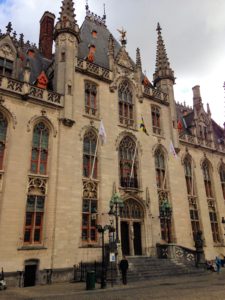 The Provincial Court building in Bruges' Market Square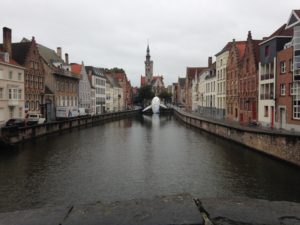 I may not have been in town long, but something in that canal seemed drastically out of place!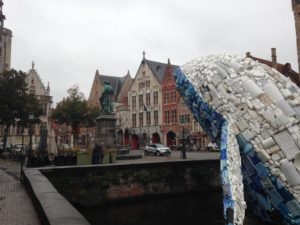 This blue whale, named "skyscraper", was created from 5 tons of plastic pulled out of the Pacific Ocean.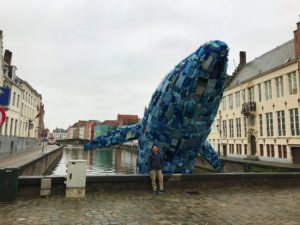 Big John poses in front of the big plastic whale to raise awareness of our littered oceans.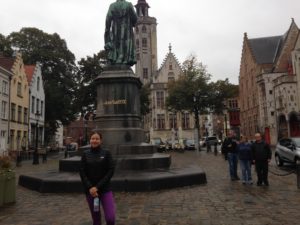 My baby-doll stands in front of the Jan Van Eyck statue.
Jan Van Eyck was an early Netherlands painter who did much of his life's work in the walled city of Bruges. Eyck was considered one of the greatest Northern European painters of the 15th century.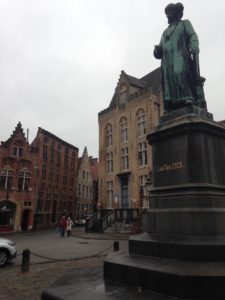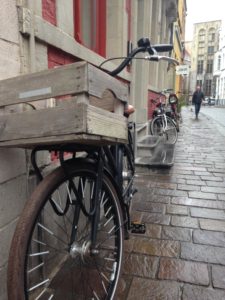 I thought these bikes lined up along the cobblestone street offered a classic glimpse of life in Belgium.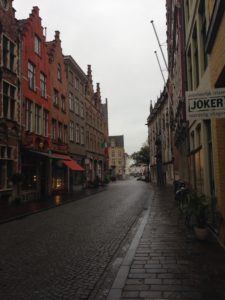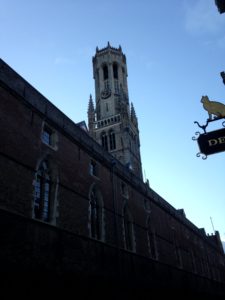 I snapped this picture for Rebecca who by now was desperately missing her cat.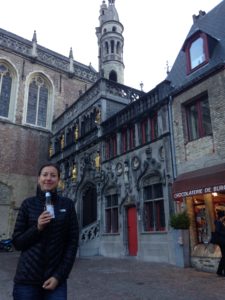 Rebecca stands in front of the Basilica of the Holy Blood. This Roman Catholic site is alleged to house a sample of blood taken from the body of Jesus Christ. The blood was said to have been originally collected by Joseph of Arimathea and then brought from the Holy Land during the Crusades.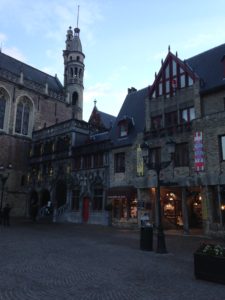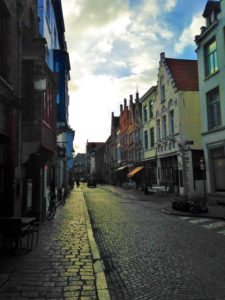 The setting sun casts a splash of color along the bricks and cobblestones of this ancient street.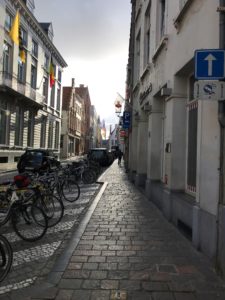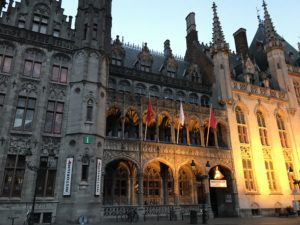 The Historium in Bruges' market square offers a virtual reality experience sending visitors back to the Golden Age.
After spending two unforgettable nights in Bruges, we eventually found our way back to Bastiaan the Bell ringer and the Kruispoort Gate. Bastiaan was located nearby, tucked away under a stairwell and sleeping off a Belgian-bottled binge. I roused him from his slumber and inquired as to the availability of my castle. "Haven't you heard?", the bell-ringer asked, "Wilbur from Minot, North Dakota, arrived in town just yesterday. He had a DNA report revealing himself to be .08% the King of Bruges. He's already paid me to set up his residency in the belfry tower."
I spent the next hour or so drowning my tears at the closest tavern. I can't believe that I lost my entire kingdom over a mere fraction of a decimal point. I didn't stay upset for too long though. Rebecca reminded me that, no matter what, I would always be her king (Rebecca always knows just what to say to cheer me up). Life is good when you're the king of Bruges!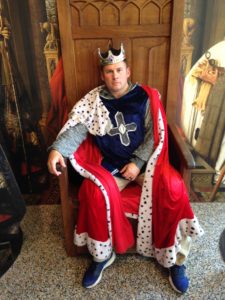 Whether you are a king or a commoner, Bruges Belgium is worthy of your visit.
Happy travels and… all hail the king,
Big John

Posted in Adventurous Places, Europe, Tall Tales and Big Fish Stories and tagged Belgium, Bruges by Big John with 1 comment.