My latest quest for Adventure Fitness carried me clear down to  the Peach State where I, along with Rebecca and the boys, competed in the Navy Seals' BATTLEFROG  O.C.R. (obstacle course race). 

Visit battlefrogseries.com for the next BATTLEFROG race near you.
Going into this particular O.C.R.,  I didn't quite know what to expect other than one hell of a challenge. The fact that the course was designed and ran by our most highly trained, bad-ass members of the United States military was an intimidation factor all of its very own making. This 8 kilometer course definitely lived up to its founders' reputation and certainly wasn't created for the faint of heart! The course encompassed swamps, streams, tunnels, open fields, forest, walls, ladders, ropes, slides, and yes… lot's of mud and water!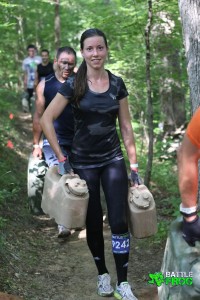 Look at Rebecca muscling those jerry cans 35 minutes into it. She is fit as a fiddle!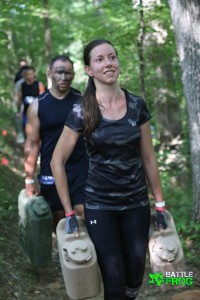 Look who's not smiling here! Honestly, I think they forgot to fill her jugs with H2O but don't tell her I said that.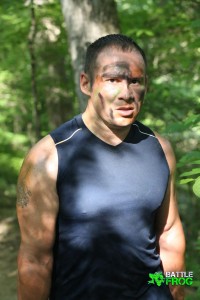 Beast mode, baby, this is my war face!
As a forty-something year old man, I did okay but it was Rebecca who really brought her game-face that day. You should've seen my baby doll scramble all the way up that gritty length of rope and ring that bell! She's as tough as they come – HOOYAH!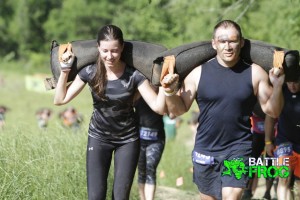 We're humping half a mile up a mountain with 50 pound bags on our backs and she's still smiling! She's a lean, mean, killing machine!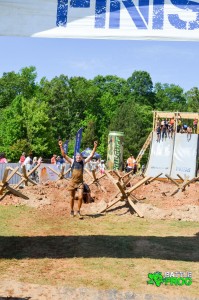 Rebecca and I are pictured in the background on the KillCliff Tsunami. Look out below, we are about to take the Battlefrog plunge!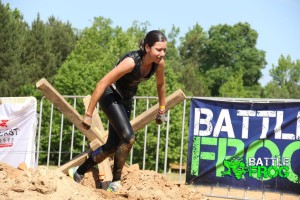 What happened to that award-winning smile, pretty baby?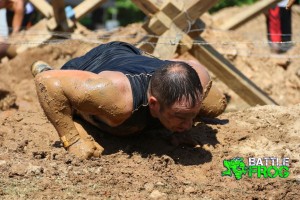 Oh man, is that a bald spot I see? I must  have caught it on that barbed wire!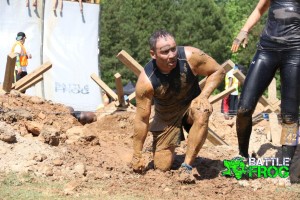 C'mon baby, let this old man have a breather!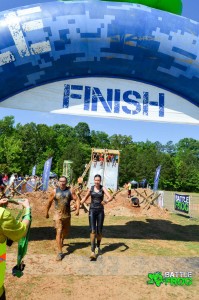 Are we there yet?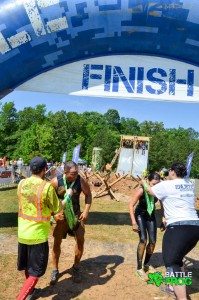 No, I don't need a wheelchair, just give me my medal!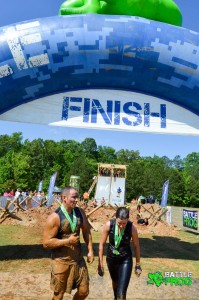 Yes, we have finished the grueling Battlefrog race and now even I am smiling.
After the big kids had their go at things, the little ones got into the action as well. Jonah ran in a one-mile O.C.R. full of challenging obstacles, muddy pits, and a whole lot of fun. Let me tell you something -that kid can fly!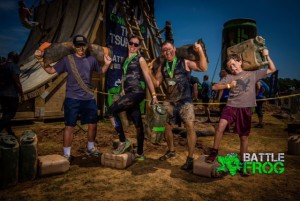 Team Cutler from left to right: Noah- the stealthy patriot,  Rebecca- the strong & sassy one, Big John- the dazed & confused, and Jonah- my little lightning bolt.
All in all, the BATTLEFROG was right up my alley and I recommend this race over any I've experienced thus far.  Not only was the course phenomenal, the entire event was an enormous festival with a patriotic, proud-to-be-American feel to it. There were Navy Seals on site to motivate, numerous vendors, great music, good food, and even Shocktop- my all-time favorite of beers!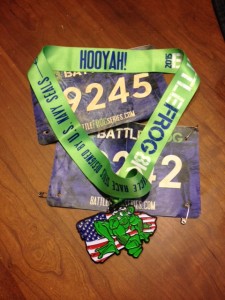 Man, do I love those mean BATTLEFROG medals!
My next two challenges in Adventure Fitness are creeping up on me way too soon. I don't know what I've gotten myself into with these things but let's just pray I survive it all. Up next is the Green Beret Challenge on July 26 and the Spartan Super on August 29. Wish me luck!
Don't ask me why, just give it an old college try. C'mon, don't let me have all the fun. Get off that couch, start training, and then join me out on that sweat-soaked, adrenaline-pumping course. Get moving and have some adventure of your own. Besides, I may need you there to carry me across that finish line. These muscles are sore and these bones are beginning to ache… but hey, isn't that all just par for the course?
Thanks for reading my post and I hope you will revisit my site, Big John's Adventures in Travel, real soon. Feel free to leave a comment, explore more of my blog, and leave some love on social media.
Happy travels,
Big John

Posted in Adventure Fitness, North America and tagged Battlefrog, Navy Seals, OCR by Big John with 3 comments.