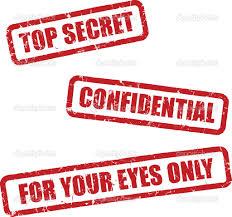 CLASSIFIED:
Living the life of a secret agent and international man of mystery is rarely easy in merry old England. I was inside my Godmanchester home, enjoying a nice peaceful day of rest, when an urgent coded message arrived by carrier pigeon at my garden window.
Agent 008: The panther has been spotted sipping wine at the Old Bridge Hotel. Make contact with her, establish trust, find out what dastardly schemes she has up her sleeve, and detain her for further questioning before she can carry out her plot. Exercise extreme caution as she is considered armed and dangerous.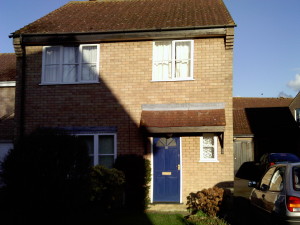 My home for a year in Godmanchester, Cambridgeshire, England
The Panther was an infamous jewel thief and highly trained assassin. She would not fall easily. I would have to outsmart her with my wit, charm, and ruggedly handsome good looks in order to prevent from compromising the mission. I splashed on my most irresistible secret agent aftershave, jumped into my ever-faithful Rover 45, and raced to the Old Bridge Hotel in record time.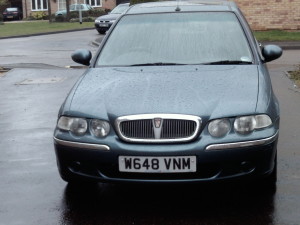 My Rover 45, the greatest car in all of Britain.
I can't go into details concerning all the secret agent modifications and gadgetry this car was equipped with. All of that is classified and if I told you I would have to kill you. I will tell you though that the radio plays the song "Secret Agent Man" non-stop as long as the car is running. (That wasn't an agency modification, I just got that damn CD stuck in my player.)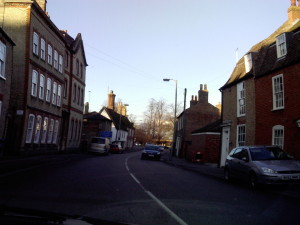 The streets of Godmanchester, Cambridgeshire
Racing to the Old Bridge Hotel, I must remember to keep to the left side of the road!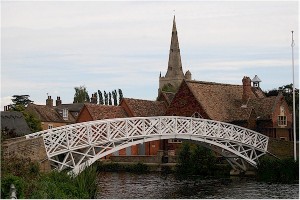 The Chinese Bridge, Godmanchester, Cambridgeshire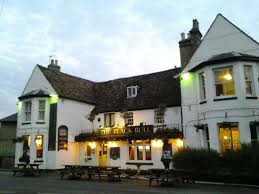 The Black Bull, Godmanchester, Cambridgeshire
A superb place to enjoy a pint of lager even if you're not an international man of mystery.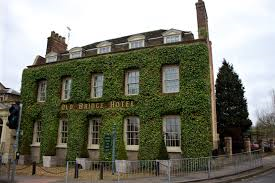 The Old Bridge Hotel, Godmanchester, Cambridgeshire
A great place for super secret meetings and an even better place for a fine glass of wine.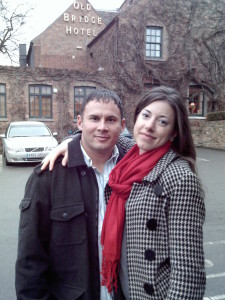 The Panther, infamous jewel thief and deadly assassin, embraces me behind the Old Bridge Hotel
The panther fell under my spell so quickly I even surprised myself a bit. You can't fake these kinds of skills! She wasn't about to disclose any of her diabolical plans but I had my eye on her like a hawk. She was so impressed by my classy Rover 45 that she allowed me to drive her to her mysterious rendezvous point. This was going to be even easier than I first imagined.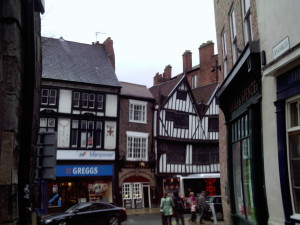 York, England – A famous medieval walled city once ruled by Vikings.
Out of all the places in England, the Panther takes me to the famous walled city of York.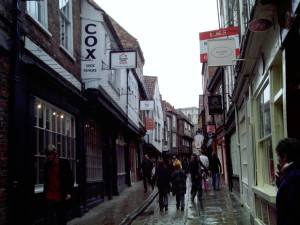 Making our way through the shambles of York.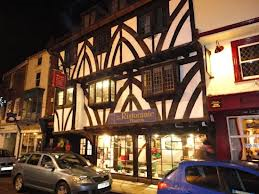 La Piazza Restaurant in York, England – The best Italian cuisine outside of Italy
We stopped for a romantic bite to eat at one of the best Italian restaurants I've ever had the pleasure of dining in. During dinner everything seemed to be going as planned. She was like putty in my hands. Now I was certain to discover her evil scheme in no time flat… or so I believed.
Immediately upon finishing her meal, the panther stood up from the table and asked to be excused to powder her nose. Just before closing the door to the loo, the pretty jewel thief turned to me and stated, "Thank you for dinner, Agent 008."
How did she make me? I was wearing sunglasses almost the entire time. Anyway, I quickly broke through the locked restroom door only to discover she had already escaped out the second-story window!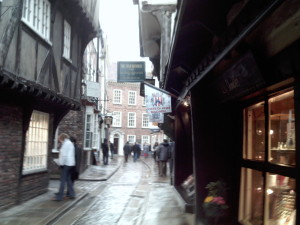 Searching for the elusive panther in the rain-soaked streets of York.
I searched The Shambles high and low for the panther but she had thoroughly escaped me. Feeling frustrated and utterly demoralized, I returned to my automobile. I was all set to abort the mission when I caught a glimpse of a folded paper stuck between the console and the passenger seat. I retrieved the paper, unfolded it, and to my surprise discovered it to be a brochure of the Tower of London.
The entire trip to York had been a ruse. The Panther had brought me there on a wild goose chase while she slipped off to London alone and unfettered. One careless mistake had done her in though; she had left that brochure stuck in between my seat. Now her scheme was exposed. It was only obvious that the panther was out to commit the greatest heist of all. She was off to steal the Crown Jewels from the Tower of London ! I needed get to England's capital city and quick! London is every wanderlust soul's dream city. There is so much to do in this historic city that I wouldn't know where to begin. Unfortunately I wasn't there for sightseeing. I was there to save the queen's jewels!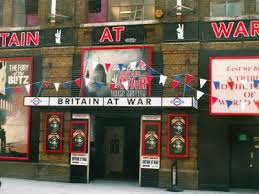 Winston Churchill's Britain at War Museum, London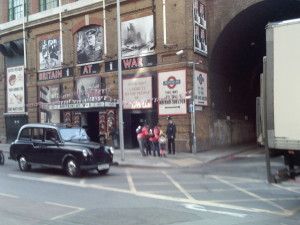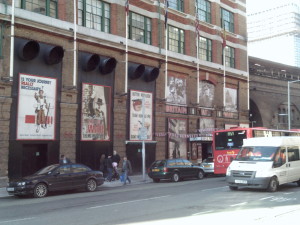 Winston Churchill's War Museum is a fascinating museum in which visitors take a step back in time to experience the perseverance of London under Nazi bombing raids in WWII. Too bad secret agents never have time for these sort of things!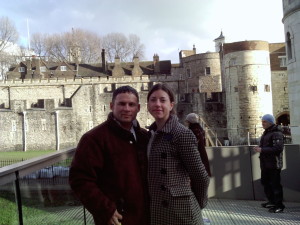 The panther in my custody just outside the tower walls.
I made it to the Tower of London right in the nick of time. I nabbed the panther just as she was slipping through the main visitor's gate. With all of those Beefeaters on high alert, the jewel thief didn't even put up a struggle.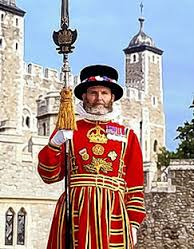 A Beefeater stands guard at the Tower of London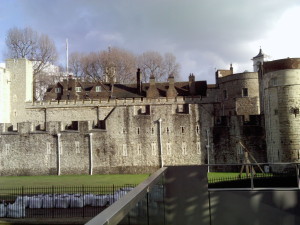 The Tower of London: Her Majesty's Royal Palace and Fortress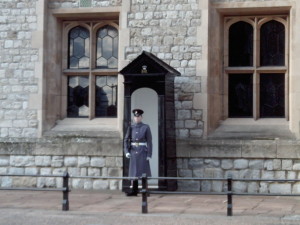 Soldier guards the Queen's Jewels inside the London Tower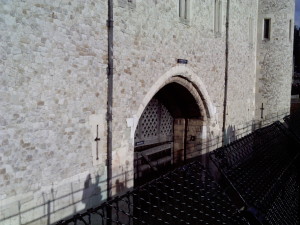 This Tower of London entrance can only be reached by boat on the River Thames. It was at one time the only entrance used for all alleged traitors of the crown.
I would have brought the Panther through here but I didn't have a boat.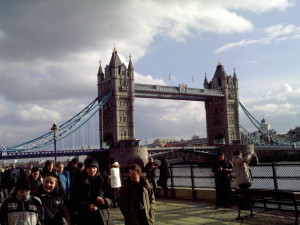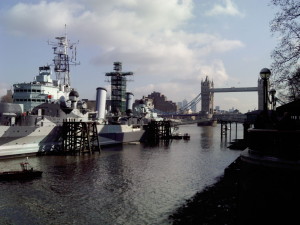 Royal Navy on the Thames with the Tower Bridge in Background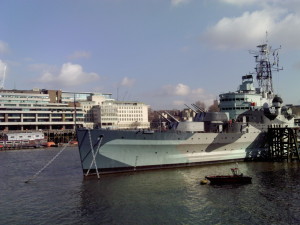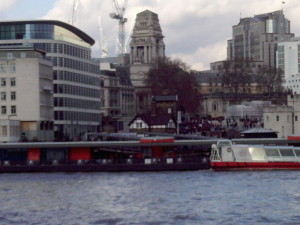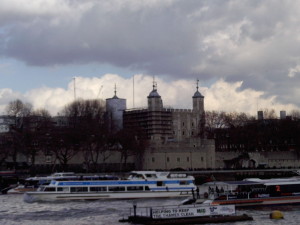 A plethora of boats traverse the Thames River.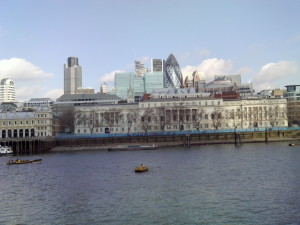 A view of the London skyline overlooking the Thames.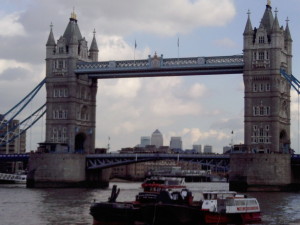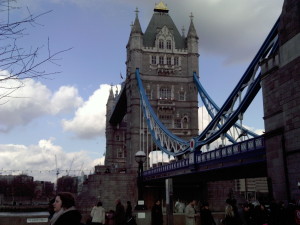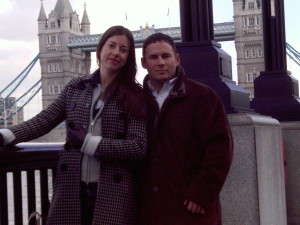 The Panther and I pose in front of the Tower Bridge.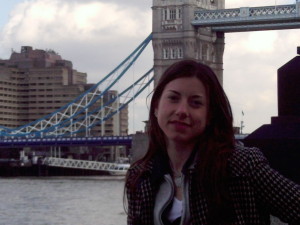 Don't let her pretty smile fool you. She's quick as a cobra and always posed to strike!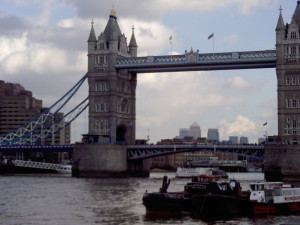 This is one of several red booths where I receive my mission updates from the Secret Intelligence Service… Oh, snap! I wasn't supposed to tell you that!
After regaining custody of the Panther and foiling her plot to steal the Crown Jewels, I contacted the agency for further instructions. My superiors instructed me to travel with the Panther to the Bayham Abbey in Wells, England where I would receive additional orders via carrier pigeon.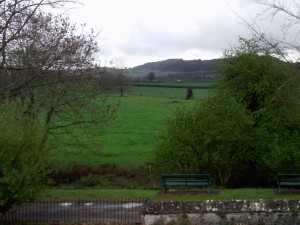 Green pastures outside of Wells, England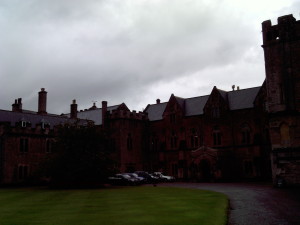 Bayham Abbey in Wells, England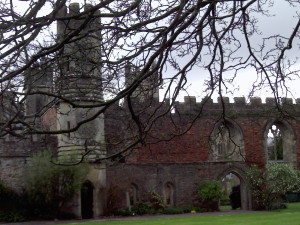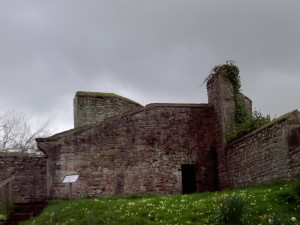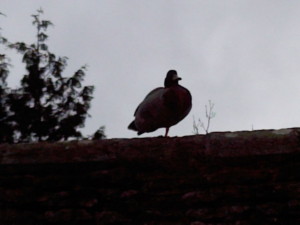 A carrier pigeon (disguised as a duck) awaits delivery of my next coded mission task.
Agent 008: Take the mark to the Old Court Bed & Breakfast in Temple Cloud. Confine her to one of the old jail cells there until contacts arrive for interrogation. Do not permit her to slip away again.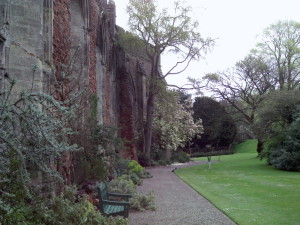 The beautiful ruins of Bayham Abbey
A glimpse of the Wells Cathedral from the manicured lawn of Bayham Abbey.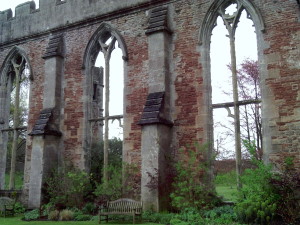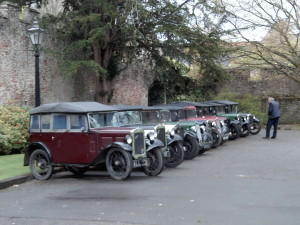 Early automobile display outside the Bayham Abbey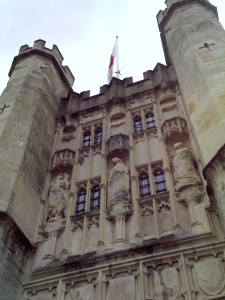 The magnificent cathedral in Wells, England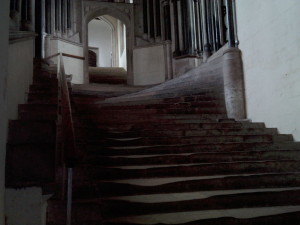 The interior of Wells Cathedral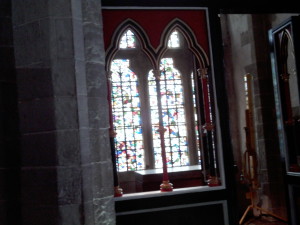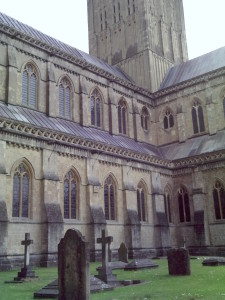 Ancient stone markers adorn the grounds of the cathedral cemetery
City of Wells, England – Where the 2007 hit movie Hot Fuzz was filmed.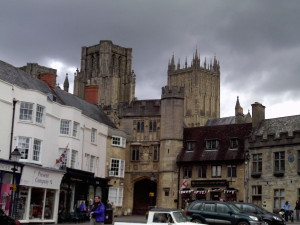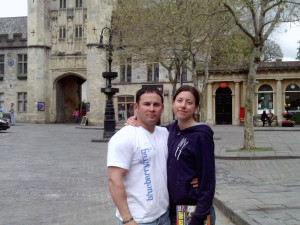 I think she's suffering from Stockholm Syndrome. She seems to be enjoying her captivity a little too much!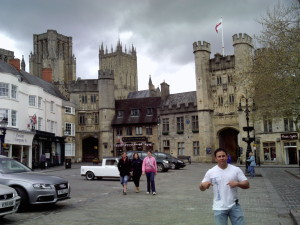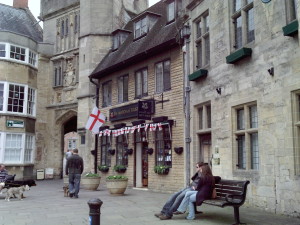 This picture truly captures the charm and romance of this quaint British town.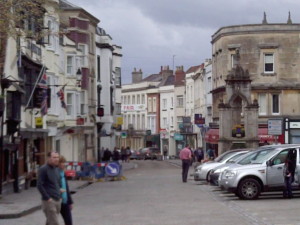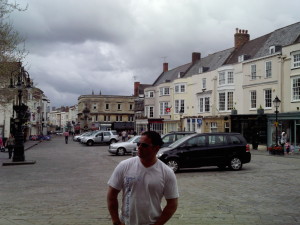 Big John – Secret agent and international man of mystery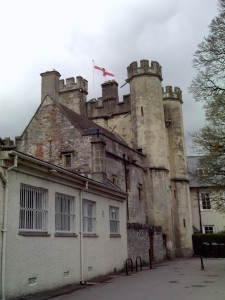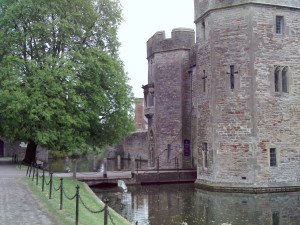 A beautiful medieval moat surrounds the Abbey walls.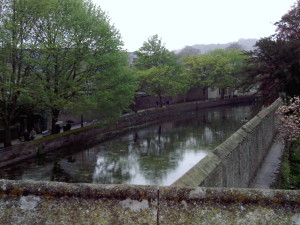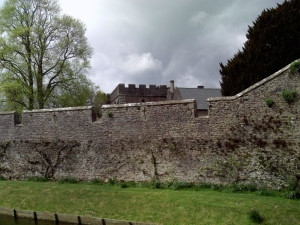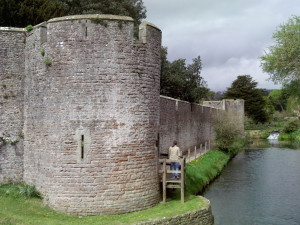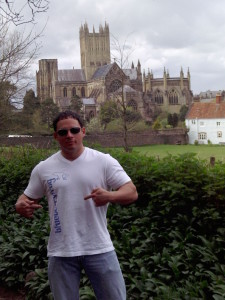 I don't know why I'm always doing this strange gesture with my fingers. Doc said it most likely some sort of nervous tic.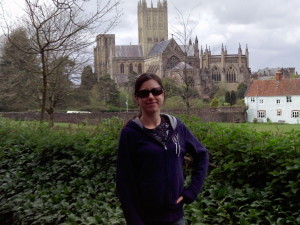 The panther poses with the Wells Cathedral in the background.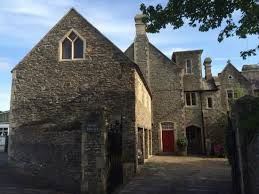 The Old Court, Temple Cloud, Somerset
We arrive without further incident at the Old Court in Temple Cloud near Bath, England. This gothic Victorian court house has been converted into a family owned bed & breakfast. The place is simply amazing!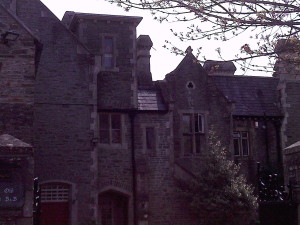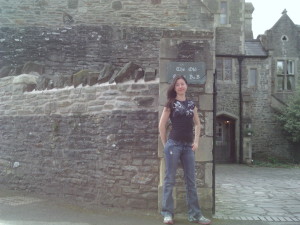 The panther strikes another pose in front of the Old Court, all the while planning her next escape.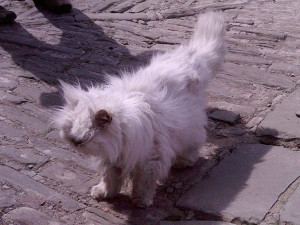 This guy we named Snowball; he was the official jailor at the Old Court.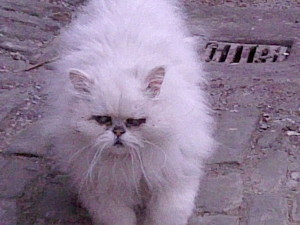 He's one tough kitty!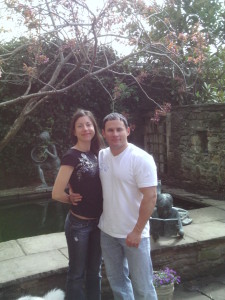 Don't worry, the Panther won't escape me. I have a hold of her tightly.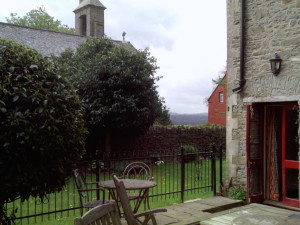 The courtyard at the Old Court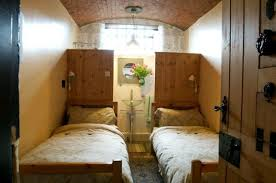 These converted suites were once actual jail cells!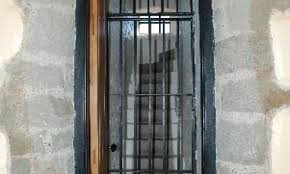 She's done it again! I awoke to find an empty cell. Why did I ever think I could trust that double-crossin' jailer cat! The panther has must slipped away in the dead of night. Visit Big John's Adventures in Travel again soon to see how this mission plays out. Will I stay hot on the panther's trail or will she continue to elude me?
Thank you for reading my super-secret spy story and I hope you visit my site again real soon. Feel free to explore other areas of my blog, post a comment, and share some love on social media.
Happy travels,
Big John
---

Posted in Adventurous Places, Europe, Great Dining, Tall Tales and Big Fish Stories and tagged Godmanchester, London, merry old england, York by Big John with 3 comments.