Neatly tucked away inside the North Chain of the Karwendal Alps lies the city of Innsbruck, Austria. The city is well-known for its winter sports and there is even an Olympic ski jump on the south side of town. Because Olympic ski jumps are highly frowned upon when one is pregnant, Rebecca and I decided to skip this particular attraction and head straight into Innsbruck's Old Town.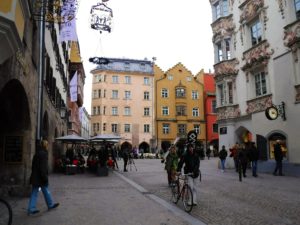 Inside the Old Town of Innsbruck
To step into the Old Town of Innsbruck is to step back in time some 800 years ago. Inside the heart of Tyrol,  this Austrian city is a place of both sophistication and old-world charm. Rebecca and I had an amazing time admiring its Gothic and Baroque architecture, set against the backdrop the majestic Alps.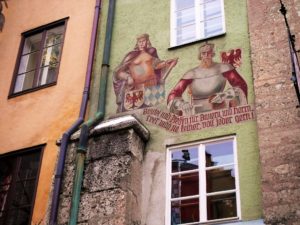 Numerous medieval paintings such as this can be seen on the walls around town.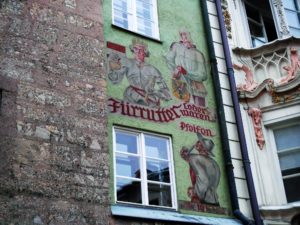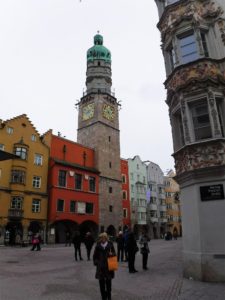 Herzog-Friedrich-Straße is the central street through the Old Town of Innsbruck. It is named after Duke Friedrich IV.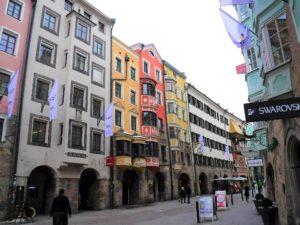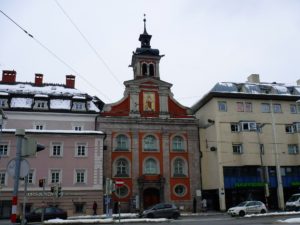 This baroque style church managed to squeeze its way firmly into the marketplace.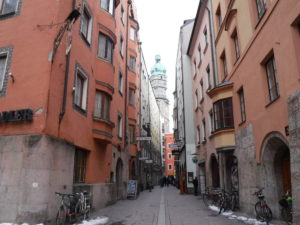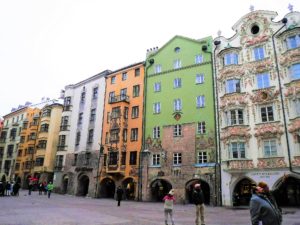 Look at all those pretty pastels all neatly lining the street!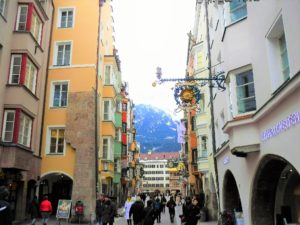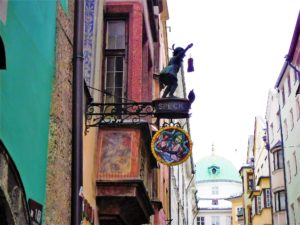 This little Speck figurine is a girl after my own heart. She stands over the door of a savory butcher shop.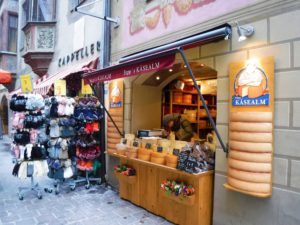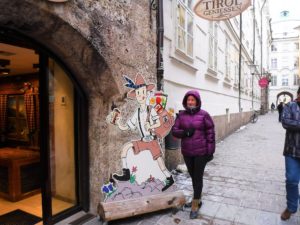 Rebecca takes a picture with a real life Tyrolean mountain man.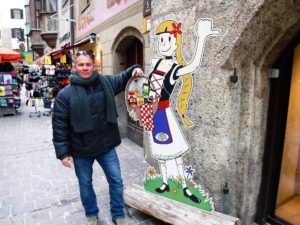 She's beckoning me to go inside for some fruity brandy and schnapps.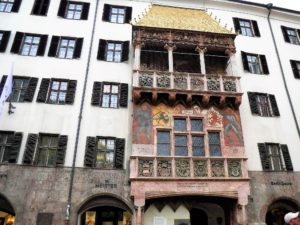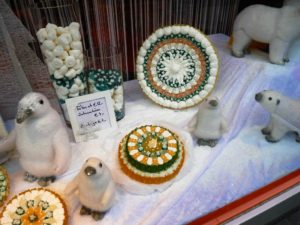 This polar window creation was made entirely of gummies!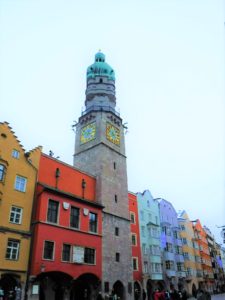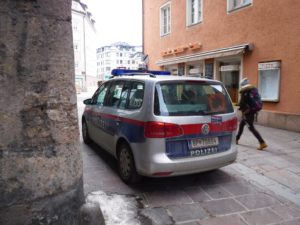 I love seeing the police cars of various countries. Go Austria's finest!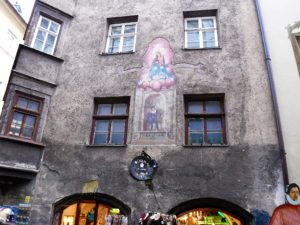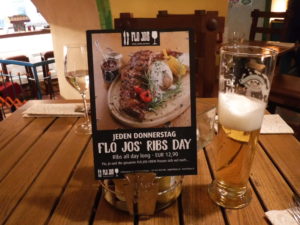 FloJos' in Innsbruck has great eats!
When looking for a place to do lunch, Rebecca and I stumbled upon this great spot featuring steaks, ribs, burgers, and more. We felt especially at home when we discovered the restaurant's interior was dressed in American decor.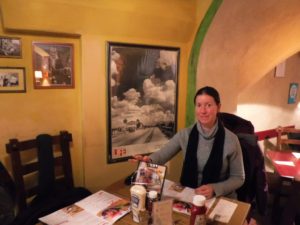 Rebecca is happy to be out of the cold and inside for warmth and good food!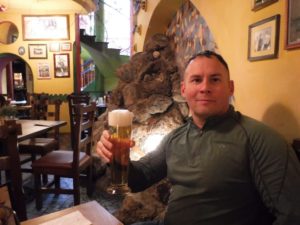 Beer is good in nearly every occasion!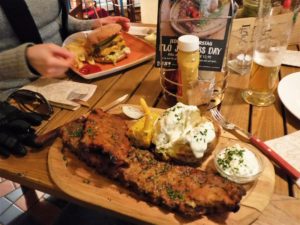 Now that's what I call a nice rack of ribs!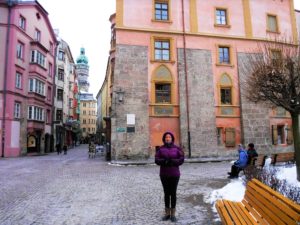 She actually stood just like that, not moving, for nearly an hour. Once I realized she was frozen in place, I pried her feet from the stones and moved her quickly inside.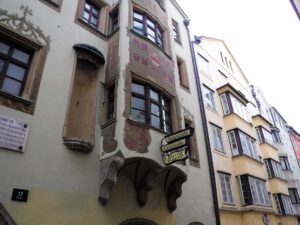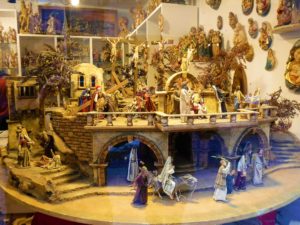 This little shop was full of fascinating biblical scenes such as this one seen in the window.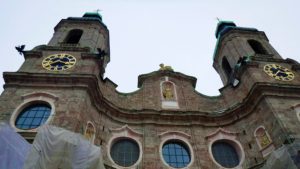 The Innsbruck Cathedral, also known as the Cathedral of St. James, was rebuilt between 1717 and 1724 on the site of a 12th century Romanesque church. Much of the original structure had been damaged by earthquakes in the 16th and 17th centuries.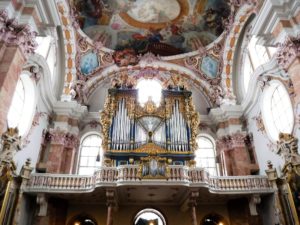 The cathedral's main organ has an astonishing 3,729 pipes and 57 registers.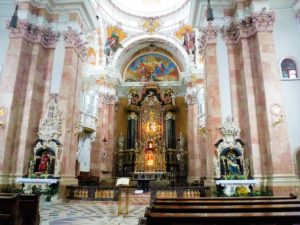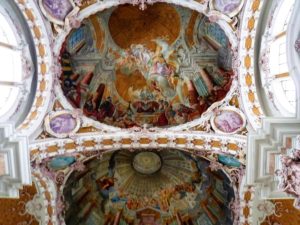 The church is a popular place for both worshippers and lovers of fine art.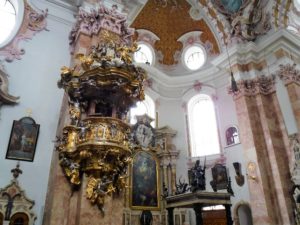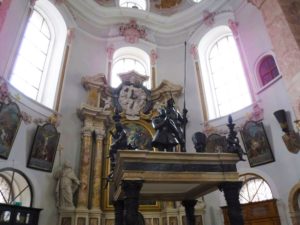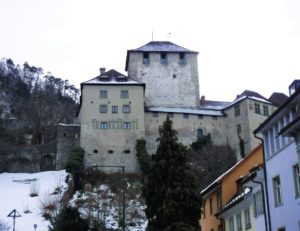 A grand house perched above the streets of Innsbruck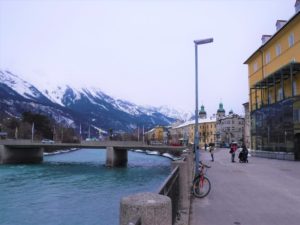 The Inn River and old Inn bridge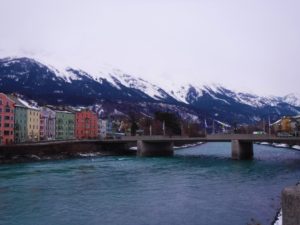 Although we only visited the city for a day, Innsbruck turned out to be an excellent place to experience much of the feel and flavor of Austria during the winter months. Thank you for visiting Big John's Adventures in Travel. We hope our post inspired you to pack those bags and create an adventure all of your making.
Happy travels,
Big John

Posted in Europe, Adventurous Places and tagged Austria, Innsbruck by Big John with

comments disabled

.