Dubai has a tropical desert climate and the weather gets insanely hot! With summer temperatures reaching an average 106 degrees, it would be easy enough to  just to stay indoors, lounge on the couch, and remain completely sheltered from the sun… easy enough, only… you're in Dubai! You're in an Arabian paradise, the crown jewel of the Emirates!
With Rebecca as my partner in crime,  we set off to steal some of that summer fun unique to this Arab Emirate city. Fortunately for us, Dubai has countless recreational activities and fun events for indoors or outside.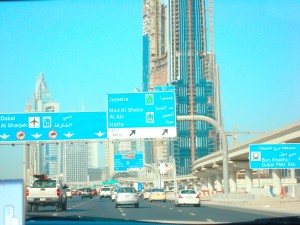 Photos snapped from our taxi cab as we race towards this phenomenal city in the Emirates.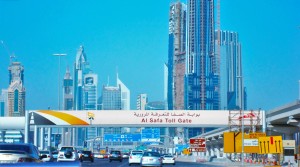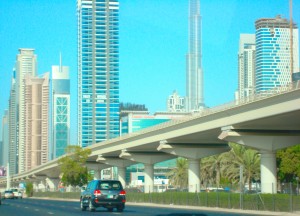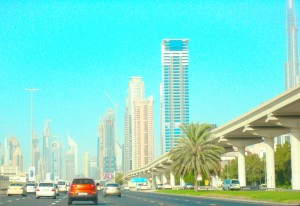 There are seven Emirates within the UAE – Abu Dhabi, Dubai, Sharjah, Ajman, Umm Al-Quwain, Fujairah, and Ras Al Khaimah. The capital city, Abu Dhabi, is the largest and wealthiest of the seven Emirates, yet Dubai receives the most international recognition.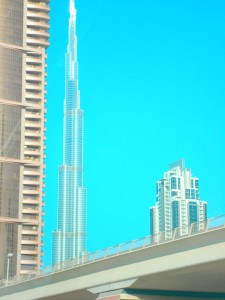 The Burj Khalifa, located behind bridge, is the tallest building in the world at 160 stories high. Visitors to this grand metropolis will easily discover why Dubai is often referred to as "the vertical city".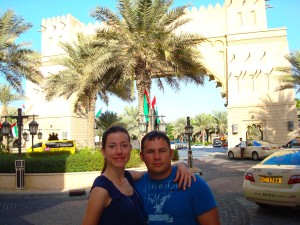 Rebecca and I standing at the entrance to the Souk Madinat Jumeirah.
There is no was to adequately explain just how marvelous this place is. I can tell you that even these pictures posted below hardly do it any justice. The Madinat Jumeirah is just one of the places you sort of have to see for yourself. It is a breathtaking and unique shopping, dining, and entertainment destination that has earned the name, "the Arabian resort of Dubai".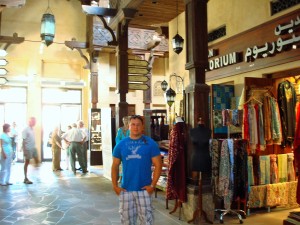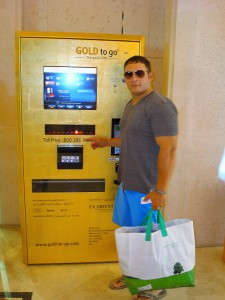 "Gold to go" ATM machine are quite commonplace in Dubai and other cities within the Emirates.
Let me ask you a question: Have you ever just been walking around, doing a little shopping, when all of a sudden you got the hankering to purchase some solid gold bars to line the inside of your pockets? No? Well me neither, but apparently in Dubai somebody felt the need to install these gold dispensing ATM machines – It must be real nice!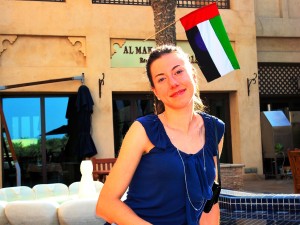 She's my Arabian princess and my jewel of the Emirates!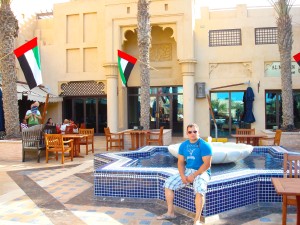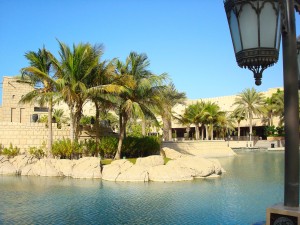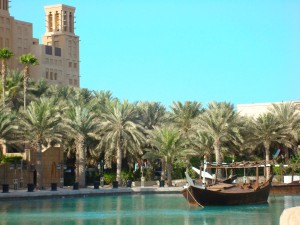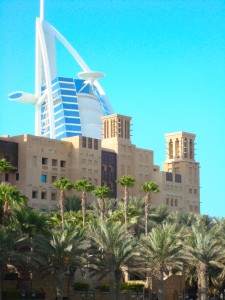 The top of the Burj Al Arab Jumeirah protrudes out over the nearby resort.
This iconic sail-shaped hotel had been voted the world's most luxurious hotel. Hotel guests even receive an optional chauffer-driven Rolls Royce to get around town.  I considered booking a room at the Burj Al Arab hotel; but I thought it better to pay my mortgage over the next three months.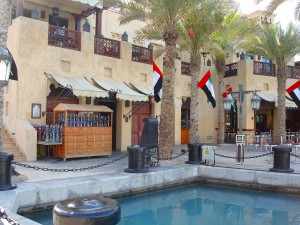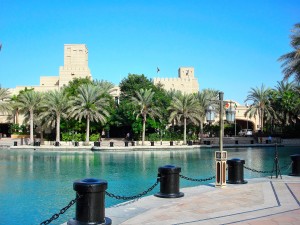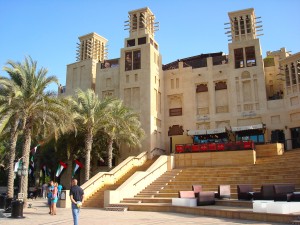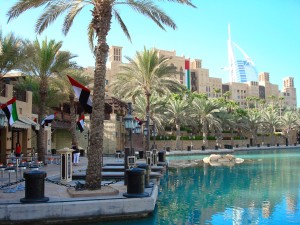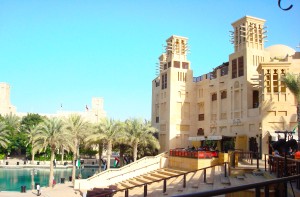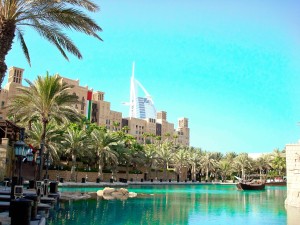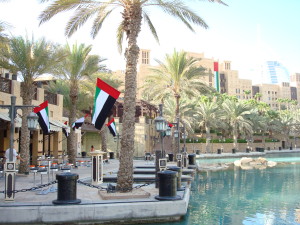 Dubai is a literal Epcot Center of the Emirates.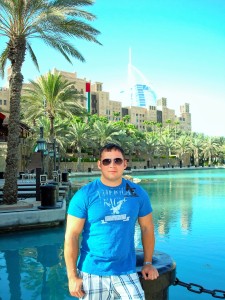 I don't know about Rebecca, but Big John is ready to beat the heat and move indoors!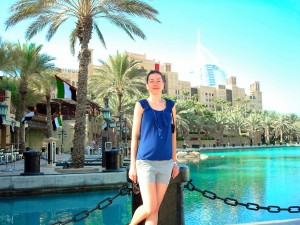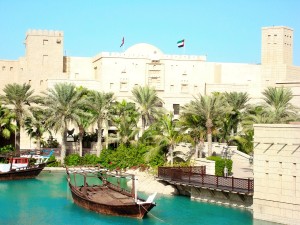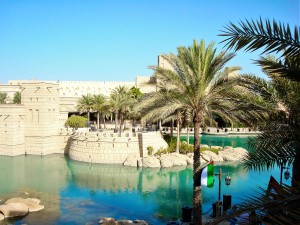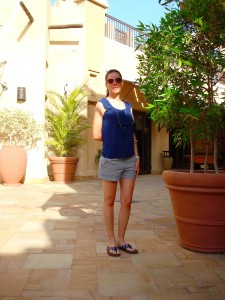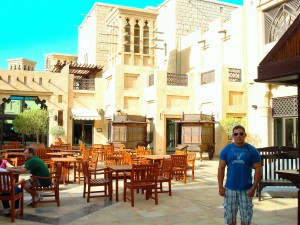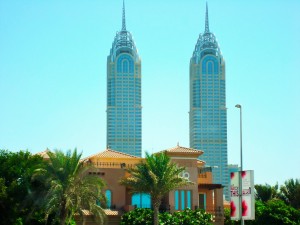 A view of Al Kazim Towers in Dubai.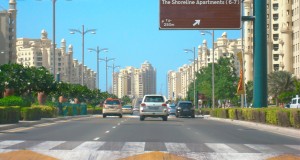 Driving to our next destination. It better be indoors and away from the scorching Arab heat!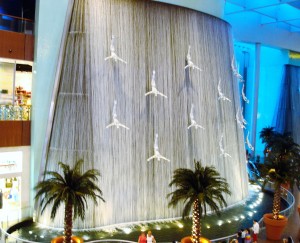 Now that's what I call one cool mall fountain!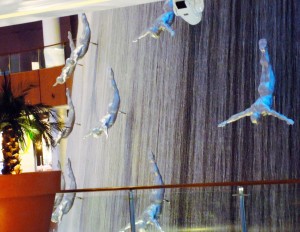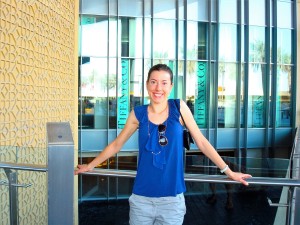 You know she wasn't standing outside of Tiffany's by accident!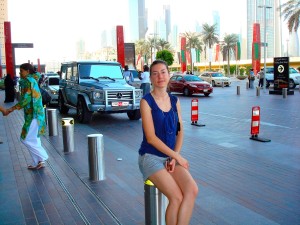 Rebecca rests in the courtyard shade outside Dubai Mall.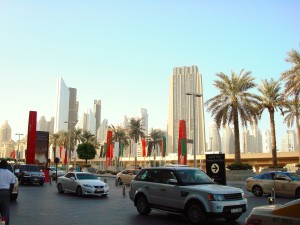 It's getting hot out here. Taxi!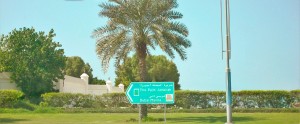 There's nothing like being in the desert and searching for that cool sip of water!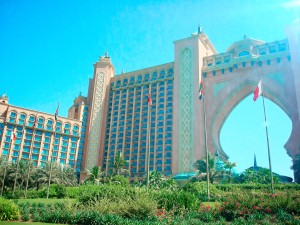 Atlantis:  The Palm Hotel and Resort, Dubai
Well, there is only so much of this desert heat that Rebecca and I can take. Our next stop is swimsuits and waterslides. We're going to make a cool splash at Atlantis in Dubai! Thank you for reading my article and I hope you will visit my site again real soon. Feel free to explore other areas of my blog, post a comment, and show some love on social media.
Happy travels,
Big John
---

Posted in Adventurous Places, Asia and tagged Dubai, emirates, United Arab Emirates by Big John with

comments disabled

.