To begin, I must confess that the title of this post is a bit misleading. Our bicycle ride through Amsterdam makes up only a very small portion of the photographs you will see below. With 1.3 bicycles per person in Amsterdam, it just seemed easier for Rebecca and I to do most of our exploring on foot.  Not only is Amsterdam the capital, it is the most populated city in the Netherlands. Its name derives from Amstelredamme, indicative of the city's origin around a dam in the river Amstel. Just like Venice, Italy and Bruges, Belgium, Amsterdam is a city of beautiful canals and extraordinary history. I know you'll experience a desire to visit this city yourself once you view some of our pictures.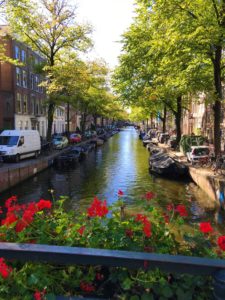 One of the many splendid sights when on a bicycle ride through Amsterdam.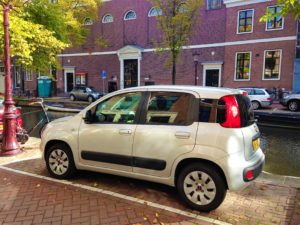 Our rental car, a Fiat Panda, fits neatly inside a mini-parking space alongside the canal.
Although driving in Amsterdam was nowhere near as perilous as driving in Rome, I was more than eager to park my rental car and leave it there for the duration of my stay. When driving to our Airbnb, I experienced a very close call when I nearly ran over a bicyclist with my Fiat Panda. I didn't feel too bad for long though; it wasn't more than an hour later when a bicyclist nearly ran me over on foot.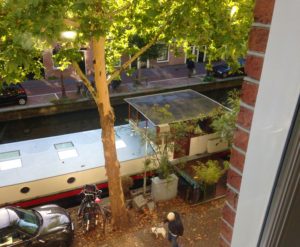 The view outside the window of our Airbnb in Amsterdam.
Our little studio apartment was centrally located in the Jordaan neighborhood and was in easy-walking distance to Amsterdam's most popular sites and attractions.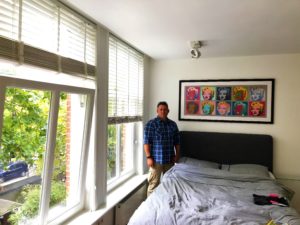 It appears the owner of our Airbnb rental was a fan of Marilyn Monroe.
While on a bicycle ride through Amsterdam, Big John stops at s Dam Square and the Royal Palace.
One of the things many Americans do not know about the Netherlands is that they are a constitutional monarchy, as well as a parliamentary democracy.  Resting in the middle of Dam Square sits the Royal Palace, Amsterdam. This beautiful structure is the official reception palace of King Willem-Alexander. The Palace also hosts other royal receptions, such as the annual New Year's reception, dinners and prize ceremonies. Visitors are allowed to tour the palace during the majority of the year.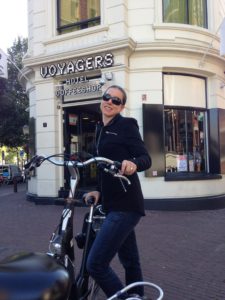 While on a bicycle ride through Amsterdam, Rebecca breaks just outside the Voyagers Coffeeshop and Hotel.
In Amsterdam, coffeeshops are alcohol-free (and usually coffee-free) establishments that sell marijuana, hashish, and cannabis for recreational use. Amsterdam has a very liberal soft-drug policy and the city is widely known as the cannabis capital of the world. The are over 170 legally-operated coffeehouses in Amsterdam.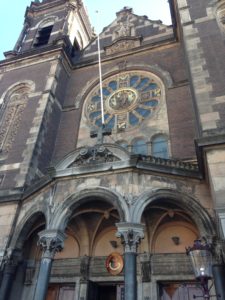 The Basilica of Saint Nicolas in the Old Centre district of Amsterdam
Amsterdam has numerous churches and cathedral for visitors to admire and worship in. The Basilica of Saint Nicholas is located in the Old Centre district of Amsterdam.  It is very close to Amsterdam's main railway station and is the city's primary Roman Catholic church. The architecture was a spectacular sight to behold.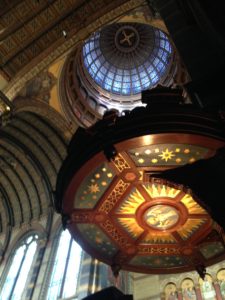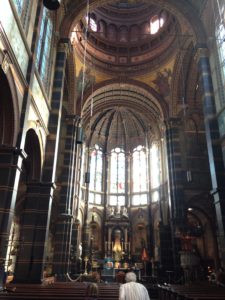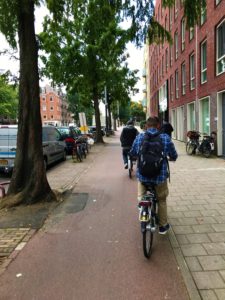 Big John leads the way on his bicycle ride through Amsterdam
I told Rebecca that she should safely stay within eyeshot of my bald spot when cycling through the streets of Amsterdam. She informed me that under those guidelines, she could straggle at least two neighborhoods behind me and not lose sight of it.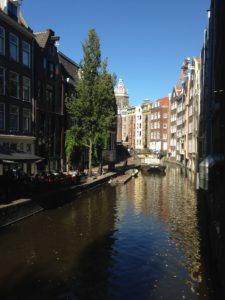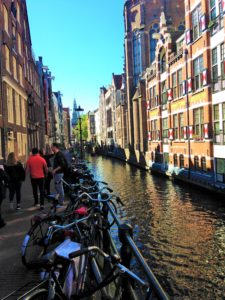 It appears we were not the only ones doing a bicycle ride through Amsterdam. No matter where you turn in Amsterdam, you're likely to find more bicycles than people.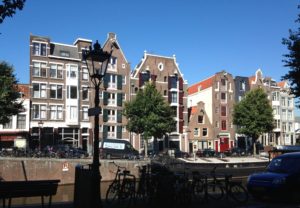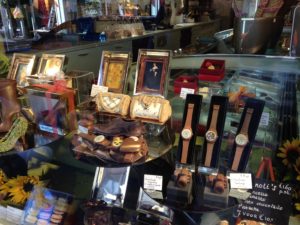 Chocolate is just one more reason to go on a bicycle ride through Amsterdam.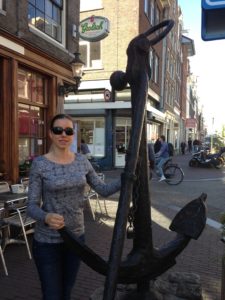 Rebecca is hoisting up anchors outside the Teun Hotel Restaurant.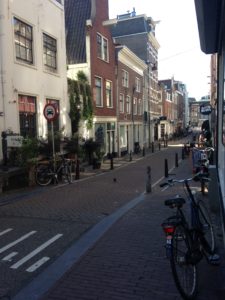 Rebecca suffered an embarrasing crash on this very street just after taking this picture.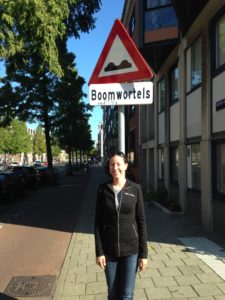 Boomwortels are just one of the many hazards one might encounter on a bicycle ride through Amstredam.
There are some words, regardless of language, that just sound funny. Rebecca was pretty amused with all the signs that read "Boomwortels". Judging by the picture on the signs, I was pretty clueless that "Boomwortels" was the Dutch word for tree roots. I honestly thought the signs were alerting me to a set of carefully concealed double-speedbumps.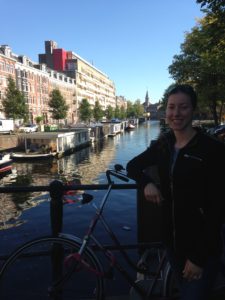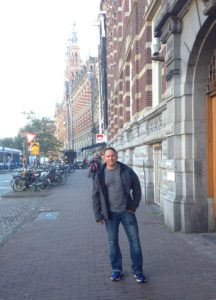 They say a picture adds twenty pounds to your frame. I'll just blame the other twenty pounds on good ole' Dutch beer!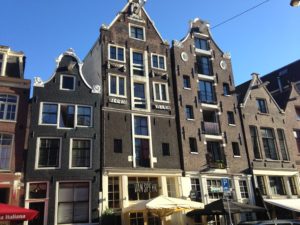 The Van Speyk, pictured in the background, is a classic Amsterdam style brasserie that serves traditional French and Dutch cuisine. The building dates back to 1659 and is located in the the old warehouse district, between the Dam square and the Grand Central Station.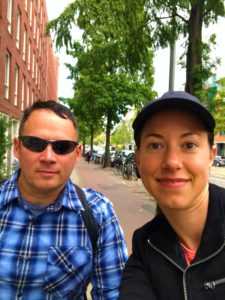 Big John and Rebecca stop to snap a selfie on our bicycle ride through Amsterdam.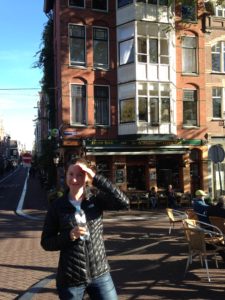 They say that the prettiest girls in all of Amsterdam can be found on Prinsengracht Centrum!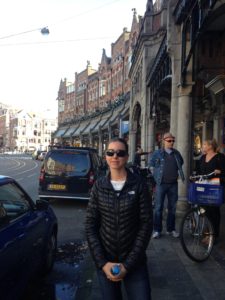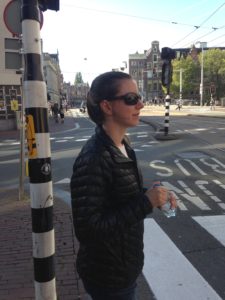 I love how she knows to wait for the "walk" light before stepping out into the street. I could learn a lot from this woman!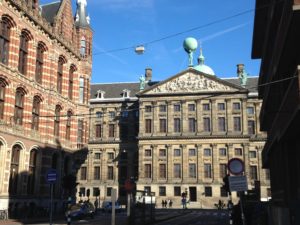 The Atlas scuplture affixed to the top of the Royal Palace signifies Amsterdam's place in the world.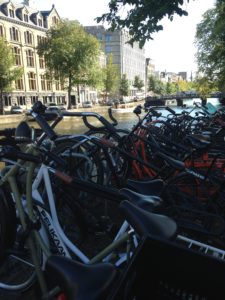 We encountered many more bikes on our bicycle ride through Amsterdam.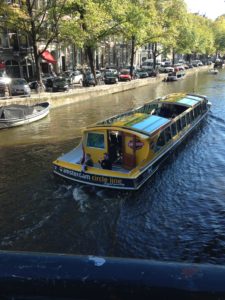 The Amsterdam Circle Line offers luxury canal tours at affordable prices.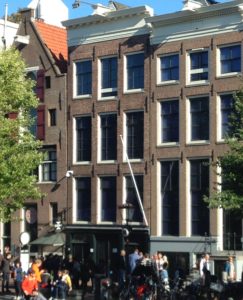 Tourists stand outside the Anne Frank Home on the Prinsengracht canal.
Anne Frank hid inside a secret upstairs annex of this structure for a period of two years before finally being discovered by Nazis and shipped off to a concentration camp. During her time in the attic, the young girl kept a diary detailing her daily life as she and her family relied on faith, love and hope to keep them alive. Tragically, Anne Frank's diary would be the only part of her that survived the holocaust. The Nazis were believed to have exterminated approximately 6,000,000 Jews during the duration of World War II.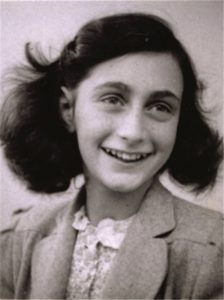 In memory of Anne Frank (1929-1945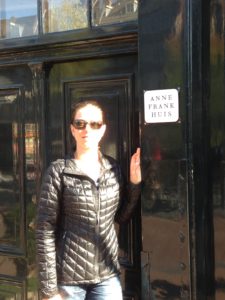 Rebecca standing outside the door of the Anne Frank House.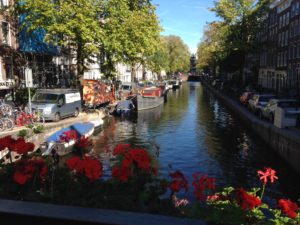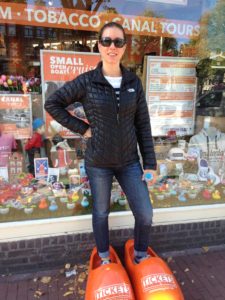 Once the swelling went down in her feet, she realized he had bought them a just few sizes too big. She never listens to me!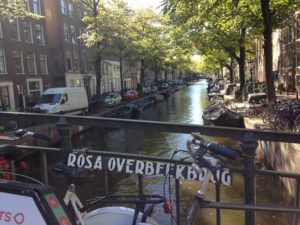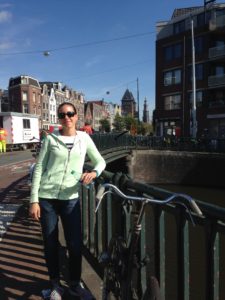 Rebecca did more walking than she did pedaling on our bicycle ride through Amsterdam.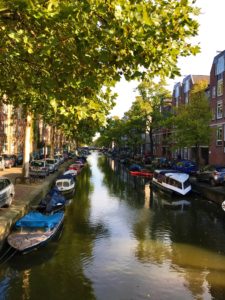 This is another view of the canal just below our lofty studio apartment.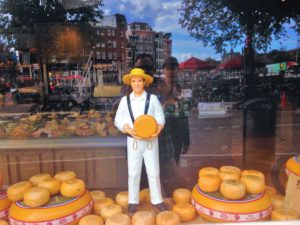 You can't be Dutch if you don't like cheese!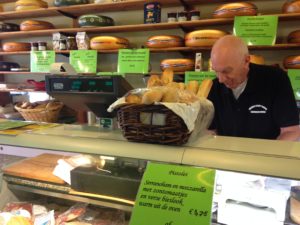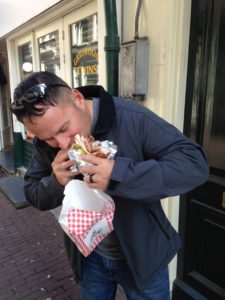 If you're a bacon-lover like me, make sure you visit the Grillroom Twins in Amsterdam for the best sandwich that money can buy!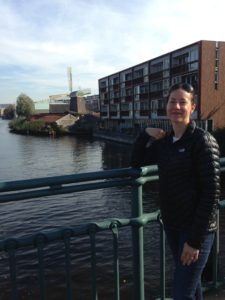 My heart flutters like a Dutch windmill every time she comes near (That may not be a good thing. I probably should get that checked out).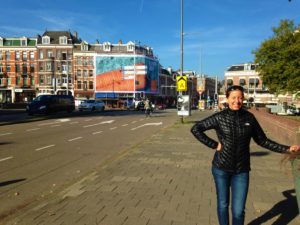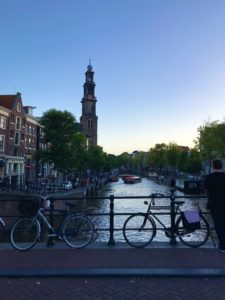 The setting sun painted a stunning picture of this Amsterdam canal.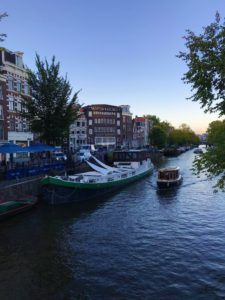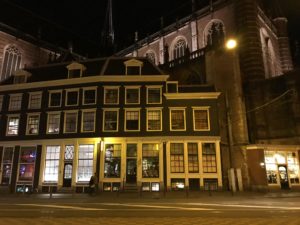 Nightfall on the streets of Amsterdam.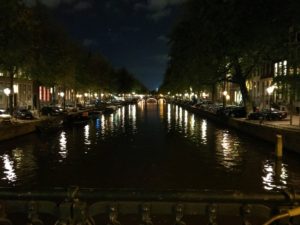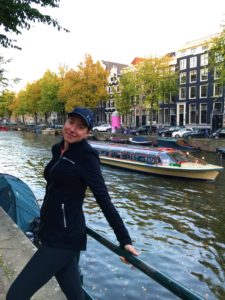 She knows all too well how to work her voodoo magic on me!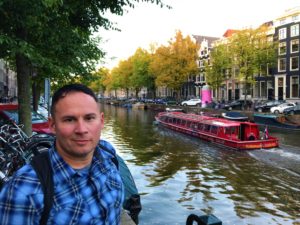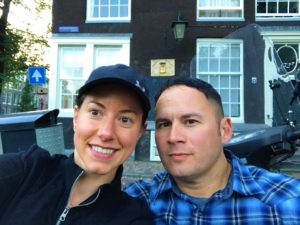 Selfies are only good when you have nobody else around to snap the picture… or when you have a pretty girl to male them look a whole lot better!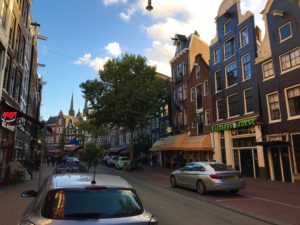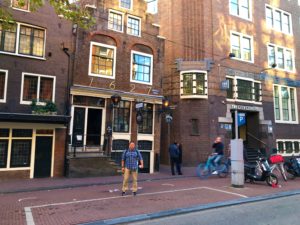 While exploring the Spuistraat, Centrum district, Big John poses in front of a house built in 1627.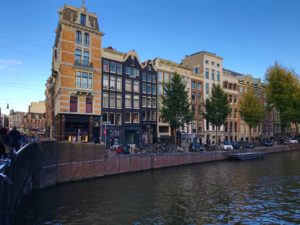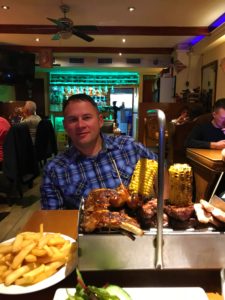 A bicycle ride through Amsterdam sure does make a man hungry. Rebecca needs to quit eyeballing my food and just eat her small, silly salad. This small snack has to last me until dinner!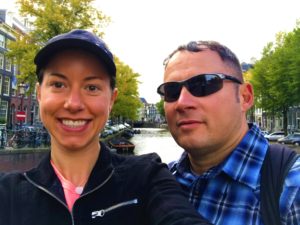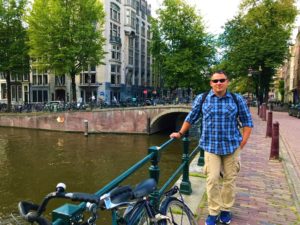 Don't hate!  It's hard being an international man of mystery without owning a good pair of shades!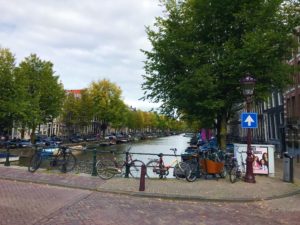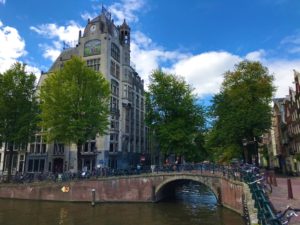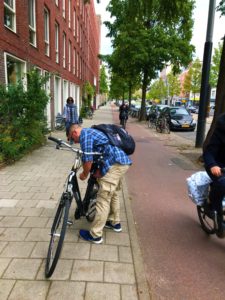 Whoever rented this bike before me must've been over five feet tall! I had to stop and lower the seat.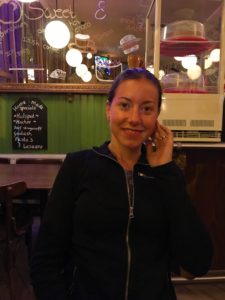 I wonder if she knows how madly in love I am with her. Maybe one day I will get the courage to tell her just how I really feel.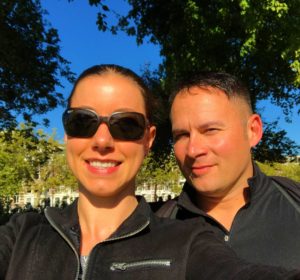 She's into the tough guys, what can I say?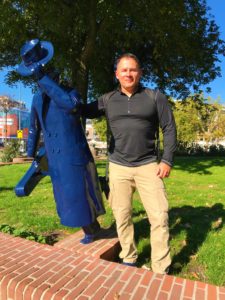 Big John and the empty suit hang out in Marnix Park.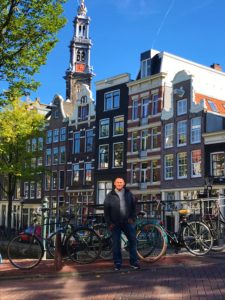 I suddenly just realized that I have the same stance in every picture. Come to think of it, I don't believe I've ever really fully extended my left leg…. interesting.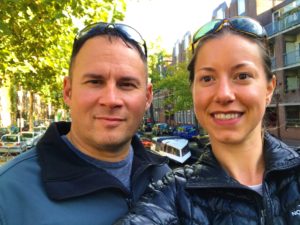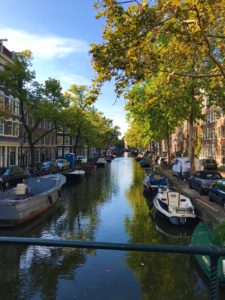 Believe it or not, the waters of Amsterdam are home to an amazing variety of fish. There are perch, bream, pike, carp, eel, rudd, mullet, and their highly-prized zander. I highly doubt that you would need a boat though if you planned on casting into this canal!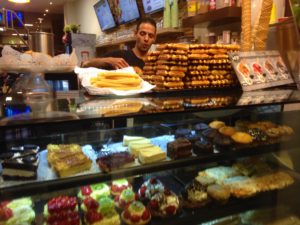 I wish my job involved making waffles every day!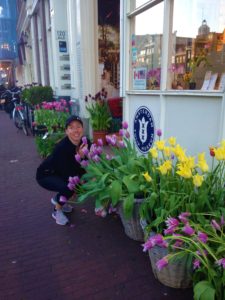 The best tulips in Holland can be found on a bicycle ride through Amsterdam.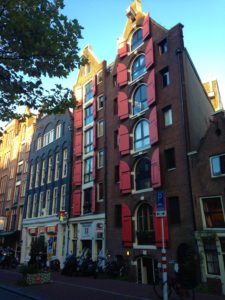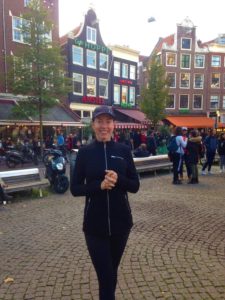 Rebecca poses in front of the Cafe Hoppe, a charming Dutch pub dating all the way back to 1670.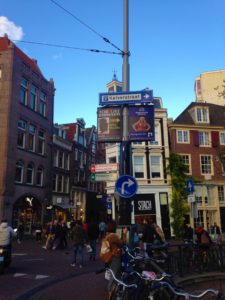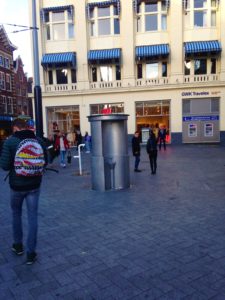 These are actually popup urinals that come up out of the street. I saw these in use in both the Netherlands and Belgium. Talk about culture shock!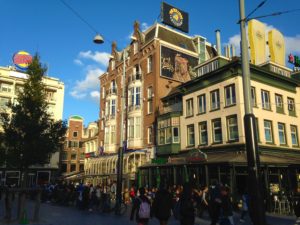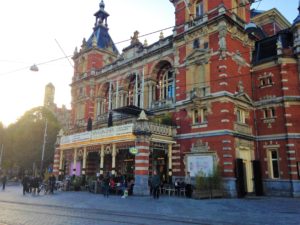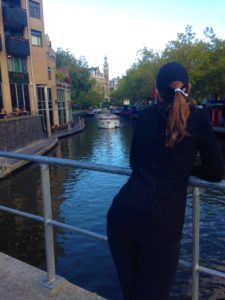 "Excuse me Ma'am, do you know where the weight room is?"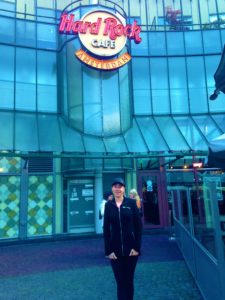 Rebecca outside the Hard Rock Cafe, Amsterdam.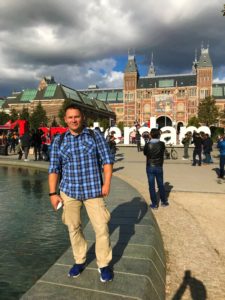 Big John poses in from of the iconic I AM AMSTERDAM sign.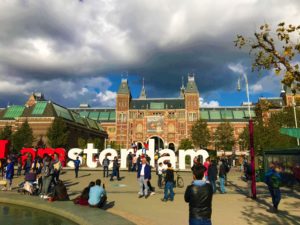 The Rijksmuseum is a Dutch national museum dedicated to extraordinary art and history of Amsterdam.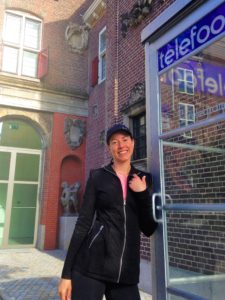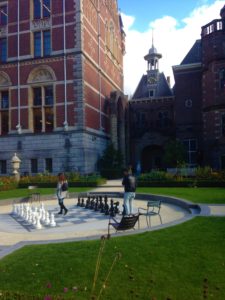 That is one very large game of chess!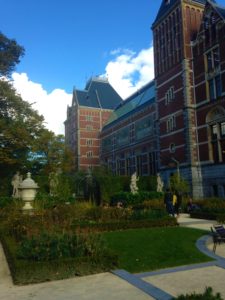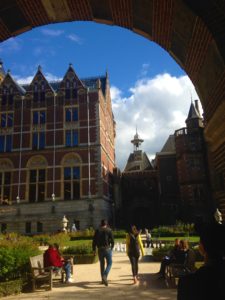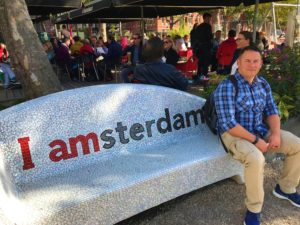 Sitting alone on that bench, feeling like the Netherlands' version of Forrest Gump.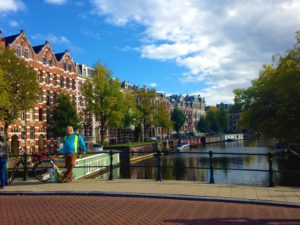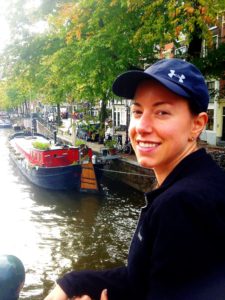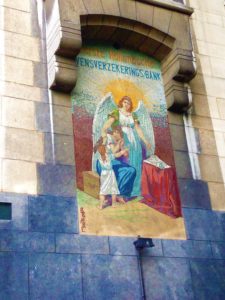 Amsterdam had several fascinating murals in and around the city, like the one I captured here on the wall of this bank.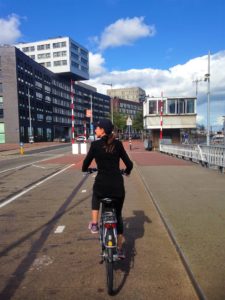 She looks so prim and proper riding on a bicycle through Amsterdam. She is such a sweetheart!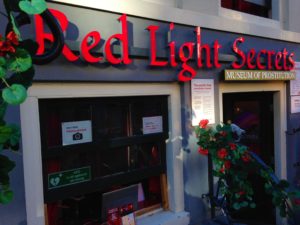 This is the section of our tour where picture-taking was just a bit too risque! You'll just have to trust me when I say there's a lot in the Red Light District that wouldn't go over well on a family-friendly blog such as this one.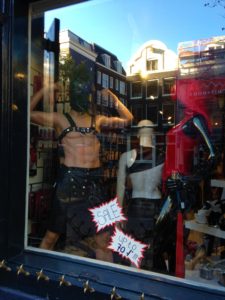 I can't believe I flew all the way to Amsterdam to buy some assless leather chaps and they were completely sold out… Joking, they had plenty in stock!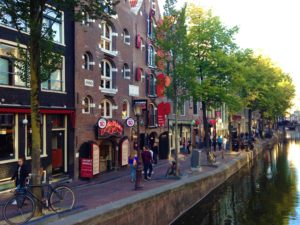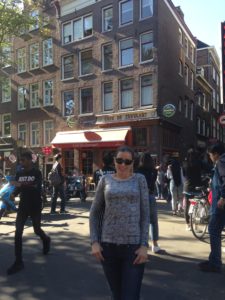 My cutie-pie posing in front of Café de Zeevaart, a traditional Dutch Bar situated in the heart of the Red Light District.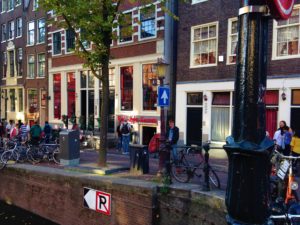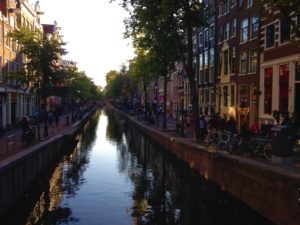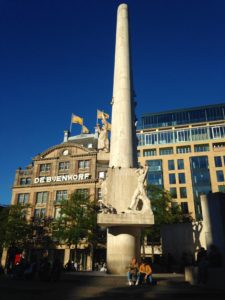 This National Monument on Dam Square was erected in 1956  to commemorate the casualties of World War II and other armed conflicts.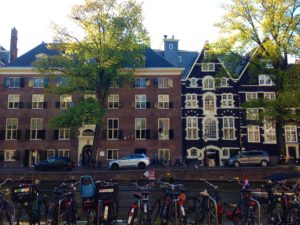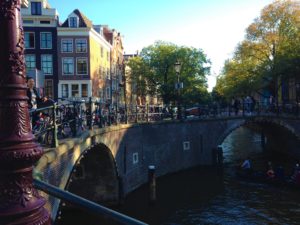 You can barely make out Rebecca as she tries to hide from me behind that pole.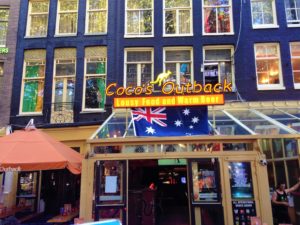 Just the sign alone at Coco's Outback was enough to entice me to pause our bicycle ride through Amsterdam and step inside.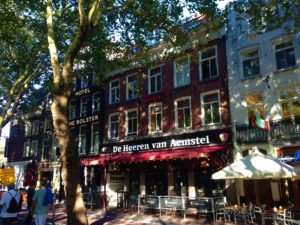 Thorbeckeplein square is located right right in the center of Amsterdam and is well known for their diverse eateries and lively nightclubs.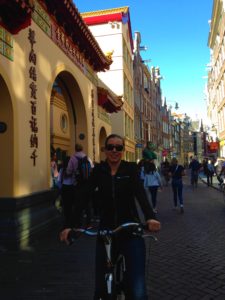 Rebecca pedals her bicycle through a crowded portion of Chinatown, Amsterdam.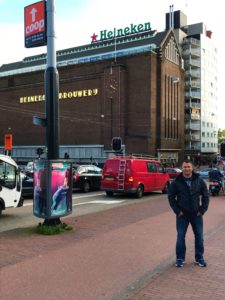 I just couldn't go home home without first getting a picture in front of the Heineken brewing factory.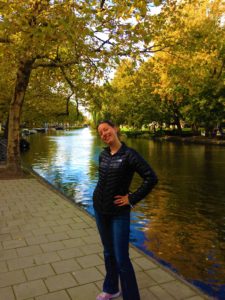 For me, the greatest thing about travel adventures is experiencing them with the one you love.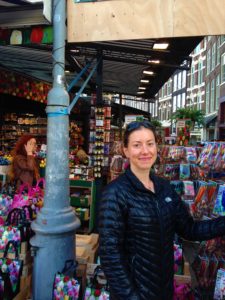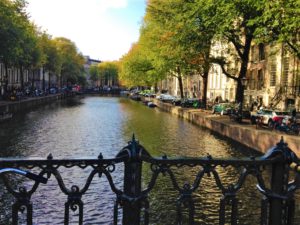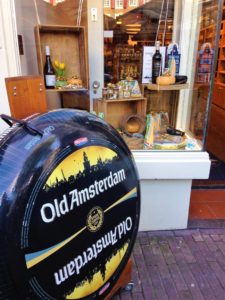 Did I mention that I really love a good Dutch cheese?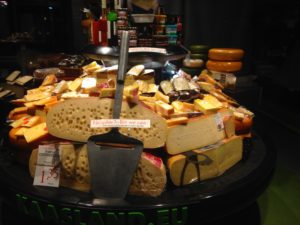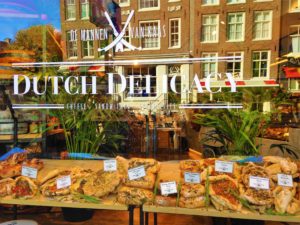 The Dutch Delicacy takes the grilled-cheese sandwich to a whole new level! There are a lot of scrumptious food option on a bicycle ride through Amsterdam.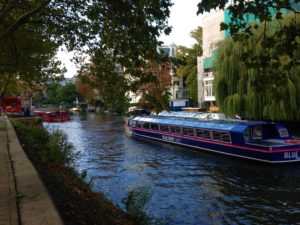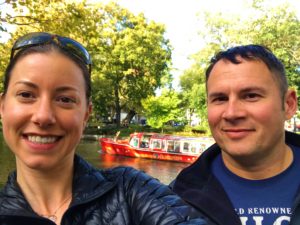 I would travel to the ends of the earth with this girl…. actually, I think I already have!
After spending three fun-filled days and a bicycle ride through Amsterdam, this beautiful lady and I hit the road and headed out towards the Rhine. We were off to Germany and then to Belgium where more adventure was sure to await us. Life is great when you have the perfect travel companion by your side!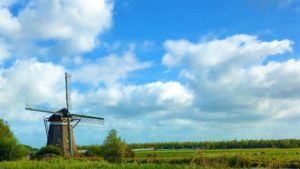 A lone Dutch windmill on the outskirts of Amsterdam
I hope you enjoyed my post and thank you for taking the time to visit bigjohnsadventuresintravel.com. Please feel free to explore the rest of my blog site and leave a comment or two so I know you were here.
Happy travels,
Big John

Posted in Adventurous Places, Europe and tagged Amsterdam, Holland, Netherlands by Big John with

comments disabled

.