Just recently, Rebecca and I had the pleasure of attending Germaine's, our first luau on the island of Oahu. Finding my knowledge of Hawaiian culture a bit lacking, I first read up a little on the history of these fascinating, food-centered events. It may be of interest to some to know that in ancient Hawaii, men and woman ate their meals completely apart. Furthermore, commoners and women of every social class were forbidden by the ancient Hawaiian religion to eat certain delicacies. When I first read this, I thought it made a whole lot of sense. The last time I had breakfast with Rebecca, she ate all of the blueberry waffles. I went to work that day with a cold hard-boiled egg and one of those crummy end-pieces of toast. If I had eaten first, or if she had been forbidden to eat such delicacies, I would have enjoyed a really tasty breakfast. I shared the idea with Rebecca just this morning, and for some reason I didn't eat any breakfast, nor did I get any lunch.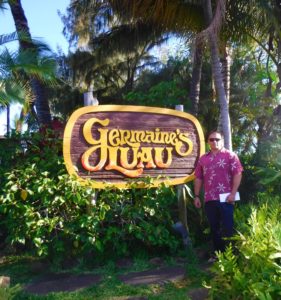 Big John at Germaine's Luau
Separate meals between the sexes continued all the way up until 1819, when King Kamehameha II finally abolished the practice by throwing a feast where both men and women could attend. The king's symbolic act forever ended the religious food taboos on the islands and the Hawaiian luau was born. Had Rebecca been around back then, and the king had been forced to share waffles with her, it's highly doubtful that he would have been in such a festive mood. For that reason alone, I hope the Hawaiian people are truly thankful that Rebecca did not come to share a meal with them until some 200 years after the food ban was lifted…. and also thankful they weren't serving any blueberry waffles.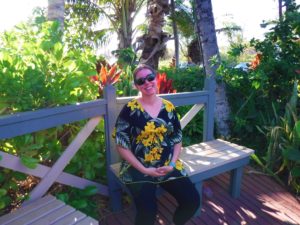 Rebecca is all smiles at Germaine's!
Rebecca smiles for the camera, oblivious to the fact that if history had been any different, she could have easily destroyed the luau that so many have come to know and love!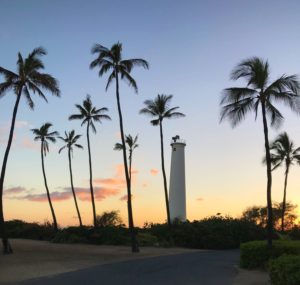 Germaine's Luau is located next to Barber's Point lighthouse on the west side of Oahu.
Far removed from the hustle and bustle of downtown Waikiki, Germaine's location is both beautiful and serene. Visitors to Germaine's Luau can experience all the tradition of a luau and capture much of the essence of that old Hawaiian culture.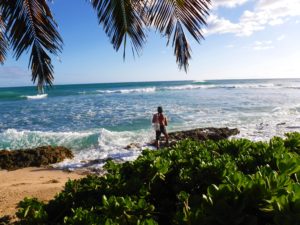 A fisherman casts his net near the beachfront property of Germaine's Luau.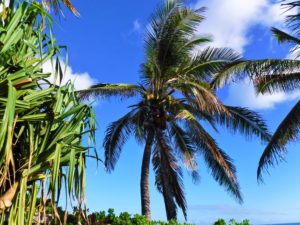 Germaine's Luaua is a family run event.
To ensure that the family would be forever united and always remain Keiki o Ka 'Aina (children of the land), an individual coconut tree was planted for each member of the Stephenson family throughout the property.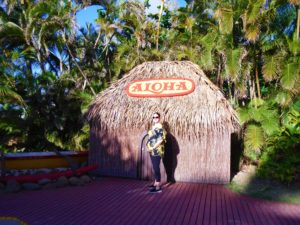 Rebecca stands in line to use the ladies room…. Joking! It's just a hut that people probably don't use the restroom in.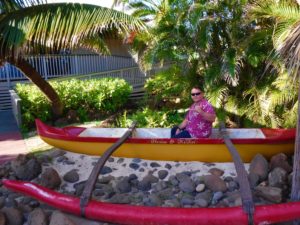 Many may not know my former title as "Outrigger King of the Pacific". I try not to talk about it much because I don't want all of that publicity and fanfare.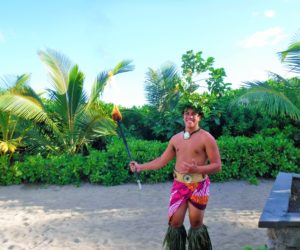 This kid had some real skills working the luau fire dance…. I taught him everything he knows.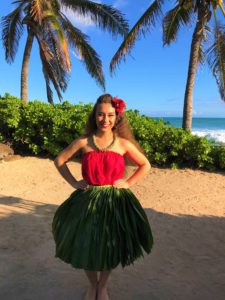 A pretty hula dancer at Germaine's Luau
Here is a helpful piece of information for all you ladies coming over from the mainland. A flower worn on the right side of your head means you're available. A flower worn on your left side, or closest to your heart, means that you are spoken for.  When Rebecca heard about this she said that it was always nice to have options… joking!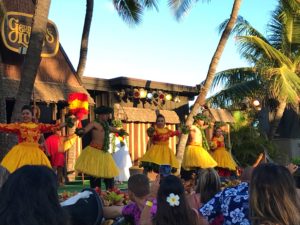 The strength and beauty of Polynesian culture on full display at Germaine's Luau.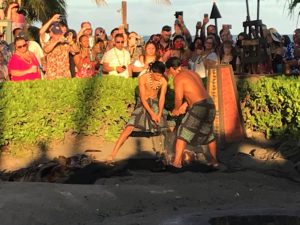 Two strong men pull the roasted pig from the imu, or underground oven.
The word kālua, which literally means "to cook in an underground oven", is used to describe the way in which the pig is prepared at luaus. The word Luau, in Hawaiian is actually the name of the taro leaf, which when steamed for a few hours, resembles cooked spinach. The traditional luau was eaten on a floor of mats woven together by the leaves of the hala tree.
Traditionally, a hardwood fire is built inside a pit large enough to contain the food being cooked. Large stones and vegetation are than used to cover the food. Stones are placed on top of the fire in the pit, taking around 2-3 hours to reach their maximum temperature. Special care is made in the selection of stones to ensure they contain very little moisture. It could become vey dangerous if stones exploded from the steam during the intense heating process.
Once the stones become extremely hot, they are spread out over the coals and the pit is lined with vegetation such as banana trees that have been pounded out to make them pliable. Sometimes these hot stones are also be placed inside the body cavity of the pig to ensure the meat is fully cooked. The end result will be some of the best pork you ever tasted! Don't take my word for it though, you need to experience a luau for yourself.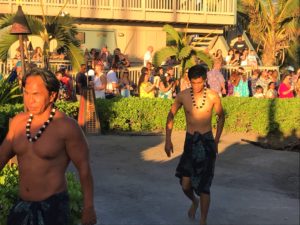 Do you even lift, bruh?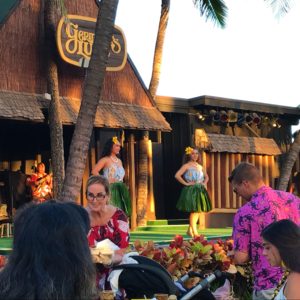 A luau is more than just a feast, it is a culturally-themed party with magnificent pageantry.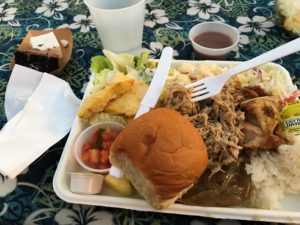 The food at Germaine's is fantastic!
All though Germaine's advertises themselves as being an all-you-can-eat buffet, I could only manage one really big plate of food. Of course I had a healthy portion of the kalua pork, then I tried a little poi, some Hawaiian sweet rolls, rice, Lomilomi salmon, Haupia (coconut pudding), island fish, fresh pineapple, teriyaki beef, pineapple slaw, green salad (I'm dieting), Hawaiian Pulehu chicken, potato-mac salad, chocolate cake… and beer.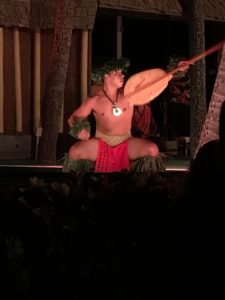 Once the sky goes dark the show really begins to heat up!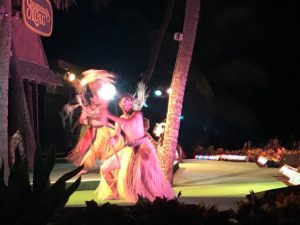 The Tahitian and Samoan dancers really bring out that warrior spirit!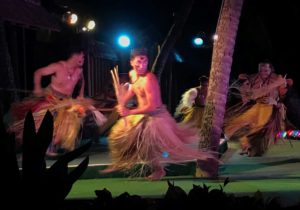 From the allure of the hukilau hula to the thrill of the blazing fireknife dance, the entertainment of Germaine's was something we will never forget!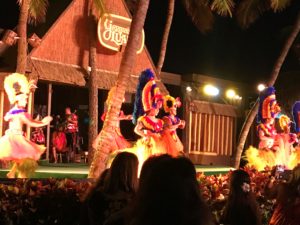 The one thing I loved most about Germaine's Luau was their abundance of "Aloha" spirit.  The Hawaiian word Aloha means many things to include love, affection, peace, compassion, and mercy. To participate in a luau, and share that experience with ohana (family), is what the word aloha is all about. Thank you for visiting Big John's Adventures in Travel and please feel free to explore more of my site.
Mahalo and happy travels,
Big John

Posted in Great Dining, North America and tagged Germaine's Luau, Hawaii, Oahu by Big John with 1 comment.