The Rock of Gibraltar was referred to by the ancient Romans as the Pillars of Hercules. Legend has it that Hercules pushed up this massive rock out of the water, along with another pillar known as Jebel Musa , and narrowed the strait. This musclebound deity was said to have constructed these promontories to prevent any nefarious sea-monsters from entering the Mediterranean Sea from the Atlantic.  While Rebecca and I didn't run into any sea serpents on our voyage to the rock, we soon discovered that the entire place was inhabited by creatures of an entirely different kind.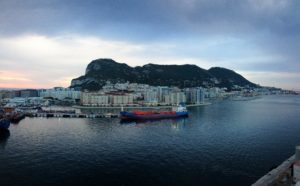 Following the collapse of the Roman Empire, the rock fell to Muslim Moorish rule in 711 A.D. After exchanging ownership numerous times throughout history, Gibraltar was eventually ceded to Britain from Spain in 1713. By the end of the 18th century, the Rock of Gibraltar had endured fourteen bloody sieges in a period of 500 years. Although Gibraltar borders the Southern coast of Spain, the British were quick to realize that the rock offered a strategic naval advantage that they were willing to pay any price to keep. By the onset of the 20th century, the Rock of Gibraltar had become England's most important possession in all of the Mediterranean.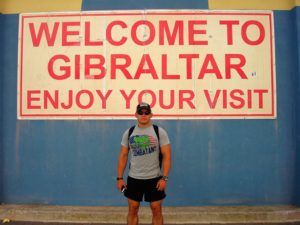 Big John poses under the Welcome to Gibraltar sign
Rebecca and I didn't have any concrete plans as we set foot upon shore in this quaint British territory. We just knew we wanted to hike our way to the top and then get a good look around from the higher vantage point. Thankfully we were both wearing good walking shoes for this little trek. That rock was a lot taller than it looked from the onset!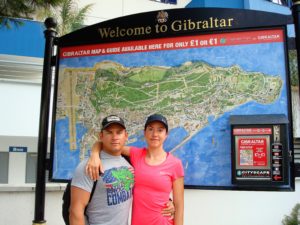 We don't really need a map for this one. We're just hiking straight up until we reach the top!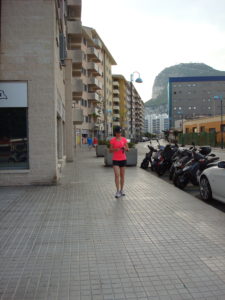 Sometimes I just snap the picture when she's not even looking.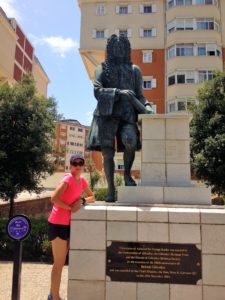 Rebecca poses alongside the statue of Admiral Sir George Rooke
Admiral Sir George Rooke commanded the Grand Alliance in August 1704, when his victorious Anglo-Dutch forces captured Gibraltar from Spain during the War of the Spanish Succession.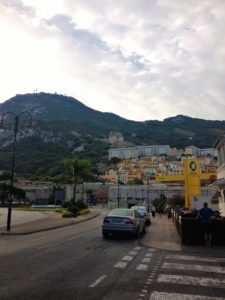 The rock actually stands 1,398 feet at its highest point. We are in for one heck of a climb!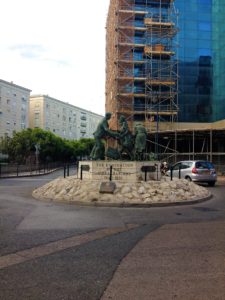 Monument of the Evacuation of the Gibraltarians
During WWII, the British government ordered a mass evacuation of all non-essential citizens from the territory due to ongoing war operations and safety concerns. Because of this order, some Gibraltarians found themselves homeless for a period up to ten years.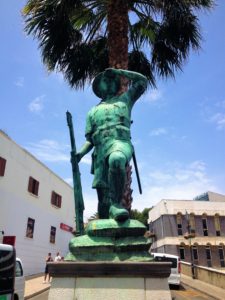 Gibraltar Defense Force Memorial
The rock honors those that served to protect her during the second world war.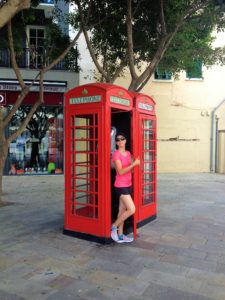 She said she had to make a call but I don't see her talking to anybody.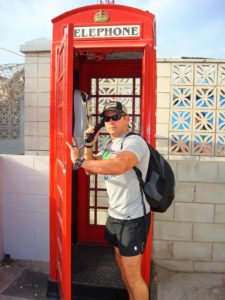 "Yes operator, are you aware that all the people not living on this rock are now using mobile phones?"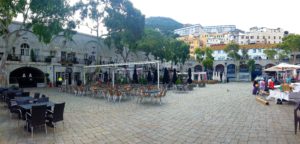 Grand Casemates Square
Later in the day we found this courtyard  teeming with people. The Grand Casemates Square features daily shopping opportunities in outdoor public markets.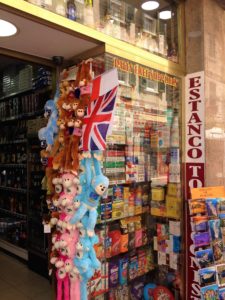 What's with all these stuffed monkeys hanging in all of the shops? Maybe the locals know something I don't.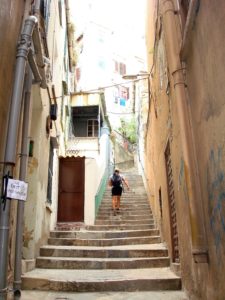 These stairs were pretty intense… especially after learning I walked all the way up them for nothing. Maybe I should've listened to Rebecca and purchased that map.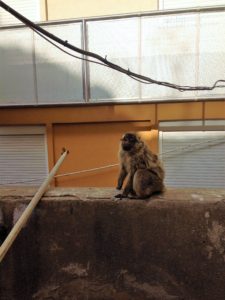 Oh my God! There's an escaped monkey sitting right on the ledge in front of us! Somebody needs to run back to one of those red payphones and inform the zoo!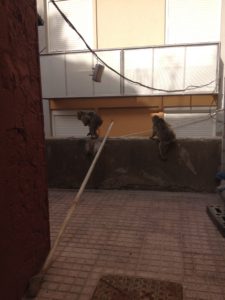 What the freak! Two more monkeys! What's going on here? I've seen something like this is a movie before. " Take your stinking paws off me, you damn dirty apes!"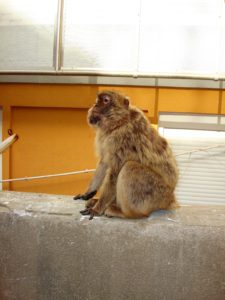 This guy appears friendly but it's probably all a ruse. That whole "I'm just a cute little monkey" bit is real fun until you find yourself locked in a cage at the top of the rock.
The Rock of Gibraltar is actually home to roughly 300 of these monkeys. Officially, they are known as the Barbary macaques. Legend has it that the territory will only remain under British control as long as these rock apes remain a part of the local population. So although these tailless creatures can prove to be a mischievous lot, the citizens living here do their best to simply coexist.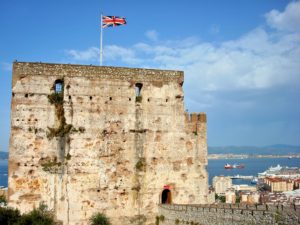 The Moorish Castle flying the Union flag
The Moorish occupation of Gibraltar lasted the longest in all of the territory's recorded history. The Moors reigned for a total of 710 years before finally falling to the Spanish in 1462.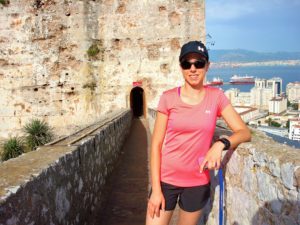 Rebecca poses on the stone bridge leading to the Moorish castle.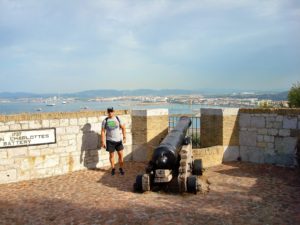 Big John mans one of the two long-standing guns on Queen Charlotte's Battery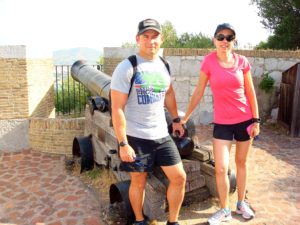 She likes the big guns!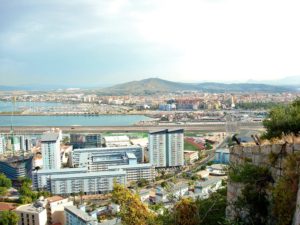 A magnificent view of the city halfway from the top.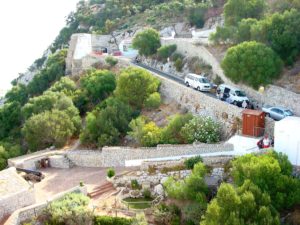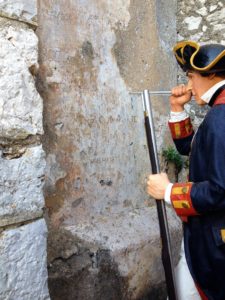 Long before the invention of spray paint and aerosol cans, British troops used other methods to tag their graffiti on the walls.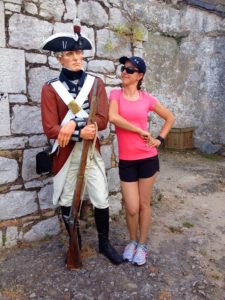 "Umh, I can see you flirting with him! I'm standing right here!"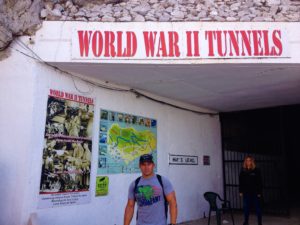 During WWII, Winston Churchill believed that an attack on Gibraltar by German or Italian forces was imminent. A massive network of tunnels were constructed to serve as a fortress within a fortress.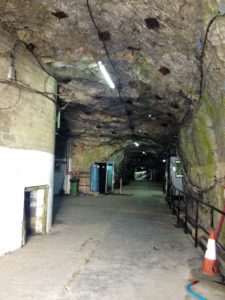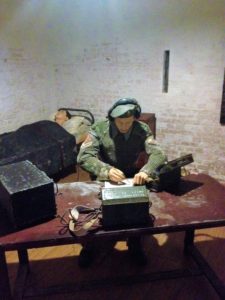 A communications officer deciphers code deep within the rock.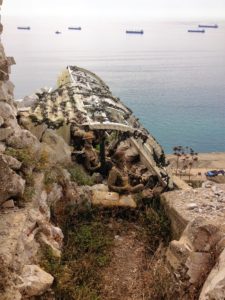 British troops bunker up high, monitoring the coastline for any signs of enemy activity.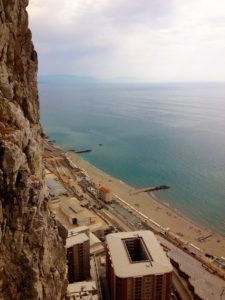 A birds eye view from the top.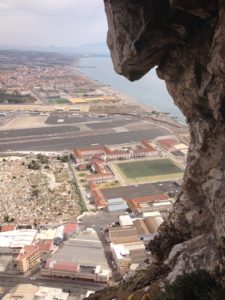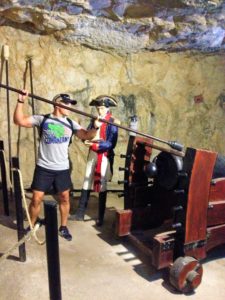 How was I to know the cannon was actually loaded? Luckily the ball fell short of striking Spanish soil; although I'll probably still end up having to pay for that fisherman's boat.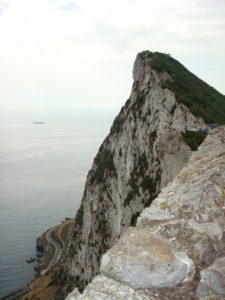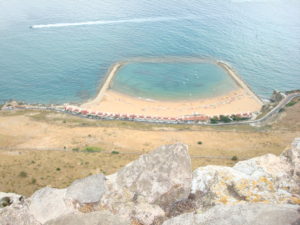 A view of one of Gibraltar's beautiful beaches.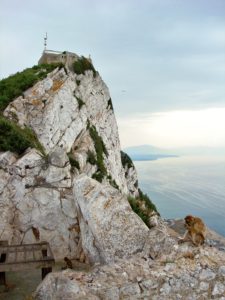 These Barbary macaques seem to lack any fear of heights.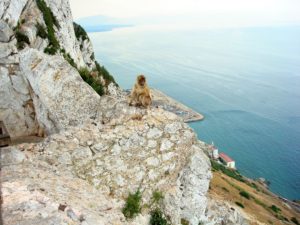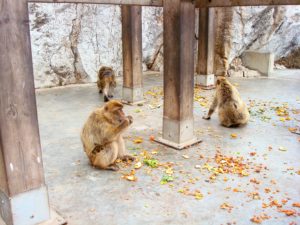 It wasn't nearly as good as it looks. They had already eaten most of the apples and the remainder of the fruit salad was sort of sticky and hairy.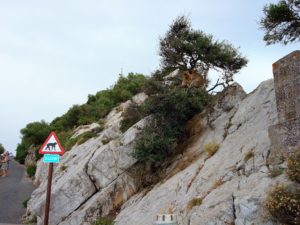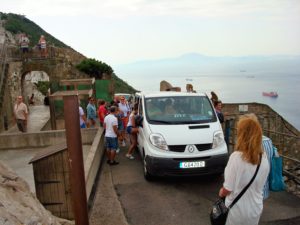 That little guy was feeling all tuckered out. He had no intentions on walking all the way back down the mountain.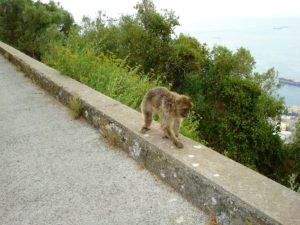 I found it best to wear sunglasses around the monkeys. That way it's harder for them to see fear in my eyes.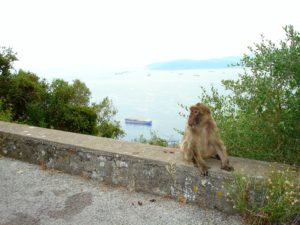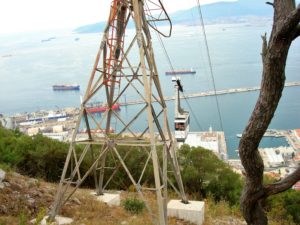 A cable car delivers a sweeping view to its passengers as it carries them to the peak.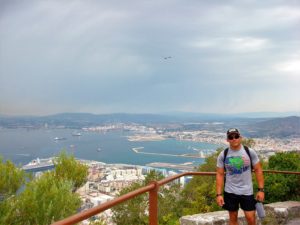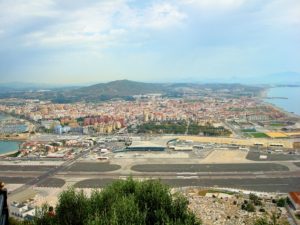 The only road going into and out of Gibraltar crosses right over the runway. Traffic is halted anytime a plane lands or takes off.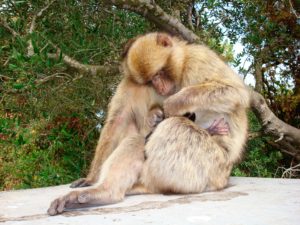 Barbary macaques nursing their young.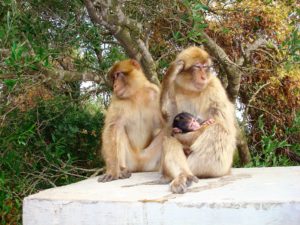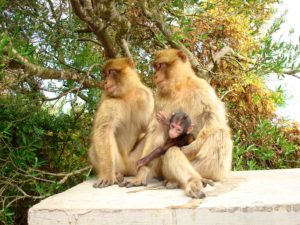 I really don't appreciate the way that one on the left is looking at me. I clearly already picked up that apple before their kleptomaniac baby tried to steal it from me!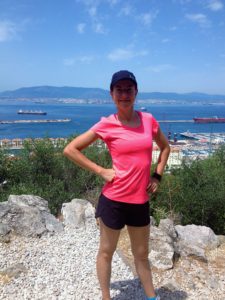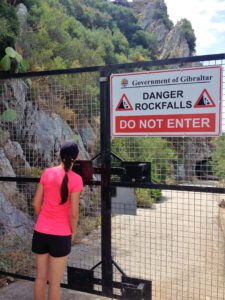 It looks dangerous, baby!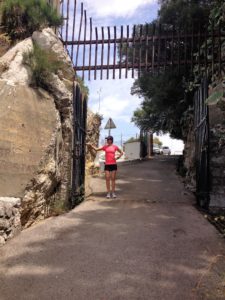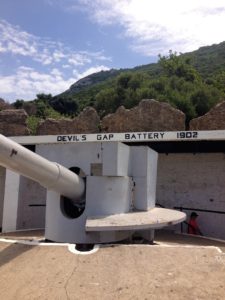 The Devil's Gap Battery was the only gun in Gibraltar to see action during World War 1. In August 1917, she fired upon and sunk a German submarine caught surfacing off the Algeciras coast.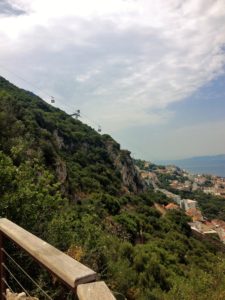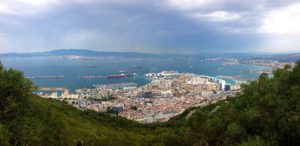 It's getting hot up on this mountain and the monkeys seem a bit too riled up for my liking. I think it's time we should seek out a little R&R back down in town.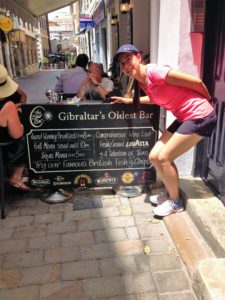 Look at that! Rebecca has stumbled upon the oldest bar in Gibraltar. How's about me and the Mrs. step inside for a pint.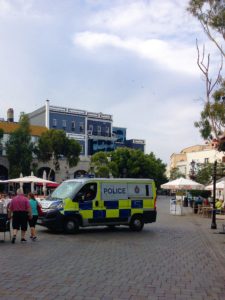 We better not drink too much though, the "bobbies are on the beat!"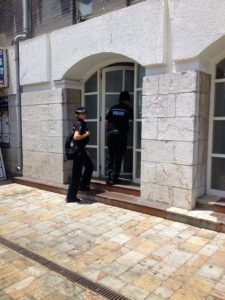 "…and a top of the morning to you, officers!"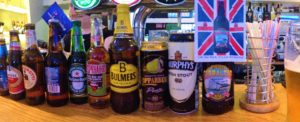 "So many drinks to choose from! I'm so thirsty from our climb I'm tempted to try one of each!"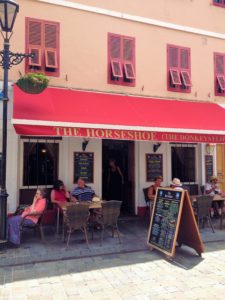 The Horseshoe Pub or "Donkey's Flipflop" is one of the local hangouts and offered a friendly, cool environment to escape the heat.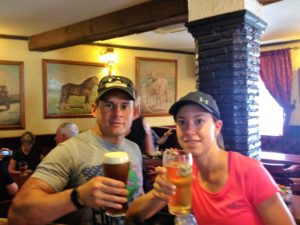 Cheers to my wife! She will always be my best mate!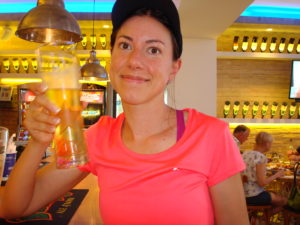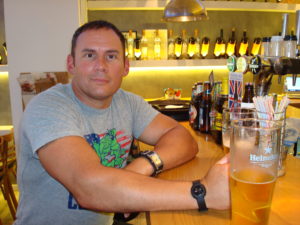 It may appear to you that beer-drinking was my primary activity whilst on the Rock of Gibraltar. Well actually, aside from that laborious hike up a mountain to dine with some greedy monkeys, I think that is about all I did.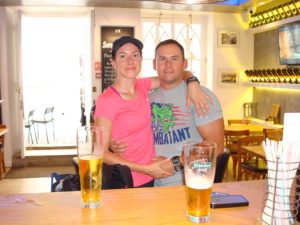 …but I did bring along this pretty little girl to wash down a few pints with me!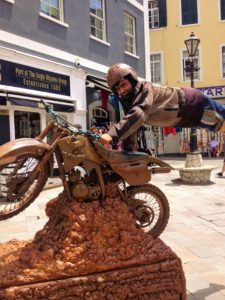 Must've been all of  the beer combined with this ferocious heat, 'cause I swear that motorcycle-man statue just shot a wink at me!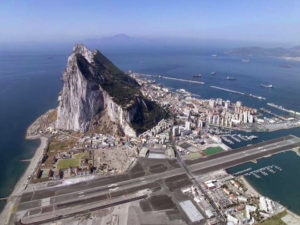 I hope you enjoyed sharing along in our little trip to Gibraltar. If you ever find yourself on this side of the Mediterranean Sea, allow me to offer you a bit of advice. Visit the markets, see the rock, and take a little stroll to the top. Be sure to take in a few British pubs and certainly enjoy a nice cold pint or two. As far as the monkeys go, I think they're better enjoyed from afar. Never get into a scuffle with one of the babies over an apple core, it can't really ever end well. Also, there's really no need to try to teach them any coin tricks or anything involving a sleight of hand. Apparently they're already schooled on magic. I started to demonstrate the "disappearing quarter behind the ear trick" with one of the younger ones. Before I could finish my trick, he did a better trick and made my wallet and camera disappear. Unfortunately it ran down the cliff and escaped in a cave with all of my stuff.  I never did learn how he performed that trick.
Thank you for reading my article and I hope you will visit again real soon. Feel free to explore other areas of my blog, leave a comment, and show some love on social media.
Happy travels,
Big John

Posted in Adventurous Places, Europe, Historical Journeys and tagged British, Rock of Gibraltar by Big John with

comments disabled

.