In the days of old, there once lived a horrible giant that terrorized all of the
Flemish
province to include the land that the legendary city of Antwerp rests upon today. The giant, named Antigoon, made his home along the Scheldt River and demanded a toll from all those who desired to cross over its waterway. If anybody encountering the giant was unable to render payment in full, Antigoon would sever one of their hands and toss it straight into the river. For years, the giant guarded the only bridge leading in and out of the city. The local people, many of them amputees, were powerless to drive him away. Even the battle-hardened Roman legionaries in the area dared not challenge the monster; they would rather lose a few coins than lose a hand that carries a sword.  The situation eventually became so dire that the Scheldt River was said to contain more hands than it did fishes.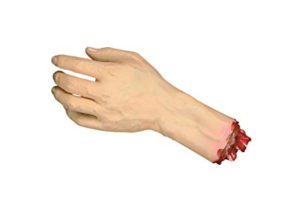 One glorious day, a brave young soldier named Silvius Brabo mustered up enough courage to confront Antigoon. He had grown tired of giving the great beast his meager wages each time he wanted to cross the river to visit the city. You see, the young lad had found his true love in the legendary city of Antwerp and he vowed to put an end to this giant's savagery once and for all.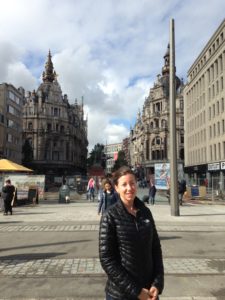 Rebecca, my true love, in the legendary city of Antwerp.
Perhaps, due to Brabo's slight frame and his boyish appearance, Antigoon didn't even rise to his feet when he saw the small soldier approaching. The giant simply stretched out his hand as he lay along the bank, let out a long yawn, and demanded the usual toll. Brabo, giving no warning of attack, drew his sword from his sheath and expertly lopped off Antigoon's six-fingered hand at the wrist. He then borrowed Antigoon's own ritual and heaved the enormous hand straight into the river. In a state of utter shock, the giant sprung to his feet, let out a howl, and fled away from the scene. Antigoon was never seen or heard from again. As far as Brabo's fate, he became the hero of the ages. He settled down and married the girl and they even named the city after his heroic act of courage. Many may not know this but the name 
Antwerpen
 is derived from Dutch words meaning "
to throw a hand
."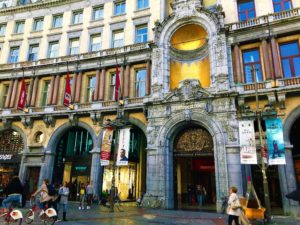 Antwerp's famous Stadsfeestzaal (shopping mall)
Antwerp was delivered from its giant problem a long time ago. Now visitors to the city are free to hold onto their money… well, at least until they make it to the fabulous Stadsfeestzaal shopping mall.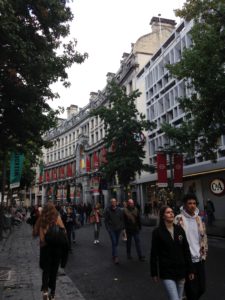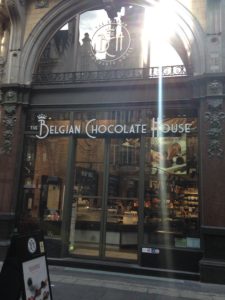 The Belgium Chocolate House
Some might say that the best thing about Antwerp is eating their chocolates. Arguably, the legendary city of Antwerp has some of the best chocolate in all of Belgium.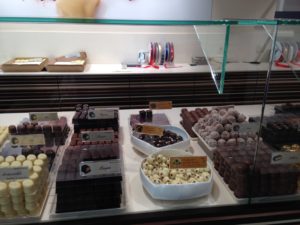 Among other things, the Belgian Chocolate House offers three sorts of confectionery: pralines, chocolates, and biscuits. I recommend sampling as many things as possible before making your selections.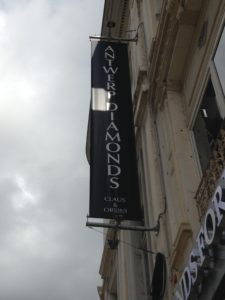 Antwerp's Diamond District (Diamantkwartier)
The legendary city of Antwerp is also internationally known for its diamond district. The
Daiamkwartier
consists of numerous square blocks and encompasses an area of about one square mile. Approximately 84% of the world's rough diamonds have passed through the district. Antwerp boasts the largest diamond district in the world with 54 billion dollars in sales.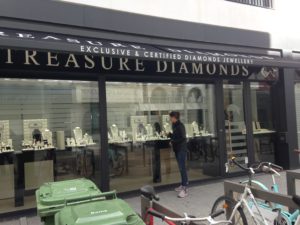 Luckily for my wallet, Rebecca finds this shop closed for the day.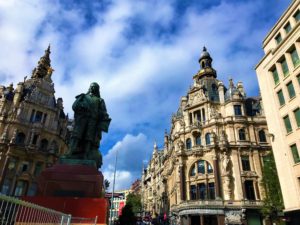 A Statue of David Teniers II, a celebrated Flemish painter of the 17th century.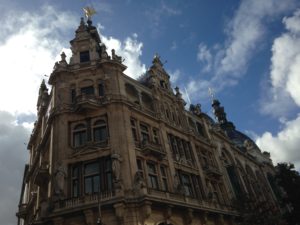 The legendary city of Antwerp is defined by its stunning Gothic architecture.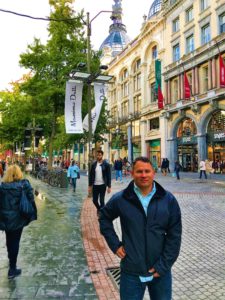 Big John standing in the center of Antwerp's popular shopping district.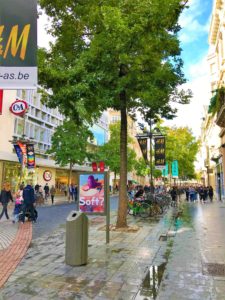 Groenplaats, a magnificent shopping square, is limited to pedestrian traffic only.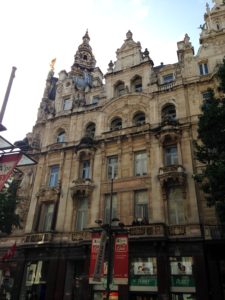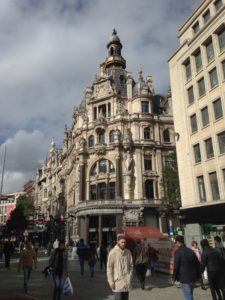 The legendary city of Antwerp is a very multicultural metropolis. The official spoken language is Flemish (Dutch). However, we had no problems communicating as most also people spoke English very well.  In addition to this, many residents of Antwerp were taught to speak French, German, and Italian while in school.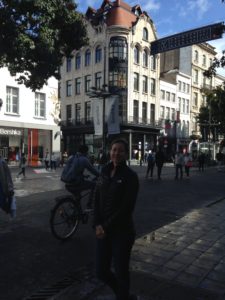 Rebecca in the heart of Antwerp's fashion district.
Antwerp has long been considered the fashion capital of Belgium. The city is home to many famous fashion designers and the city hosts an annual Fashion Weekend in October.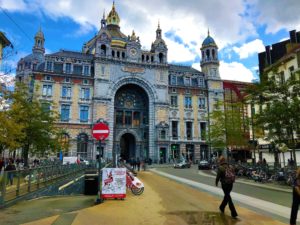 Antwerp's Central Railway Station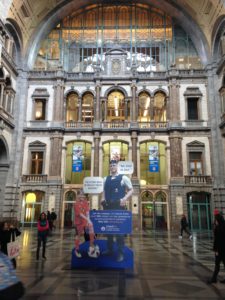 The Antwerp Central Station, commonly referred to as Middenstatie (Middle station) or Spoorwegkathedraal (Railroad Cathedral), was first opened in 1905. Recently, the station was completely renovated and in 2007 a tunnel was added underneath the structure. In 2009, Newsweek magazine identified Antwerp Central Station to be the 4th most beautiful train station in all the world.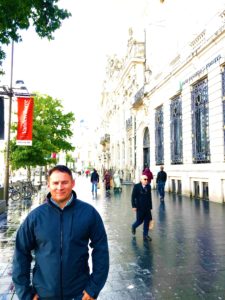 There's much more to Antwerp than tales of one-handed giants and fun bits of folklore. Having had only a single day to explore this fascinating city, Rebecca and I scarcely scratched its surface. Antwerp is a place for shopping, art, romance and history. When exploring western Europe, this city is a place that simply can't be missed. Please, don't take my word for it though. Pack those bags and go see things for yourself.
Happy travels,
Big John

Posted in Tall Tales and Big Fish Stories, Adventurous Places, Europe and tagged Antwerp, Belgium, Europe by Big John with

comments disabled

.