Anybody who has spent more than a few days on Oahu will tell you that some of the best food on the island is found inside food trucks on the North Shore. These colorful restaurants on wheels first began springing up around Honolulu in the 1970s. Back then it was mainly burgers, hotdogs, and the traditional Asian cuisine. Now-a-days, a person can satisfy any cravings whether it be from zesty street tacos to wasabi-flavored poke bowls.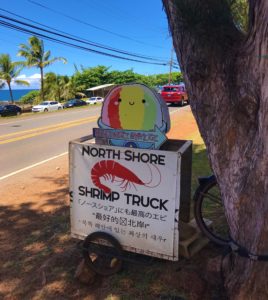 Some of the best food trucks on Oahu are found on the North Shore, directly across the street from Shark's Cove.
Nearly all food trucks on Oahu are good but not all are created the same. If Rebecca and I had to pick a favorite mobile eatery it would definitely be Aji Limo Truck!
All of Aji's dishes are made with the freshest local fish and organic produce bought from the nearby Pupukea Garden Farms.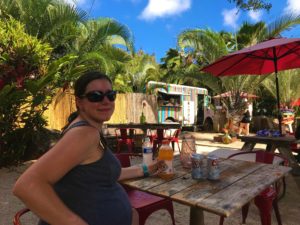 Don't worry, the beers were all mine! This little mommy always plays it safe and refrains from consuming raw fish or adult beverages.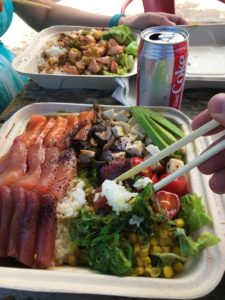 This California inspired dish consisted of Sashimi, rice, avacados, and salad…. Yes, it was every bit as good as it looks!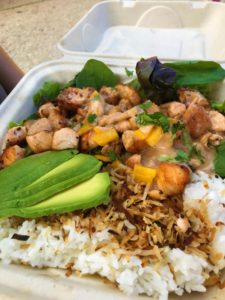 Rebecca had the Thai poke (only she had them throw the fish on the grill to make her meal pregnancy-friendly). This tasty dish consisted of fresh salmon, mango, cilantro, crispy coconut and coconut sauce over rice and organic greens.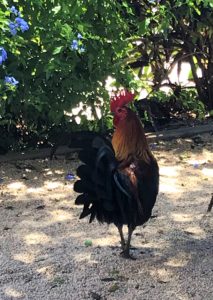 Our friend, Foghorn Leghorn, decided to show up for dinner unannounced. He's not concerned too much with the food trucks. He's feeling rather lucky I had a some extra corn to spare!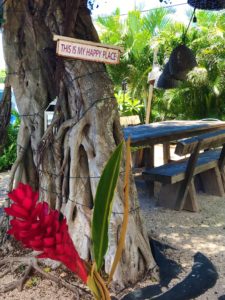 This truly is my happy place!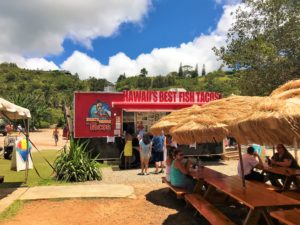 If tacos are your thing than don't go far. You're not going to find anywhere better than North Shore Tacos.
North Shore Tacos offers shrimp, fish, chicken, beef, steak, pork, and even a vegetarian option as well… Yum!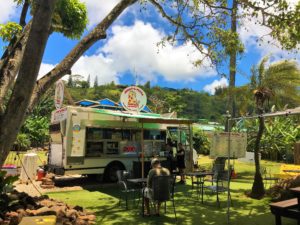 For a little slice of heaven right on the North Shore, come visit Jerry's Pizza! He also has some pretty amazing subs, salads and desserts.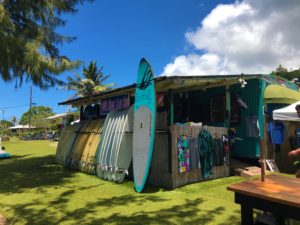 Get your surf lessons and rentals at North Shores Surf Shop
Your momma warned you never to enter the water right after eating… but then again, your momma has probably never been to Hawaii's North Shore!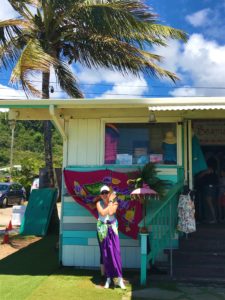 Rebecca thought it would be fun to hide her baby-bump behind this purple Hawaiian sarong.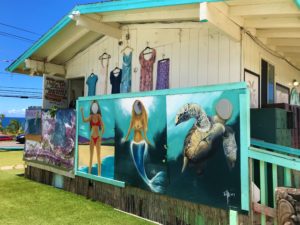 I would probably be the scariest mermaid you could ever meet at sea!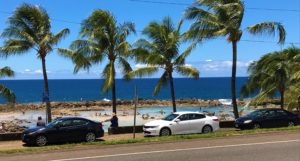 Cars line the strip in front of Shark's Cove.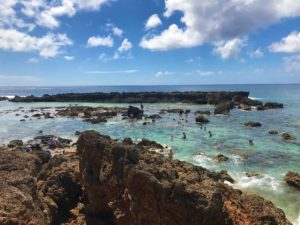 Shark's Cove is a popular tourist site for snorkeling and it is fairly shallow. The water does get up to 20 feet at the cove's mouth and many scuba divers explore the areas just outside the cove. A few caves can be found around the cove's northwest point, and to a lesser extent to the south. The area to the left of the cove offers excellent night diving. The origin of the cove's name is uncertain, but sharks are not any more common here than other places on Oahu.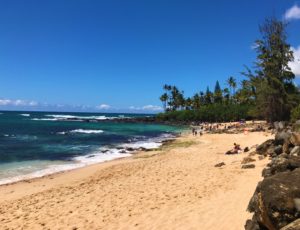 Laniakea Beach in North Shore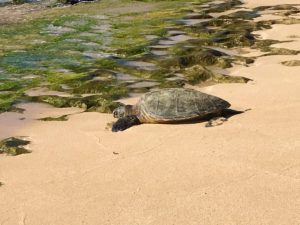 Probably one of the best places to sea a Hawaiian green sea turtle basking in the sun is at Laniakea Beach.
The Hawaiian green sea turtle is on the endangered species list. It has a max size of 4 feet and can weigh up to 350 pounds.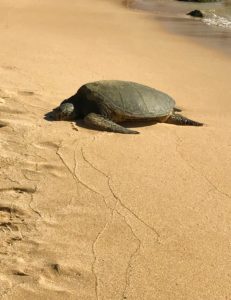 The Hawaiian green sea turtles arrives onto Laniakea Beach most regularly around lunch time. The sea turtles and I share that in common, since lunch time is also my favorite time to visit the area. But regardless of whether you're coming to surf, snorkel, chow down at the food trucks, or simply bask under a Hawaiian sun, there is never a really bad to to visit Oahu's fabulous North Shore!
Mahalo and happy travels,
Big John

Posted in Adventurous Places, Great Dining, North America and tagged food trucks, Hawaii, North Shore, Oahu by Big John with 4 comments.