Located on Oahu's North Shore, in beautiful Waiaula Bay, lies the "malahia" (laid-back) surfing community of Haleiwa. This small town, full of unique shops and eateries, is the first thing visitors will encounter right before reaching the North Shore. Since pregnancy and surfing aren't recommended by most physicians, Rebecca and I spent the day staying out of the water and exploring the chill scenes on dry land.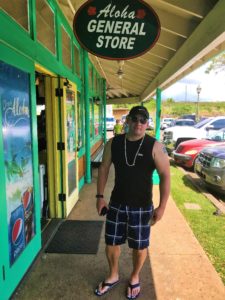 The Aloha General Store was voted as having some of Oahu's best shave ice!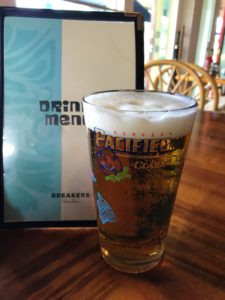 Breakers in Haleiwa serves Hawaiian cuisine for breakfast, lunch and dinner.
While on the North Shore, Rebecca and I chose to get lunch at Breakers. Both the food and the atmosphere was fantastic!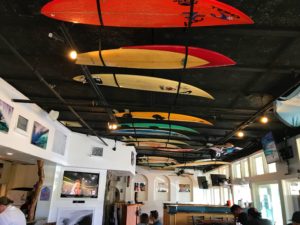 Surfboards make up most of the decor in Breakers.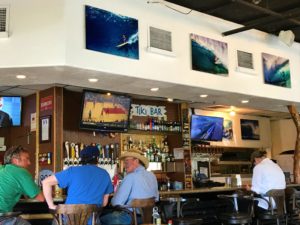 Some of the locals meeting for an afternoon beer at Breakers' tiki styled bar.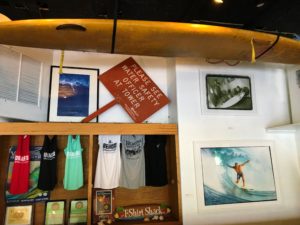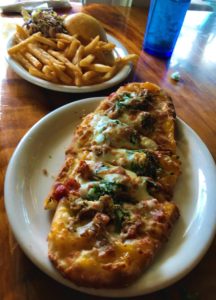 Rebecca enjoyed the barbecue pork and I was very pleased with the flatbread.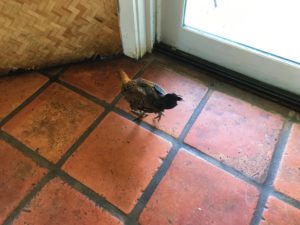 Even some of the local poultry could be seen wandering into the place!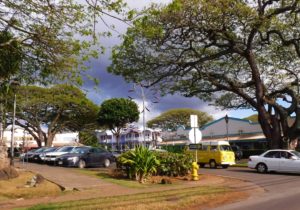 I just had to get a picture of that yellow Volkswagen bus!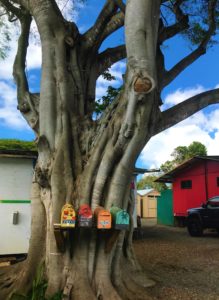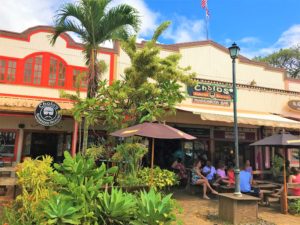 Outside of Cholos in Haleiwa.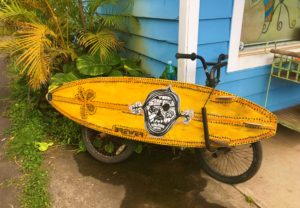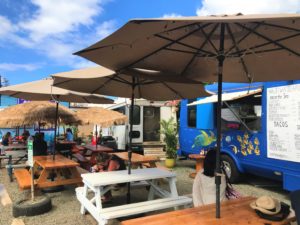 Some of the best food in Oahu can be found at the local food trucks.
Although I have not yet tried it, the local farm-raised garlic shrimp plates are supposed to be phenomenal!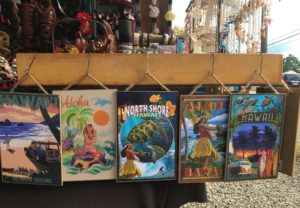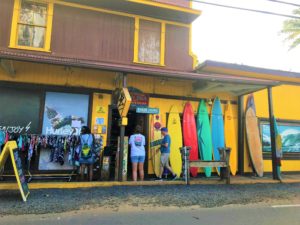 There are numerous shops in Haleiwa to purchase surfboards or simply rent them by the hour.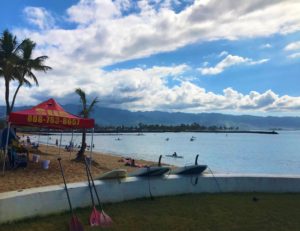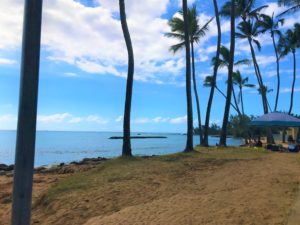 While some of the best surfing in Oahu can be found in North Shore, there are stretches of this coastline that barely makes a wave.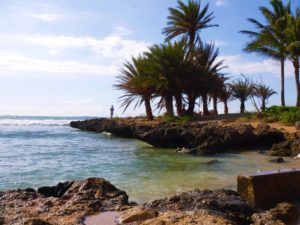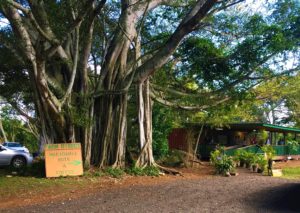 Haleiwa is also a place to get locally grown coffee and delicious macadamia nuts.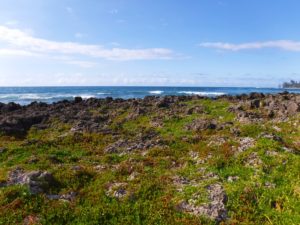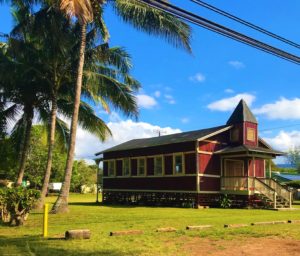 The Kealii O Malu church was built in 1939.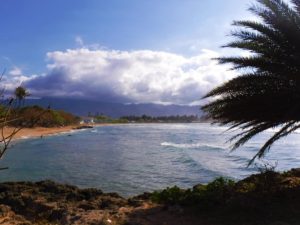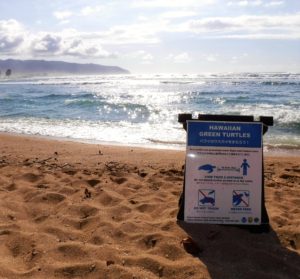 The Hawaiian green turtles are a protected animal and are considered an endangered species.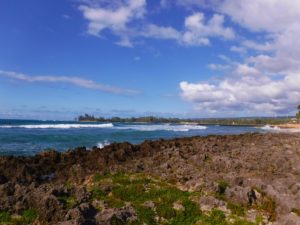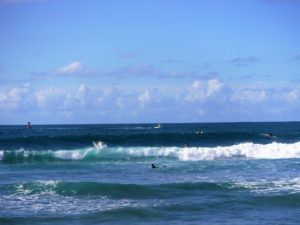 Hawaii's largest waves and best surfing is actually found in the winter months.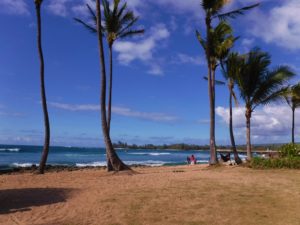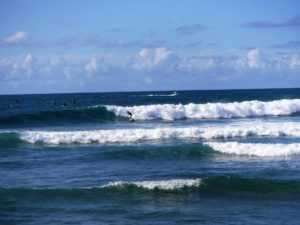 The surfing scene in April on North Shore.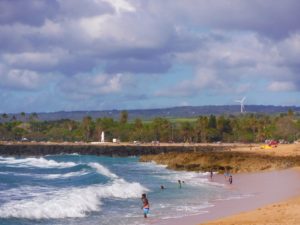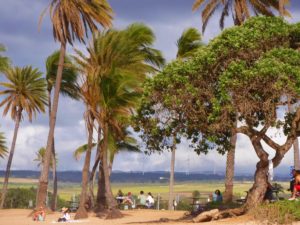 The North Shore is a perfect place for a family picnic.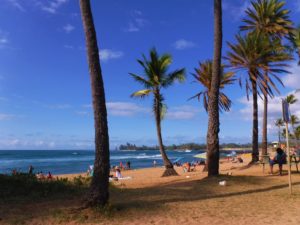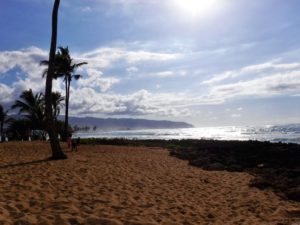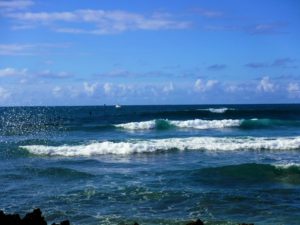 North Shore hosts the world's premier surfing competition, the Vans Triple Crown, during the peak winter months of November through December.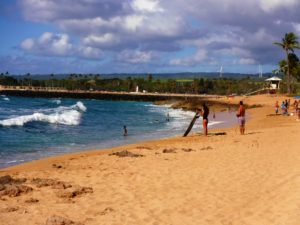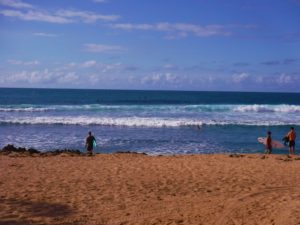 In the winter months, the waves in North Shore can reach an alarming 30 feet high! During the summer months, the waves are much smaller and gentler.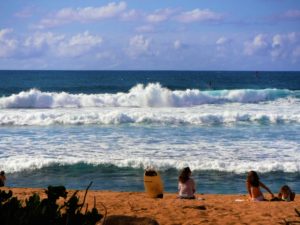 Although I barely scratched the surface of what the North Shore has to offer, I am certain I will visit this side of Oahu again real soon. Thank you for visiting Big John's Adventures in Travel. I hope this post inspired you to pack those bags and set off on an adventure all of your own making.
Happy travels,
Big John

Posted in Adventurous Places, North America and tagged Haleiwa, Hawaii, North Shore, Oahu by Big John with 1 comment.