Hawaii has exceptionally nice weather all year around, so mid-November is as good a time as any to take an evening stroll along the beach. Avoiding the bustling crowds of Waikiki and determined to find a bit of tranquility, Rebecca, Selah and I decided to head to the western side of Oahu.  On the westward or Leeward side of the island lies the quaint community of Wai'anae. The area is home to beautiful beaches, various sea-life, and real small-town living. Wai'anae is also a very tight-knit community and it once was home to the legendary singer, Israel Kamakawiwo'ole.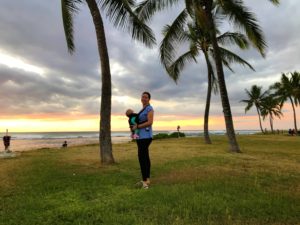 Rebecca poses for a picture as Selah counts coconuts at the top of a tree in Wai'anae.
The evening turned out even more beautiful than we had imagined. Along the way, I managed to capture some pretty fascinating scenes.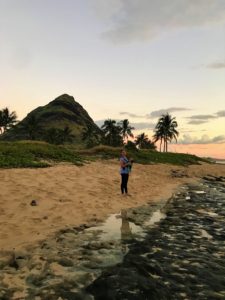 Rebecca and Selah standing between a rock and a hard place.
When I told Rebecca she would have to hike over that mountain to get to the beach, she almost didn't want to go. Sure, she was carrying a baby but…. Joking!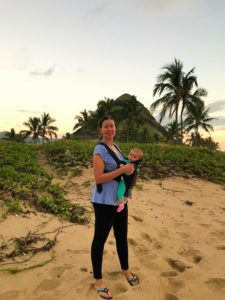 My two girls looking pretty as a picture!
Although Rebecca didn't have to hike over any mountains to make her way to the beach, she still experienced quite a bit of apprehension just getting there. Between you and me, the girl has a serious phobia when it comes to walking on sand. I am not making any of that up. Watching Rebecca walking on sand is similar to watching Neil Armstrong or Buzz Aldrin walking on the moon.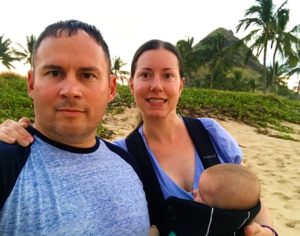 I don't know what it is about me and selfies, but I always come out looking like a deranged sociopath.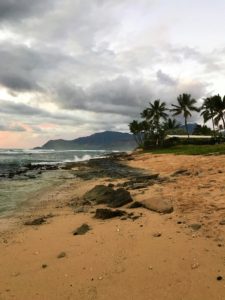 Even in Wai'anae, there is nothing I enjoy more than a good old-fashioned scavenger hunt. "Finders, keepers" is the law of the land and I scored a few amazing items along the way!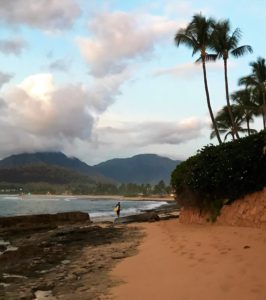 After a thorough inventory, I had acquired a green coconut, a cracked boogie board, some pretty coral, and a Hawaiian monk seal. Not bad for a 15-minute walk along the shore!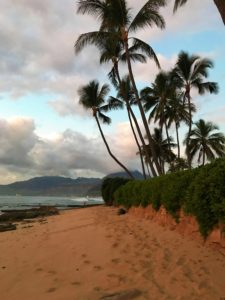 There are only about 1,100 Hawaiian monk seals alive today.
Rebecca had no problem with me keeping the coconut or the small chunks of coral, but she got all bent out of shape when I told her I also wanted to hold on to the seal.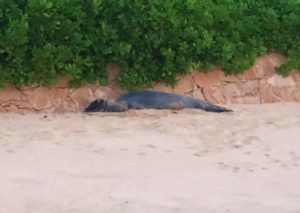 A Hawaiian Monk Seal napping in the Wai'anae sand.
I asked Rebecca to give me one good reason why I couldn't keep the monk seal, and she spouted off about ten of them. First of all, she said there was probably some sort of law against transporting an unrestrained, 500 pound sea mammal in the back of a Toyota Venza. I passed her my smartphone and asked her to point to that particular ordinance. She must have known there was no such law because she didn't even attempt to reach for my phone. Rebecca then asked me if I was aware that a monk seal could eat upwards of 50 pounds of fish per day. I responded by reaching into my wallet and producing my Sam's card, "Isn't that just the sort of thing I carry this for?"
I don't remember what all else Rebecca said, something about seals not being house-broken and them being really hard on carpet and furniture. Truth be told, none of it sounded all that convincing. Had she not told me I would be required to walk it and bathe it every day, I would have stuck to my guns and brought the seal home with me. Although it killed me to let Rebecca win in an argument, she had a pretty good point. Walking and bathing a 500 pound monk seal is a big responsibility; especially when I don't even remember to walk and bathe myself every day.
On a serious note, the Hawaiian Monk Seal is an endangered species. It is the only seal native to Hawaii and several laws have been passed against harming, harassing or encroaching into the animal's personal space. We were really lucky to get a glimpse of the seal on the beach; but as a general rule, any person in the animal's vicinity should attempt to remain at least 50 feet away. Monk Seals can be very aggressive and it's really hard to look cool when your screaming and crying, all the while being chased down the beach by one you got a little too close to.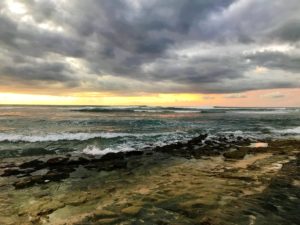 A Wai'anae sunset in November
Although I couldn't keep the monk seal, I managed to get some pretty spectactular sunset photos that I can share with all of you. While these pictures certainly don't give the scene the justice it deserves, I think you will enjoy them just the same.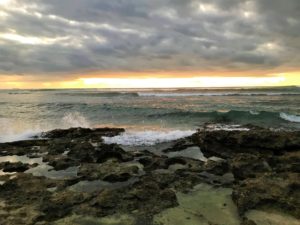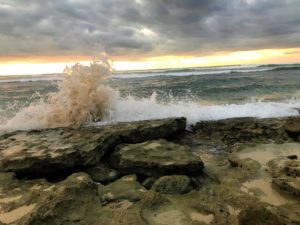 I love how I managed to capture that sea foam just as it came crashing against the rocks.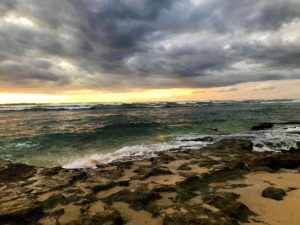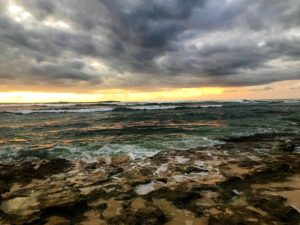 Only God could create a scene so beautiful as this!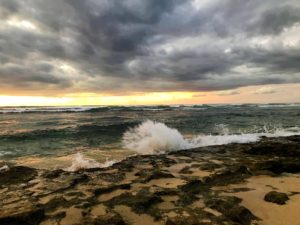 That dark cloud coverage and choppy water has some sort of eerie effect on me.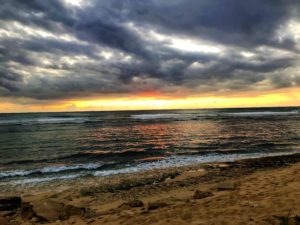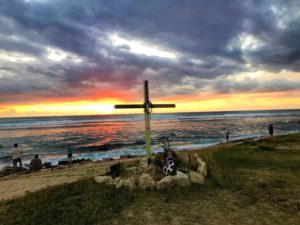 This scene is one of beauty, sorrow, and everlasting peace. From the erected cross at this beachfront memorial, It is only obvious that some poor family experienced great tragedy here. Although our walk started out very light-hearted, we ended it on a rather sobering note. Looking now at this photo, it is a bible verse that comes readily to mind:
For everything there is a season, and a time for every matter under heaven: a time to be born, and a time to die; a time to plant, and a time to pluck up what is planted; a time to kill, and a time to heal; a time to break down, and a time to build up; a time to weep, and a time to laugh; a time to mourn, and a time to dance; a time to cast away stones, and a time to gather stones together; a time to embrace, and a time to refrain from embracing; a time to seek, and a time to lose; a time to keep, and a time to cast away; a time to tear, and a time to sew; a time to keep silence, and a time to speak; a time to love, and a time to hate; a time for war, and a time for peace. What gain has the worker from his toil? I have seen the business that God has given to the children of man to be busy with. He has made everything beautiful in its time. Also, he has put eternity into man's heart, yet so that he cannot find out what God has done from the beginning to the end. – Ecclesiastes 3:1-11
Happy travels,
Big John

Posted in Adventurous Places, North America and tagged Hawaii, monk seals, Oahu, Wai'anae by Big John with

comments disabled

.