There are many amazing things to be found on the island of Oahu. One activity definitely worth mentioning is snorkeling in Hanauma Bay. The name Hanauma is actually derived from two Hawaiian words, "hana" which means bay, and "uma" meaning curved. The curved bay is actually a natural pool that was formed inside of a volcanic crater many thousands of years ago. Hanauma Bay has long been considered one of Oahu's most precious jewels in the Pacific.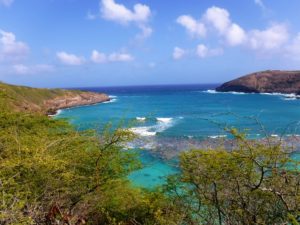 For a real underwater adventure, go snorkeling in Hanauma Bay.
Historically speaking, Hanauma Bay was well known by the earliest islanders to be an excellent place to fish. Records show that during the 1800s, Hawaiian royalty would visit the bay to fish, relax, or simply go to be entertained. Today, Hanuma Bay is still a place to come and enjoy its cool blue waters. With all the fanfare about this place, Rebecca and I decided to grab our snorkel gear and explore both above and below the waves.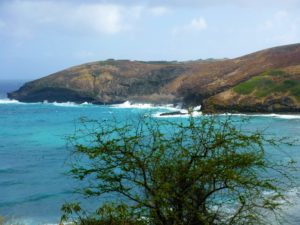 Another great thing about Hanauma Bay is it is an excellent place to see a Hawaiian Green Sea Turtle. The turtles are a huge part of Hawaiian mythology and culture. Unfortunately, when Rebecca and I visited the bay, we did not see any of those amazing creatures.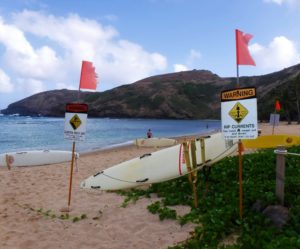 Red flags were flying to warn visitors of the bay's dangerous rip currents and sudden drop offs. 
Although the waters can be dangerous at times, there is very little risk to those who stay within the boundaries and know how to swim. The park is also staffed with highly trained, professional lifeguards. I never worry about any of that stuff though. I wouldn't dare enter the water without inflatable swimmies on my arms!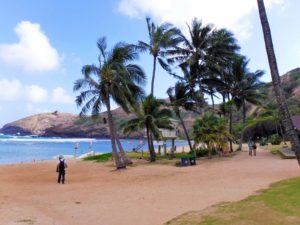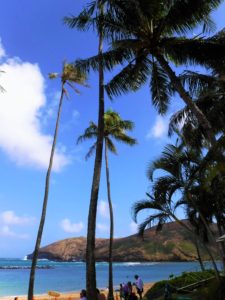 Haunama Bay is one of Oahu's jewels of the Pacific!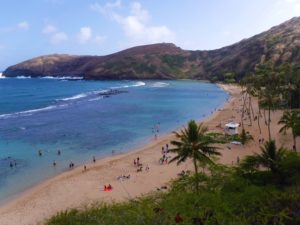 You can easily see from this photo how Hanauma Bay got its name.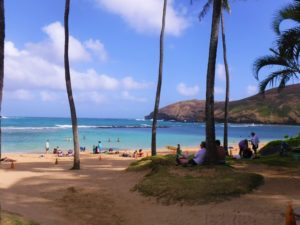 Hanauma Bay is a perfect place to just kick back and watch the day float away!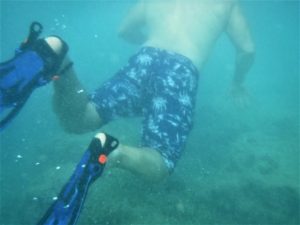 Big Johns throws on some fins and goes for a swim.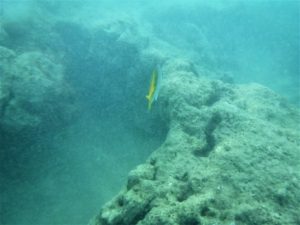 The coral of Hanuma Bay is home to over 450 varieties of fish.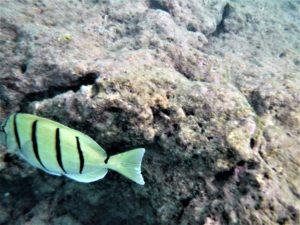 This is a Tang fish and it feeds on algae growing on the rocks and stones.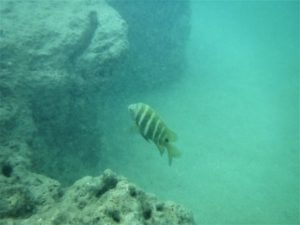 He's wearing stripes so he must be a convict!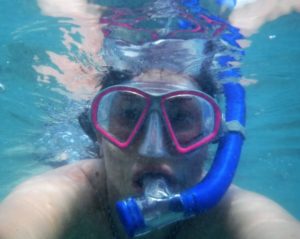 This is the princess fish. Although they can't swim fast, they know how to shop and use credit cards.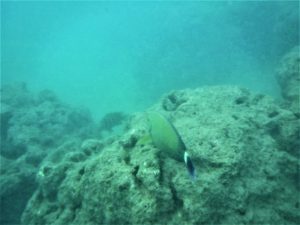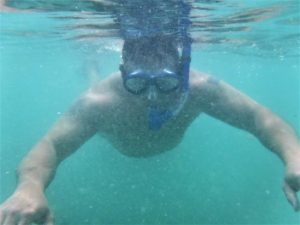 I think this ugly sea creature must have scared all the fish away!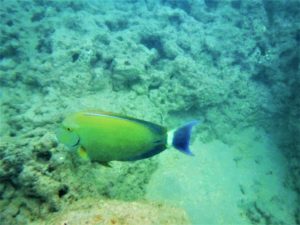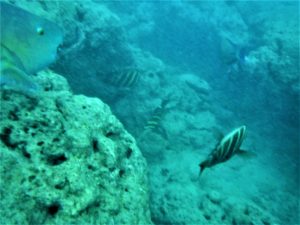 Is that Jaws in the left-hand corner?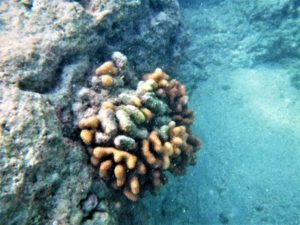 I was lucky to have spotted this chunk of coral.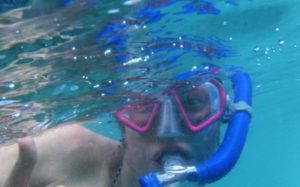 Although I failed to capture it, she was throwing me the shaka sign.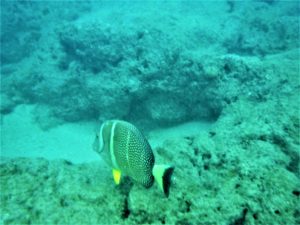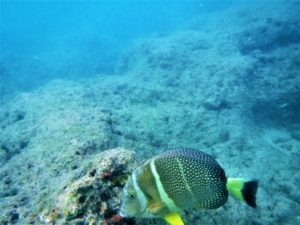 These surgeonfish can grow up to 22 inches long.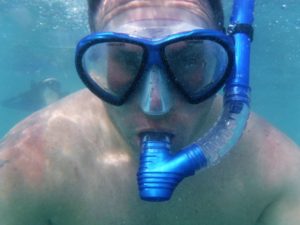 Just look at that adventurous, daring, and dashing man! I believe that must be Jacques Cousteau down there?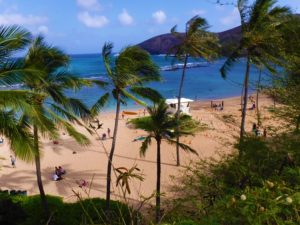 Hanauma Bay on the island of Oahu, Hawaii
As you may have guessed, we had an amazing time swimming with the fishies in beautiful Hanauma Bay. Thank you for visiting my post and feel free to explore more of Big John's Adventures in Travel.
Mahalo and happy travels,
Big John

Posted in Adventurous Places, North America and tagged Hanauma Bay, Hawaii, Oahu, snorkeling by Big John with

comments disabled

.