Just in case any of you were wondering, the French word "chez"  means at the home or business place of.  Although I was never introduced to anybody named Claire during my recent stay at the  Chez Marie-Claire, I was lucky enough to come across two of the most gracious hosts to ever run a Bed & Breakfast.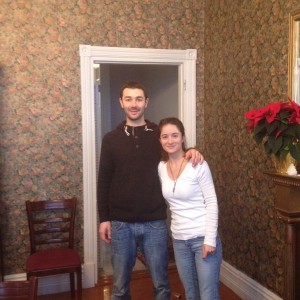 Dorian and Marie
Dorian and Marie are the lovely couple that manage the Chez Marie-Claire. The moment you arrive at  this quaint Bed & Breakfast, these two will be standing there to greet you, help with bags, and let you know you've found that special home away from home. While Dorian and Marie speak mostly French, their English skills are rather impressive considering the two have only been studying the language for a few short months. The Chez Marie-Claire's structure was built in the year 1885 and is located right in the heart of Old Quebec. Its ideal locale is within easy walking distance to the Chateau Frontenac and other great attractions.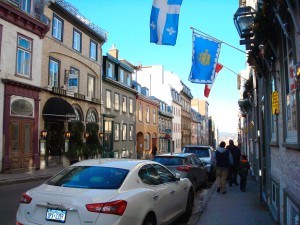 A street view outside the Bed & Breakfast.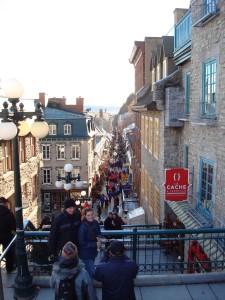 You don't have to walk far from the Chez Marie-Claire to enjoy all that Quebec City has to offer.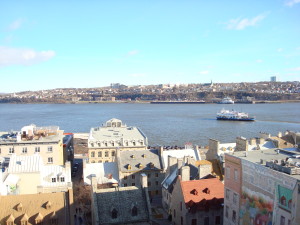 Old Quebec City set against the mighty St. Lawrence River.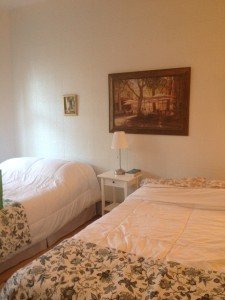 There are five guests rooms in the Chez Marie-Claire; this cozy little one was ours.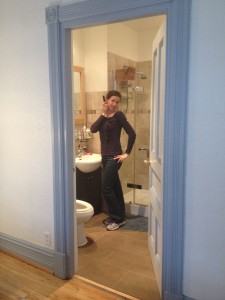 Rebecca getting dolled up for a blustery night on the town.
Each room comes equipped with a private bathroom. Those other guests should thank their lucky stars they didn't have to share one with me!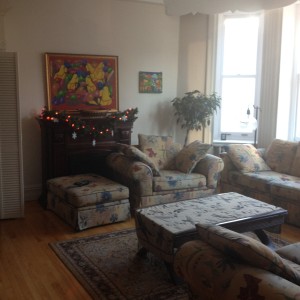 The Chez Marie-Claire also has a common area with a piano, large TV, games, mini-fridge, and more.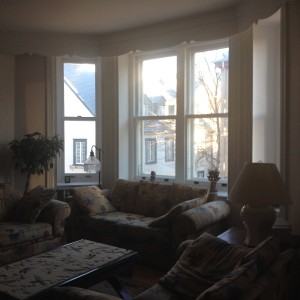 The common area looks out onto a street-side view.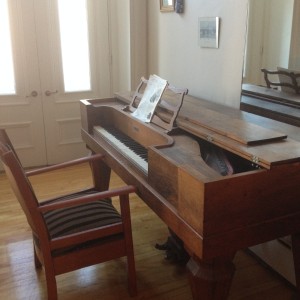 A beautiful piano graces the living space inside the common area.
I don't actually play the piano, but it didn't stop me from banging out a crude rendition of the First Noel. Relax, it was the middle of the day and hardly anybody was at home.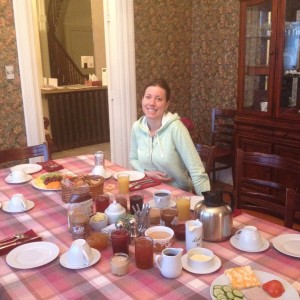 Rebecca is ready to start the day with a generous breakfast inside a toasty dining room.
I believe our hostess, Maria, introduced just about every jam and butter known to man when setting our table. What a delight it was to walk downstairs in the morning and observe such a colorful and delicious display.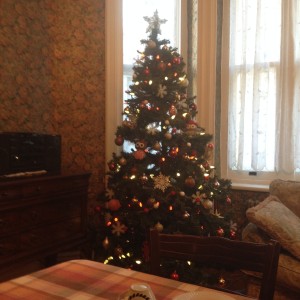 Nothing beats waking up inside the toasty Chez Marie-Clair on a blustery, white Christmas day.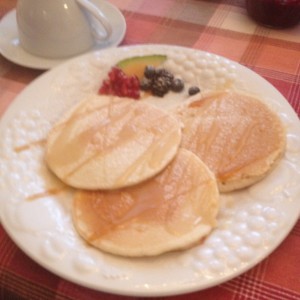 Steaming hot cakes with coffee – Need I say more?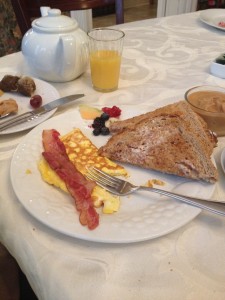 I would've snapped this picture before beginning to eat, but this omelet plate was just too appealing!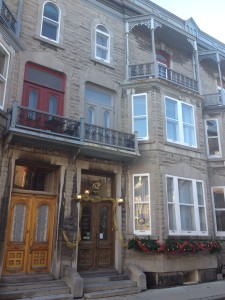 A gorgeous front door view of the historic Chez Marie-Claire.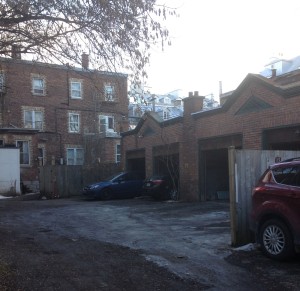 Parking at the Chez Marie-Claire.
One of the few problems in visiting Old Quebec City is finding available parking. The Chez Marie-Claire eliminates that worry by providing parking to guests free of charge.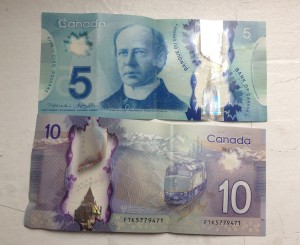 Short on Canadian cash? This bed & breakfast will accept U.S. dollars for payment as well.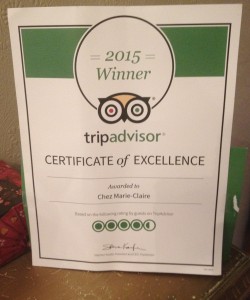 Tripadvisor awarded a 2015 Certificate of Excellence to Chez Marie-Claire.
Big John can't argue with that award. I give the place two thumbs up! If you're planning a trip to Quebec City and want beautiful but affordable accommodations, Big john highly recommends that you stay at the B&B Chez Marie-Claire. You can stay wherever you choose though, I'm just trying to keep this little girl happy!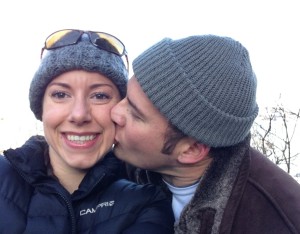 Thank you for reading my article and I hope you will visit my site again real soon. Feel free to explore other areas of my blog, post a comment, and show some love on social media.
 Happy travels from Old Quebec City,
 Big John
---

Posted in Adventurous Places, Great Dining, Historical Journeys, North America and tagged Bed & Breakfast, Chez Marie Claire, Old Quebec City by Big John with

comments disabled

.