Even those that keen on the topic of American Romanticism and great works of literature, may not understand the link between a South Carolina island, an old fort and the legend of the gold bug. On November 18, 1827, an eighteen year old U.S. army private, Edgar Allen Poe, arrived by ship to Charleston Harbor to report for military duty. His station, Fort Moultrie, was located roughly nine miles southeast from the bustling port city of Charleston on a picturesque piece of marshland called Sullivan's Island.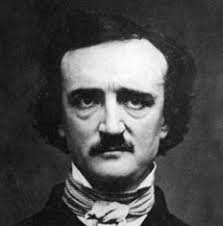 Edgar Allen Poe  ( author of The Raven, Tell-Tale Heart, and more)
Private Edgar Poe's occupation as an army clerk allowed him ample time to engage in idle activities such as exploring the island and perfecting his craft as a writer.  There remains no doubt that the area's storied history of notorious pirates such as Blackbeard (Edward Teach) inspired Poe to take to the pen and create his fascinating tale of pirate treasure and the legend of a gold bug. His short story, The Gold Bug, tells the tale of a man bitten by a mysterious gold bug that eventually leads him to uncovering a buried fortune on the South Carolina island.
A good glass in the bishop's hostel in the devil's seat
twenty-one degrees and thirteen minutes northeast

and by north main branch seventh limb east side

shoot from the left eye of the death's-head

a bee line from the tree through the shot fifty feet out."
excerpt from Poe's short story, The Gold Bug.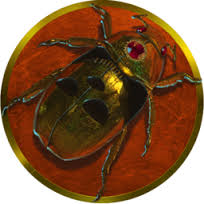 A Depiction of Edgar Allen Poe's gold bug.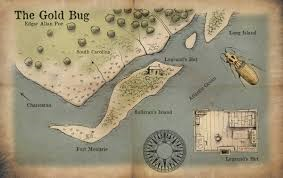 A primitive map of Sullivan's Island as it relates to Poe's Gold Bug.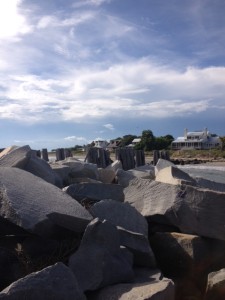 An outcropping of rocks form a jetty off of Sullivan's Island shore.
Sullivan's Island was first settled in the late 17th Century by Captain Florence O'Sullivan while he was stationed as a  lookout. This picturesque coastal Carolina town boasts a strong military background having been the site of a major Revolutionary War battle, The Battle of Sullivan's Island, as well as being involved in the first shots of the American Civil War.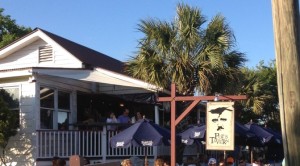 Poe's Tavern, Sullivan's Island, SC.
Entering into the 21st century, Sullivan's Island has long evolved into a peaceful, tranquil place. The island is no longer known for its colorful military history, or dead macabre poets for that matter. On the contrary, Sullivan's Island is recognized for it's beautiful beaches, relaxing atmosphere, and small-town charm. Visitor's to the island oasis will also not have to travel all that far for a delicious bite to eat.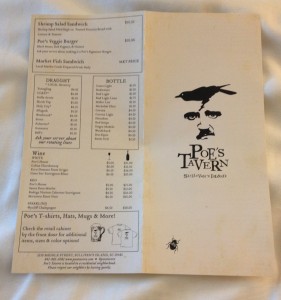 Of all the eateries on this charming island, Rebecca and I enjoy dining at Poe's Tavern the most.  This establishment has cleverly captured old Edgar's eccentricities and personified them through their fantastically themed décor.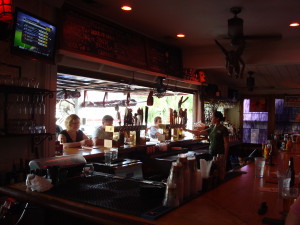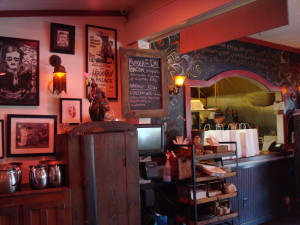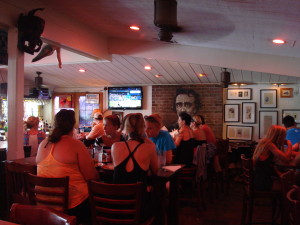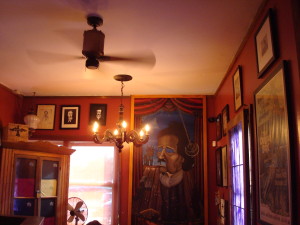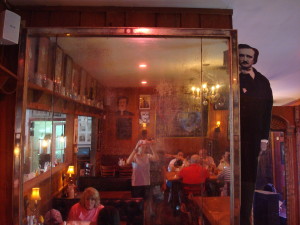 Their menu specializes in comfort foods that are certain to calm the most disturbed of souls.  The pub offers gourmet hamburgers, fish tacos, craft beers, and a whole lot more!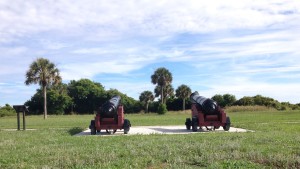 Antiquated cannons point out towards peaceful Carolina shores.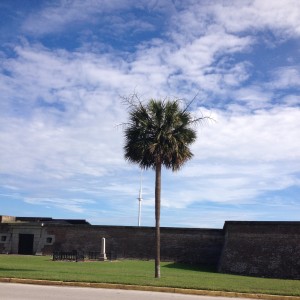 Fort Moultrie, Sullivan's Island, S.C.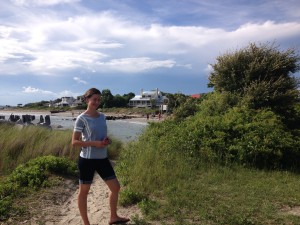 In search of shells, Rebecca takes to the sandy trails leading to the beach.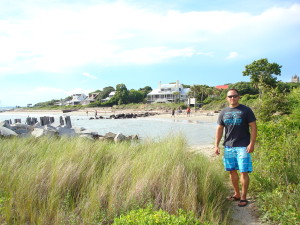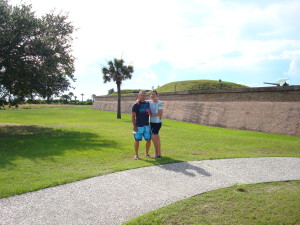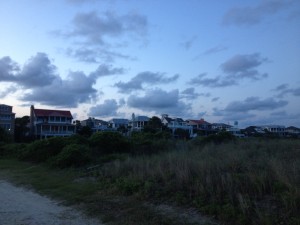 A line of spacious beachfront houses set against a fading sky.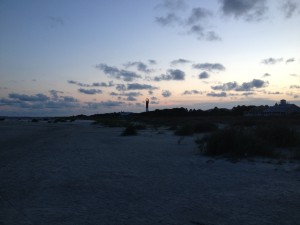 As dusk settles in on a lonely beach, time is running out in my quest to find that elusive treasure.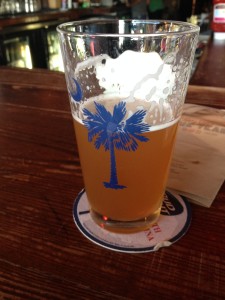 Ahoy, matey! Sullivan's Island does still hold her treasures! It seems I've found a bit of liquid gold!
Thank you for reading my article. If you ever should find yourself in the Charleston area, be sure to visit Sullivan's Island and experience first hand the place that inspired Poe to create his legend of the gold bug. Feel free to explore more of my site, leave a comment, and share some love on social media.
Happy travels,
Big John
---

Posted in Adventurous Places, Great Dining, Historical Journeys, North America and tagged Edgar Allen Poe, Gold Bug, Sullivan's Island by Big John with

comments disabled

.